February 04, 2012 -
Dave Miller
NFP On Campus
With National Signing Day in the books, the college football world will be a bit quiet (barring any new NCAA investigations) before our attention turns to spring practice.
So for now, let's open up this weekend's notebook and see what's happening on campuses across the country.
The uncommitteds
While National Signing Day is in the past, a few standout recruits remain uncommitted. Here are the ones to watch as they figure to decide on their future in the next few days to a week.
• WR Stefon Diggs: 6-0, 185 pounds, Olney, MD; Our Lady of Good Counsel High School
Diggs is one of the more versatile and dynamic players in this class, recording 1,443 all-purpose yards, 13 touchdowns and four interceptions as a senior last season. He will make an instant impact in the return game and in situational spots on offense no matter where he signs. He is scheduled to declare on February 10, and he is down to Auburn, Cal, Florida, Maryland and Ohio State. The Terps will host Diggs this weekend on an official visit, and it would be a huge "get" for a program coming off of a 2-win season that featured inconsistent play on offense. Plus, new offensive coordinator Mike Locksley and head coach Randy Edsall would be getting a local product, which could really be a boost to future recruiting efforts for this staff. Still, it may be difficult for Diggs to pass up an opportunity to play on a big stage in an Urban Meyer offense in Columbus.
• ATH Davonte Neal, 5-10, 175 pounds, Chaparral High School; Scottsdale, AZ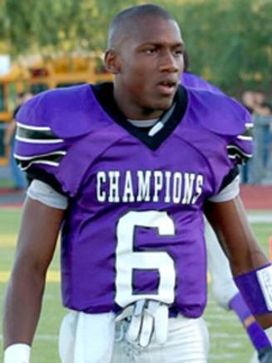 Is Ohio State out of the Davonte Neal sweepstakes?
Neal is taking his time with his recruitment, as he has a visit set up with Rich Rodriguez and Arizona on February 10. He is also weighing offers from Arkansas, Notre Dame, North Carolina and Ohio State. Meanwhile, Oklahoma has emerged as a very viable suitor, and he's deciding whether to take his final official visit to either OU or Arizona, according to Anthony Gimino of the Tuscon Citizen. If he uses his last official visit to go to Norman, he is expected to take an unofficial unpaid trip to Arizona. Neal finished his senior year with 1,317 rushing yards, 1,113 receiving yards and 35 total touchdowns. Could a visit with Rich Rod or Bob Stoops be enough for the Wildcats or Sooners to land his services? Neal loves Ohio State, but Mike Farrell of Rivals.com reported on Signing Day that Neal tried to commit to OSU that day and couldn't for whatever reason. Stay tuned.
Auburn snags a late prospect
Jordan Diamond, a 6-6, 290-pound offensive tackle from Simeon High School in Chicago, IL, chose Auburn at a news conference Friday night. His final list also included Arkansas, Michigan and Wisconsin, and he admitted that he was torn about his choice until Wednesday night. Diamond has very good size and strength to eventually man the right or left side of the Tigers' offensive line at tackle. His signing also boosts an Auburn class that closed nicely after Gene Chizik and Co. missed out on some top uncommitted recruits early on Signing Day.
Finally a Bulldog
Meanwhile, one player who had verbally committed but had yet to fax over his Letter of Intent was Josh Harvey-Clemons, a sterling recruit who finally sent his LOI to Georgia on Thursday after some Signing Day drama. The outside linebacker and top prospect in the state of Georgia did not send in his official declaration required by the NCAA because his grandfather/legal guardian, Woodrow Clemons, had refused to sign it. Clemons wanted his grandson to attend Florida instead, but Harvey-Clemons' wish was honored and he is now a Bulldog. Meanwhile, dual-threat signal-caller Jameis Winston officially sent in his LOI to FSU on Friday. However, he may never see the field in Tallahassee if he is a first-round draft pick in Major League Baseball's June draft.
Skinny posts
...A lot has been made of Urban Meyer's recruiting prowess and his ability to get a couple of star recruits to flip from other Big Ten schools. No matter what opinion anyone holds regarding decommitting, it's not going away any time soon. And Meyer knows the importance of building depth along the defensive line, which is exactly what he did when his team's Letters of Intent arrived. Five strong recruits along the defensive front will arrive in Columbus, led by Pennsylvania end Noah Spence. Joining him are fellow ends Aldolphus Washington and Se'Von Pittman from the state of Ohio as well as North Carolina's Jamal Marcus. And tackle Tommy Schutt was a big "get" after decommitting from Penn State. Washington and Pittman could move inside and still be a pass-rushing force, while Schutt projects as a disruptive interior lineman. It's an SEC-type defensive line, so opposing Big Ten offenses should take notice. Ohio State co-defensive coordinator Luke Fickell will have an abundance of talent to work with along the D-Line for years to come.
…Is it too early to start looking at how the Class of 2013 shapes up? Not for college coaches. For me, it's a bit premature. However, one name we'll be hearing a lot about between now and next February on the recruiting trail is Robert Nkemdiche, a defensive end who was called by one college football recruiter the Southeast's best prospect since the early 1980s. Mark Schlabach of ESPN.com has a nice profile on the player who had 18 sacks and ran for 17 touchdowns while guiding his high school to a 15-0 record and Class 5A state championship in Georgia this past season. He's currently the top recruit in the 2013 class.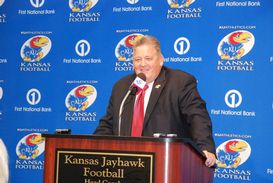 Can Charlie Weis deliver a quick fix in Lawrence?
…On Thursday I listed Kansas as one of the disappointing teams of National Signing Day. Other than inside linebacker Schyler Miles, new head coach Charlie Weis assembled a small class that was heavy on junior college prospects and transfers (only nine players were high school recruits). While Dayne Crist and Jake Heaps certainly are nice pickups, Weis didn't get a young quarterback to develop. Instead, he was looking at getting instant impact from JUCO's. And apparently he's not done, as the former Notre Dame head coach said additional reinforcements are coming in May, according to Blair Kerkhoff of the Kansas City Star. Most likely Weis has set his eye on seniors who will graduate in May. While this avenue could pay off for one season, do the Jayhawks have enough to reap the benefits and sneak into a minor bowl in 2012? Not likely, which is why 2013 will be a criticial year for Weis, who struggled to bring in impact players -- especially on the defensive side of the ball -- in South Bend.
…Boise State will be looking to replace a lot of top talent this offseason, including quarterback Kellen Moore, running back Doug Martin and a few defenders who will be selected in April's NFL Draft. And according to Chad Cripe of the Idaho Statesman, early enrollee Nick Patti (Dr. Phillips; Orlando, Fl.), will join the fray right away in the competition to take over for Moore. While two-year backup Joe Southwick will enter spring ball as the frontrunner, sophomore Grant Hedrick, redshirt freshman Jimmy Laughrea and Patti will compete this offseason to replace the prolific lefty.
...Iowa is still looking to replace longtime defensive coordinator Norm Parker, who retired after 13 seasons in Iowa City. Head coach Kirk Ferentz has a press conference scheduled for next Wednesday, so stay tuned in case an announcement comes then. Ferentz will be busy finding an offensive coordinator as well after Ken O'Keefe left the program Friday to become the Miami Dolphins' wide receivers coach. O'Keefe has called plays for all 13 years that Ferentz has been with the Hawkeyes.
Email dave.miller@nationalfootballpost.com or follow me on Twitter at Miller_Dave