May 28, 2011 -
Dave Miller
NFP On Campus
It's Memorial Day weekend, which means we should all be ready to morph into beach bums for the next few months. However, the news cycle in the world of college football is always spinning. After all, as we all know, the offseason has been filled with plenty of drama.
So let's open up the college notebook and see what's happening on campuses across the country.
It's now or never for Neuheisel in Westwood
With USC's appeal being denied by the NCAA this past week, the Trojans will once again be shut out of the postseason. No possible Pac-12 South title, no league championship appearance and no bowl game. UCLA fans, taking into account the rivalry with the Trojans, should be ecstatic at this news. But can even die-hard Bruin fans get excited about the future in Westwood?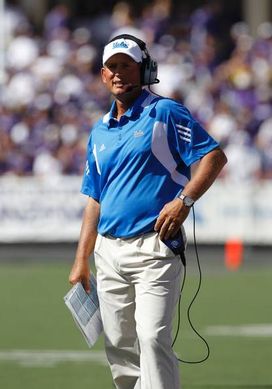 ICONCan Rick Neuheisel and the Bruins take advantage of USC's appeal being denied?
As we know, Rick Neuheisel occupies one of the hottest coaching seats in America. But barring an absolute disastrous season — 4 wins or less — I'm not sure I see athletic director Dan Guerrero buying out his head coach, especially after the shake-up on the staff this offseason. Would Guerrero want to shell out cash for buyouts, only to try to bring in another big name to right the ship?
I would argue that Neuheisel will get two years to turn the program around and make the Bruins a consistent winner. But can he do it? There's certainly no better time than now, as the former Washington head coach has the recruiting edge with Lane Kiffin and the Trojans dealing with their woes.
And that's really where the improvement needs to be made: on the recruiting trail. That's especially true with the Bruins bringing in a subpar Class of 2011. Whether posting a 4-8 mark for the second time in three years was the main factor or not, the truth is Neuheisel has to understand the importance of the upcoming season. Every high school player in the country that's good enough to play major-college football is used to winning, thus he expects to win when he arrives on his college campus. Maybe some of California's top recruits questioned UCLA's ability to be a consistent winner under Neuheisel's watch. Or, if they didn't, maybe rival coaches did -- and relayed that message to these kids.
Certainly the Bruins were a mess on the field offensively last year — and getting that unit straightened out under Mike Johnson is the top priority. But as the leader of the program, with USC going through its struggles, Neuheisel must have a strong 2011 both on and off the field if he wants to have an extended stay at his alma mater.
Skinny posts
Former Michigan quarterback Tate Forcier caused a stir this past week when he mentioned that he was interested in possibly transferring to Auburn or USC. I wrote two weeks ago that perhaps an FCS school or smaller FBS school would suit the former Wolverine well. However, all of the talk about his on-the-field future should be shelved after this recent report from a local Michigan TV station. Details are sketchy at this point, but the report states that Forcier had locked himself in a bedroom of a third-floor apartment on April 22 and was hanging out the window before police arrived. Again, while no other details have emerged, it appears that Forcier needs all the support he could get at this time — and football should be far from at the forefront.
Maybe West Virginia's Dana Holgorsen received a much-needed wakeup call when he was involved in his recent casino flap. For everyone wondering why he wasn't named head coach for the 2011 season instead of head-coach-in-waiting for the Mountaineers, perhaps the extra year of preparation under Bill Stewart will help him realize that being the face of a program is a 24-7-365 job.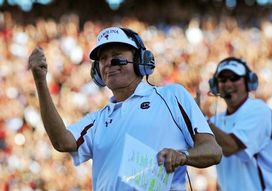 You can bet that Steve Spurrier will have his veteran back under center.
Stephen Garcia's reinstatement at South Carolina will become reality in the near future, which shouldn't be surprising based on the comments from head coach Steve Spurrier throughout the offseason. But the Head Ball Coach seemed to reiterate his faith in Garcia this past week. "It seems like he's changed his ways," Spurrier proclaimed, according to Travis Haney of The Post and Courier. "I hope the university lets him back on the team." Haney writes that a partial reinstatement is expected this week so the quarterback could participate in summer classes and workouts. And as if "the university" will make the decision. Gotta love Ball Coach.
Auburn's backfield looks like it will be strong for a number of years, as former Florida running back Mike Blakely has transferred to the school on The Plains. After sitting out for one season, Blakely will have four years of eligibility remaining beginning in 2012. Of course, the Tigers will have Michael Dyer entering his junior campaign that season and 2011 signee Tre Mason should also be moving up the depth chart at that time. Blakely and Gators head coach Will Muschamp parted on good terms, but it's still interesting that UF allowed Blakely to transfer within the SEC.
Speaking of running backs, one of Iowa's signees from February, Rodney Coe, failed to qualify academically and will attend Iowa Western CC for the next two seasons. Tabbed as the most promising of the four backs the Hawkeyes brought in during this last recruiting cycle, Coe was expected to get reps behind starter Marcus Coker, who assumed the job after the suspension and subsequent departure of Adam Robinson. Now, redshirt freshman De'Andre Johnson and a handful of freshmen will attempt to crack the rotation. Keep in mind that head coach Kirk Ferentz loves to give plenty of reps to his backup running backs — no matter who is starting.
Brunch leftovers
If you haven't checked out these recent articles, do so while you're finishing that last cup of coffee this morning.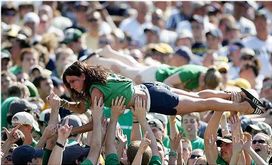 Many feel it's only a matter of time before fans are rooting for a conference-affiliated Irish squad.
— In case you weren't aware, Tony Barnhart — one of the best in the business — is now with CBSSports.com. This week, he wrote a column discussing a hypothetical overhaul of the college football landscape involving conference realignment. Even more distance between the BCS conferences and the non-AQ's in the near future? In his vision, Army, Navy, Notre Dame and BYU would join the six BCS conferences to form a Division I that woul d award its own champion and offer full-cost scholarships. Sounds like college football's version of the Rapture, right?
— With all the talk this week about Big East expansion, Mark Blaudschun of the Boston Globe looks at the potential trickle-down effect for the Big Ten. He states that commissioner Jim Delany might look to expand the league to 14 teams in the near future, with ACC members Georgia Tech and Maryland on the radar because of their strong television markets.
— Staying with the expansion theme, Brad Rock of the Deseret News details why BYU is such a hot commodity for a conference looking to add a member. Are you listening Big 12 commissioner Dan Beebe?
— Finally, the Columbus tattoo parlor owner who bought memorabilia from Ohio State players was officially charged with drug trafficking and money laundering. Per the Associated Press, Edward Rife will plead guilty and cooperate with authorities. Five Buckeye players, including quarterback Terrelle Pryor, were suspended for the first five games of the 2011 season for accepting improper benefits from Rife.
When it comes to anything and everything related to college football, I will continually spread what I hear on Twitter throughout the day at Miller_Dave, so be sure to stay tuned if you're a frequent tweeter. Also, you can find my stories under my Against the Grain column.
Have a college football question? Feel free to send me an email at dave.miller@nationalfootballpost.com.
Have a great Memorial Day weekend! Be safe near the grill and watch plenty of baseball on Monday.
And for those of you in the Chicagoland area, let's party at Castaways!