April 23, 2011 -
Dave Miller
NFP On Campus
It's always a busy time in the world of college football no matter the time of year. And in case you were wondering, we are just 130 days away from the start of the 2011 season.
Let's open up the college notebook and see what's happening on campuses across the country.
The government vs. the BCS?
As I mentioned earlier this week in one of my Four-down territory posts, Boise State athletic director Gene Bleymaier slammed college football's governing body for overseeing a postseason system that is loathed by a majority of fans: the Bowl Championship Series. "It's truly amazing. The sport where the NCAA can generate the biggest revenue and they end up giving it away for free," Bleymaier protested. "If the university presidents ever really truly understood what is happening, they would be in disbelief. The NCAA leadership over the past 30 years has been lulled to sleep while this transformation took place."
As noted in that same post, last week a strong buzz was generated by a group of 21 economists and lawyers who sent a letter asking the Justice Department to launch a "formal investigation of the Bowl Championship Series." The group called it a monopoly and believed it was unlawful because it essentially limits the options of consumers by depriving all FBS schools of the chance to compete for a national championship.
On Wednesday, someone else stepped up in an attempt to force a change to the system after seemingly years of threats from a variety of subjects.
Within the next two months, Utah attorney general Mark Shurtleff has said that he will file an antitrust suit against the BCS in federal court. Shurtleff told USA Today on Wednesday that the system is "harming taxpayer-funded institutions to the tune of hundreds of millions of dollars" and that he believes Utah won't be the lone state to join the cause.
Now I'm not sure whether Shurtleff has a real case or not — I've heard arguments made that the BCS is a cartel while others have maintained that consumers and taxpayers aren't harmed. What we do know, however, is that a lot of money will remain in the hands of anyone affiliated with the powerful BCS conferences. While I am not a proponent of a playoff system — I do, however, wish for a plus-one arrangement — the sport could generate even more money if a traditional playoff was held.
Many in the pro-playoff camp — basically everyone who loves college football — believe that if the BCS comes crashing down, a playoff system is the obvious choice for the sport's new postseason. However, those preventing such a radical change are the university presidents, who have threatened to go back to the old pre-BCS bowl system. These powerful university presidents in BCS conferences have made it clear time and again that they have no interest in a playoff system. Thus, if the BCS did disintegrate, expect the old bowl system — something that does not guarantee a No. 1 vs. No. 2 matchup — to reappear, if we are to believe these higher-ups who maintain that's what the plan would be in a hypothetical BCS-free landscape. If those rules applied to 2010, TCU would not have been in the Rose Bowl while Oregon and Auburn would not have matched up in a title game.
Simply put, the government can't mandate a playoff — only university presidents.
Of course, this entire legal process likely will take years, so the BCS will continue to be around for awhile.
Spring games as recruiting showcases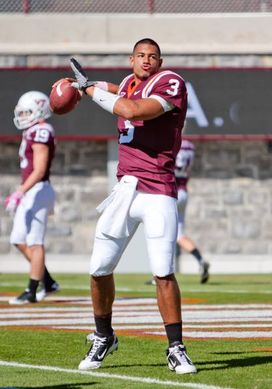 ICONSeeing new starters in action like Virginia Tech QB Logan Thomas isn't the only benefit of spring games.
Not only are spring games the showcase event of a team's spring practice season, but it also serves as an extra tool in the recruiting game. More often than not, schools will bring in some of their stars from years past in order to help the cause — illustrating that their program is a good place to blossom as a football player.
One school who is certainly taking advantage of its spring showcase is Virginia Tech, as Kyle Tucker of the Virginian-Pilot writes:
This is going to be a BIG weekend for Virginia Tech football. Never mind that the Hokies will be unveiling their new starting quarterback, the much-anticipated physical freak, Logan Thomas. Maybe even more importantly, this is going to be a mega recruiting event for Tech and its recently revamped staff (which was revamped to give recruiting a boost).
There will be more than 50 prospects visiting the campus for Saturday's spring game, and more than 25 of those already have multiple scholarship offers, about a dozen of which can be considered legitimate, national-level recruits.
Tucker points out that one may have to look back to the much-anticipated game between the third-ranked Hokies and No. 5 Miami in 2005 to find so many elite recruits in Blacksburg all at once.
Who said spring games weren't important?
Perhaps not in the standings, but definitely on the recruiting trail. And as we all know, it all starts with bringing in the best players.
Brunch leftovers
If you haven't checked out these recent articles, do so while you're finishing that last cup of coffee this morning.
First off, if you weren't able to catch The Paul Finebaum Show on Thursday, Harvey Updyke was a guest. Here is the transcript. The guy is quite the piece of work.
The committee assembled to make a decision on the Fiesta Bowl's future has delayed its verdict.
New San Diego State head coach Rocky Long believes that Boise State's blue football field gives the Broncos an unfair advantage as Boise prepares for life in the Mountain West this fall.
Mississippi State head coach Dan Mullen visited Eugene this past week to take in an Oregon practice. Mullen is good friends with Ducks head coach Chip Kelly, and it's very common for coaches to exchange ideas with colleagues on visits to different campuses in the offseason. Yes, coaching is a competitive business. But there are strong friendships involved, as well.
Big 12 coaches spring teleconference wrap-up
Here are some notes from the Big 12 coaches spring teleconference that took place this past week.
Turner Gill, Kansas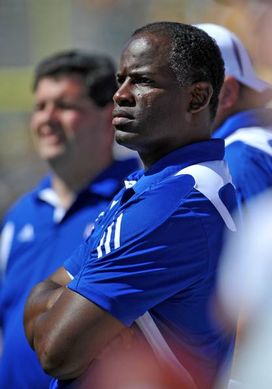 ICONTurner Gill hopes his defense is more opportunistic and his offense makes more big plays.
The most growth Gill's seen this spring is in overall team speed — on offense, defense and special teams. He stressed that creating more takeaways on defense is crucial to the t eam's fortunes in 2011, and he also knows his team needs to create more explosive plays on offense. He believes the increased speed on both sides of the ball will help in those areas. He also hopes for more consistency with his staff and players after having a full year together.
Bob Stoops, Oklahoma
Stoops acknowledged the high expectations for his team, but he said there are always high expectations in Norman and that there is still a lot of work to do to accomplish their goals. He also expressed concern regarding the controversial summer 7-on-7 camps that take place across the nation — players operating out of the control of high school coaches and family. "The only thing right now that's alarming to me is the summer 7-on-7 leagues," he said. "The more our young people are directed outside of the high schools, the coaching staff and the families is a concern. Because I don't know that the intent is always great for all the individuals. Maybe some are doing it right, there's probably some that aren't. The more you take it away from the high school coaches and the high school programs, the more dangerous it becomes."
Mike Gundy, Oklahoma State
Gundy said that his team needs to maintain its focus and have a great offseason because the squad won't sneak up on anybody following its successful 2010 season. Like Stoops, he also expressed concern over the 7-on-7 summer camps and the people involved in them "trying to get a piece of the pie." Of course, he was referring to street agents. Regarding his defensive tackle situation, he's still concerned about the lack of experience heading into the fall.
Bill Snyder, Kansas State
Snyder looked at preparations for last year's bowl game against Syracuse as "an extra spring practice" and feels it's benefitted the players during this spring season. He also stated that he would prefer the Big 12 to have two divisions and still play a championship game because of the financial rewards and the "tremendous exposure" of the conference. He was, however, pleased that the Big 12 netted a TV deal with FOX that would be financially sound for all schools in the league.
Gary Pinkel, Missouri
Pinkel said this might be the most experienced team he's had despite losing Blaine Gabbert and Aldon Smith, two key pieces to the great run the Tigers made up the rankings last year. Nine starters return on offense, including the explosive T.J. Moe. Pinkel believes the Big 12 is in good shape and will be a "very, very strong league" despite losing the title game because each team adds an extra BCS-level game to the schedule with the added conference game (the league will now play a round-robin conference schedule).
Tommy Tuberville, Texas Tech
Tuberville noted that the Red Raiders have a lot of holes to fill with a lot of young players, but he said the team made a lot of progress this spring both offensively and defensively. He said he expects to name a starting quarterback early in two-a-days, and that he's pleased with the progress at the position — especially after losing two seasoned signal callers to graduation. While the Red Raiders are going back to more of a four-man front defense, Tuberville is more worried about getting more speed on the field than scheme. "Speed wins for you on defense," he said.
Mike Sherman, Texas A&M
Sherman was impressed with the development of safety Trent Hunter both on and off the field this spring. He also was happy with linebacker Sean Porter's growth as a leader. Center Patrick Lewis, who started 13 games at right guard last season, also stood out to Sherman after changing positions this spring following Brian Thomas' struggles with snaps from shotgun formation. Last year's starting center, Matt Allen, has graduated. Sherman also noted that receiver Uzoma Nwachukwu was pushing standout Jeff Fuller for the "rights to be the best receiver on our team" after showing consistency from practice to practice.
When it comes to anything and everything related to college football, I will continually spread what I hear on Twitter throughout the day at Miller_Dave, so be sure to stay tuned if you're a frequent tweeter. Also, you can find my stories under my Against the Grain column.
Have a college football question? Feel free to send me an email at dave.miller@nationalfootballpost.com.
Have a great Easter!