August 13, 2011 -
Barry Dorey
NFP On Campus
Twenty-one days — just three weeks — until the first college football Saturday of the 2011 season. Incredibly, we are nearing the start of another season.
In the meantime, let's open up the college football notebook and see what's happening on campuses across the country.
Arkansas loses its top Hog
The loss of running back Knile Davis because of a left ankle injury served as a serious blow to Arkansas' hopes for an SEC championship as well as a possible dark horse run at a BCS national championship.
With the league's best set of receivers, a quarterback capable of stepping into Ryan Mallett's big shoes and a dynamic rushing attack, the only question was whether the Razorbacks would take yet another step on the defensive side of the ball as they did in 2010. Head coach Bobby Petrino lauded his team's speed and makeup at SEC Media Days, and it was clear that this was the Razorbacks' best defense yet under Petrino.
They were, quite frankly, emerging as the sexy pick to replicate Auburn's run last season.
But all that optimism ended Thursday when Davis left the practice field on a cart following his injury. The first major on-the-field news of the SEC season was devastating.
The 6-foot, 226-pound junior was a key piece to the Razorbacks' offensive attack last season, providing balance to a unit that so often leaned on the arm of Mallett. He finished the 2010 season with 1,322 rushing yards, a 6.5 yards per carry average and 13 touchdowns. Along with West Virginia's Geno Smith, Davis was one of my choices for a dark horse Heisman candidate.
What makes this loss even more difficult is the fact that the Hogs lost top backup Broderick Green to a torn ACL in the spring. Green was the team's leading rusher in 2009. Davis was the leading rusher last fall.
Terrible blows for sure.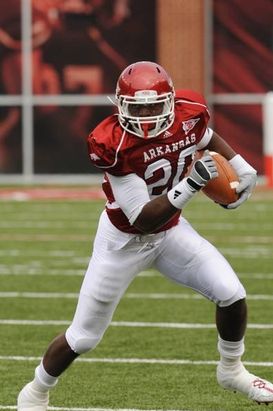 ICONRonnie Wingo will be leaned upon to help fill the void left by the injured Knile Davis.
If there is one saving grace, it's that the squad still has capable backups in Ronnie Wingo and Dennis Johnson. The junior Wingo has the frame to be an every-down back at 6-3, 231 pounds. And he has the speed as well as the pass-catching ability. But can he be a consistent back after only showing flashes up to this point?
The 5-9, 213-pound Johnson is a junior who can catch balls out of the backfield as well. If he can complement Wingo, this rushing attack can still be productive. Keep in mind that when Petrino was at Louisville in 2006, he lost star running back Michael Bush before the season. The Cardinals went on to a 12-1 campaign.
But can Wingo and Johnson step up, specifically in short-yardage situations?
The Razorbacks, unfortunately, will find out soon enough.
Ohio State goes before the COI
On Friday, the Ohio State administration, along with former head coach Jim Tressel, met in Indianapolis with the NCAA's Committee on Infractions for a brisk four-hour session. While the Buckeyes have not been charged with lack of institutional control or failure to monitor, the situation could potentially change if further wrongdoing is found as the NCAA continues its investigation. According to Stephanie Hannah, an NCAA director of enforcement, the amended notice of allegations sent to the Buckeyes in July notes that Allegation No. 1 in the case summary is still being looked at by the NCAA. The first allegation concerns Ohio State players trading memorabilia for tattoos from Edward Rife. Of course, there were also reports that former quarterback Terrelle Pryor made as much as $40,000 while at the school for autographing memorabilia. Thus, the OSU administration could have to descend upon Indy for a second hearing at some point.
Doug Lesmerises from The Plain Dealer breaks it down for you further...
The first major step in NCAA reform
In the same week that university presidents met in Indianapolis to discuss widespread reform across the college landscape, the NCAA said Thursday that it will be imposing higher academic standards for its student-athletes.
The governing body's board of directors approved a measure to raise the historical Academic Progress Rate cutline from 900 to 930. The APR is a calculation for each team at each school to determine whether student-athletes are progressing enough toward graduation. School presidents believe that raising the cutline would push student-athletes to perform better in the classroom.
In the past, teams that fell below the 925 mark received a warning that they could face stiffer penalties if they continued to fall below the mark. Thus far the harshest sanction imposed to a few teams has been postseason bans for consistently substandard scores.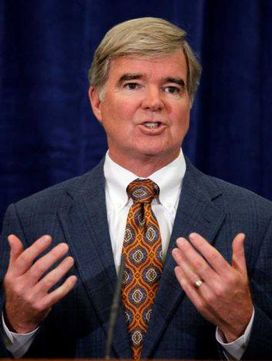 Exactly how much change will we see under NCAA president Mark Emmert?
NCAA president Mark Emmert said the change was initiated because the NCAA is committed to the academic success of all student-athletes.
"This is about the academic performance of all of our students in all of our sports," Emmert said. "This is about the academic expectations we have for all of our student-athletes."
Looking at how this could have affected the 2010 college football season, 17 of the 120 FBS teams would have been ineligible for postseason play if the NCAA had the APR number set at 930 for bowl eligibility. Six of those teams reside in BCS conferences: Colorado, Maryland, Michigan, Louisville, North Carolina State and Washington State.
Now, the NCAA will require at least a 930 four-year, rolling APR score in order to participate in postseason play for all sports. The 930 APR predicts an approximately 50 percent Graduation Success Rate.
This is the first of many expected changes made to college athletics following the two-day presidential retreat which focused on improving NCAA sports in a variety of ways, particularly improving academics, fiscal responsibility and integrity.
"We have made some very significant recommendations that we want to turn into action. We will begin working on this immediately," Emmert said. "We will come before this group no later than October with a clear action agenda to implement the ideas that were developed over the past two days. Some of that action began today."
The Board directed the Committee on Academic Performance to produce a timeline for phased-in implementation for both the new 930 benchmark and the penalty structure.
If the SEC gets Texas A&M…
On Thursday, I wrote about the possibility of the Big 12 still existing if Texas A&M made the move to the SEC. But what other moves would the SEC make to add to the league besides the Aggies?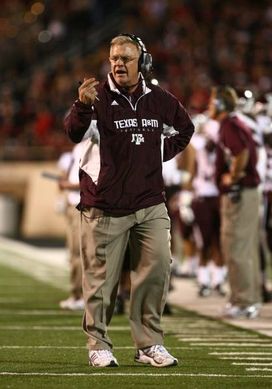 ICONAre Mike Sherman and the Aggies en route to the SEC?
I touched on this earlier in the offseason when I discussed the doomsday scenario in which th e Big 12 collapses and the league's biggest programs go to the SEC, the second-tier schools find their way into the Big East and the Mountain West/C-USA pick up the scraps. That scenario can certainly still play out, but Big East commissioner John Marinatto would have to act quickly if he wanted to acquire Missouri, Kansas and Kansas State. Keep in mind that Marinatto was very confident at Big East Media Days about the league's future because its television deal ends in Sept. 2012 and he will have ESPN, Comcast/NBC, Fox and CBS bidding for TV rights. The fact that Comcast is emerging as a major power likely played into the Big East's decision earlier this year to turn down a billion dollar television contract extension from ESPN.
But getting back to the SEC and its potential expansion…
Matt Hayes of the Sporting News raised a couple of key points in his piece this week when he discussed the potential fallout of an Aggies move.
Hayes believes that if the SEC doesn't land Oklahoma, Slive would likely look south to add other schools. While Florida State, Miami and Georgia Tech would be strong fits for a variety of reasons, those schools reside in states with SEC members already firmly entrenched. Thus, Florida and Georgia won't want to share the SEC stage. Hayes believes that Virginia Tech and Missouri would be secondary considerations. It's interesting that he mentions the Tigers. It makes sense because they'd bring a solid basketball program to the table as well. This is why the Big East's Marinatto has to be on his toes.
What about Louisville and Clemson? Although Kentucky and South Carolina wouldn't appreciate it, Hayes notes that Slive and the conference presidents could convince the Wildcats and Gamecocks that the long-term benefits — specifically, big TV money — far outweigh the negatives. Louisville and Clemson have NBA and SEC-style football stadiums, respectively, and both schools have healthy athletic departments.
As of now, of course, this is all speculation. But the writing is on the wall: we are headed for a handful of Superconferences.
And to think that just three weeks ago Big 12 commissioner Dan Beebe had a sense of renewed confidence in his 10-member league.
Can Zook keep up the momentum?
On Wednesday, Illinois announced the hiring of its new athletic director, Mike Thomas, who spent nearly six years in the same position at Cincinnati. The former Bearcats AD replaces Ron Guenther, who retired when his contract expired June 30.
What does this mean for Illini head coach Ron Zook?
Well, it means he has a lot less room for error as he tries to keep the program trending in the right direction after a successful 2010 season in Champaign.
We all know what happens when a new regime comes in and takes over a program. As in any profession, a new leader often will want his or her handpicked selection in place to carry out a specific vision. The only way for Zook to persuade Thomas that he is the right man to lead Illinois into the future is to win. And, frankly, Zook hasn't won enough in Champaign up to this point. In six seasons at the school, he has compiled an overall record of 28–45 with a 16–32 mark in Big Ten play.
Is the program on the right track under his leadership? That seems to be the case after a solid 7-6 campaign last fall. But with Mikel Leshoure, Martez Wilson and Corey Liuget moving onto the NFL, a lot of pressure will rest on the shoulders of sophomore signal caller Nathan Scheelhaase, whose play this spring continued to impress the coaching staff.
We saw the impact that new coordinators Paul Petrino and Vic Koenning had on the offense and defense, respectively, last season. Can the units once again play inspired ball for Zook? Or will we see a dropoff similar to the one we witnessed for two seasons after the team's appearance in the Rose Bowl?
This fall will be big for Zook — and much bigger now with Thomas on board. While Zook's current contract may run through 2013, that doesn't mean he will see the end of his deal unless more bowl games are on the horizon.
Video of the week
This is a good one, courtesy of USCTrojans.com. Check out what hopefully isn't the norm at a USC team meeting…
When it comes to anything and everything related to college football, I will continually spread what I hear on Twitter throughout the day at Miller_Dave, so be sure to stay tuned if you're a frequent tweeter. Also, you can find my stories under my Against the Grain column.
Have a college football question? Feel free to send me an email at dave.miller@nationalfootballpost.com.
Have a great weekend!