July 23, 2011 -
Barry Dorey
NFP On Campus
Forty-two days until the first college football Saturday of the 2011 season…
But, for now, let's open up the college notebook and see what's happening on campuses across the country.
And as was the case last week, this edition of NFP On Campus is dedicated to Bruce Feldman, a colleague who remains sidelined by his employer — despite the four-letter network maintaining otherwise. #freebruce
For my thoughts on Ohio State catching a monumental break in the NCAA's investigation into its football program, click here. And check back later Saturday morning for my SEC Media Days notes: Day 3.
The Longhorn Network fiasco
It's very easy to see — if it wasn't evident before — why Texas A&M is exploring all of its options as it concerns its Big 12 residency in the era of conference realignment, big-time television contracts and individual schools inking deals for their own TV networks.
Bob Stoops and the Oklahoma administration isn't too happy either.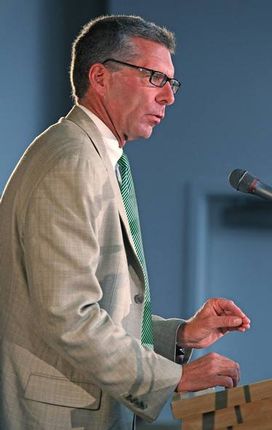 ESPN's Dave Brown couldn't temper his excitement when discussing the Longhorn Network.
When ESPN and the University of Texas debut the Longhorn Network on August 26, every other team in the Big 12 — and the nation — will take notice after it was revealed this past week that Dave Brown, the ESPN Programming Vice President who oversees the start-up network, said in an interview last month with ESPN Austin affiliate KZNX-FM that the station would broadcast high school football games inside and outside the state of Texas.
Brown told KZNX that the Longhorn Network would nationally air top high school games featuring the best players in Texas and those who would be of interest to Texas and other Big 12 schools — a statement that he might regret as he potentially violated NCAA rules by mentioning top Class of 2012 prospects Johnathan Gray and Connor Brewer by name. Of course, showcasing unsigned prospects clearly gives the Longhorns a recruiting advantage not just nationally but in their own league.
Indeed, why would Texas athletic director DeLoss Dodds stand in the way of such a move?
Shortly after Sports by Brooks reported on the Longhorn Network's grand plans, the Dallas Morning News reported that the Longhorn Network would hold off on televising high school games and potentially one league contest until the Big 12 and the NCAA decide how to deal with single-school and conference networks.
"It's not going to happen until and unless the conference can make it happen with benefit to all and detriment to none," said Big 12 commissioner Dan Beebe.
So that's where we stand as of now. Of course, when the report by Brooks was first posted, everyone began to wonder how the Longhorn Network could really televise high school games featuring recruiting targets of Texas. The conflict of interest for a network affiliated with a conference or an individual school to televise high school games is obvious.
With coaching staffs not being allowed to talk about prospective recruits, Mack Brown and Co. would be receiving a huge advantage if the announcers on their school's TV network would do it for them.
Consider the NCAA restrictions that coaches must deal with now in the interaction of recruits. How can it justify allowing the Longhorn Network to air prospects' games, something that could potentially violate NCAA Bylaw 13.10.3, which reads…
A member institution shall not permit a prospective student-athlete or a high school, college preparatory school or two-year college coach to appear, be interviewed or otherwise be involved (in person or via film, audio tape or videotape) on:
(a) A radio or television program conducted by the institution's coach;
(b) A program in which the institution's coach is participating; or
(c) A program for which a member of the institution's athletics staff has been instrumental in arranging for the appearance of the prospective student-athlete or coach or related program material.
ESPN and the University of Texas are certainly brash in attempting to pull this off. The big question is how the NCAA will respond, though it seems as if the governing body had to be aware of this process for awhile now.
Pac-12 commissioner Larry Scott believes that Superconferences are the future of college football. To me, vehicles like the Longhorn Network could spell the death of any conference, as every school could begin operating as independents.
The current NCAA rulebook is full of gray areas and ambiguity despite being very large. And it's full of a lot of loopholes. The question is will new NCAA president Mark Emmert — or, more specifically, powerful university presidents and commissioners such as Mike Slive and Jim Delany — help close them?
Conference expansion takes center stage — again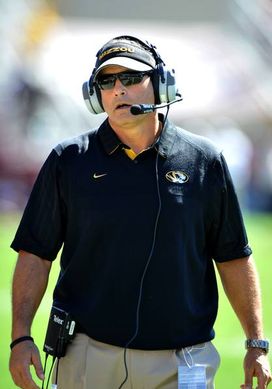 ICONThe addition of Gary Pinkel's Missouri program would be a coup for any league.
It's time to speculate…
We all know that last summer, when conference expansion was all the rage, the Pac-10 attempted to hijack members of the Big 12 South so that a Pac-16 could be formed. Of course, Pac-12 commissioner Larry Scott was unable to snag Texas and Oklahoma — the gems of the Big 12 — away from the league, so he settled for Utah and Colorado.
Now, with rumors resurfacing that Texas A&M and Oklahoma could be revisiting their SEC options in light of Texas ruffling some feathers with the Longhorn Network drama, many are wondering about the future of the Big 12.
Well, if the OU/A&M dominoes fall, there will no longer be a Big 12 because Texas could just declare its independence and enjoy the bliss of having its own television network like BYU. Many have speculated that the Mountain West could then be the best option for those Big 12 schools left in the dust. And there's no question that the MWC adding teams like Missouri and Texas Tech could help its case for a spot in the BCS party when the current deal expires. But, unfortunately for the MWC, I'm not sure the league would get the chance to scoop up the leftovers.
If I was Big East commissioner John Marinatto, I would take the initiative and extend — once again — invites to Missouri, Kansas and Kansas State as it did during last summer's expansion frenzy. Coupled with TCU's addition next season, the league could then play a conference championship game. On the basketball side, the Big East would have 20 members, and it wouldn't be surprising to see 12 teams get into the NCAA tournament every season.
In that scenario, Oklahoma State, Texas Tech, Baylor and Iowa State would be left for the MWC. I still can't see how OU moves without Oklahoma State, so I think SEC commissioner Mike Slive would take the Pokes, as well, and focus on getting one more school to make it a 16-team SEC.
If the Big East does take early action, which I believe it should, and the SEC is also able to get its top-tier programs, the MWC would likely be stuck with merging with Conference USA. Certainly not the worst option in the world, but definitely not the way it wants to go as it attempts to become a BCS member.
As of now, of course, this is all speculation. But the writing is on the wall: we are headed for a handful of Superconfer ences.
Bleak outlook in Baton Rouge?
Last Wednesday night, ESPN's "Outside the Lines" revealed that the video Willie Lyles sent to LSU as part of his scouting package — 32 DVDs in all — contained highlights of players who already were playing Division I football at other programs as well as poor-quality clips that did not isolate any potential recruits. In essence, the videos were pretty worthless.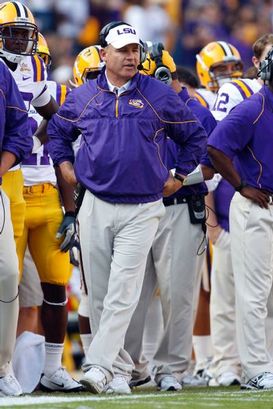 ICONLSU's Les Miles says the videos that were sent by Willie Lyles helped the Tigers scout backup QB Zach Mettenberger.
While some clips did identify junior-college players who could be recruited, some highlights were apparently used without permission from sites like Scout.com, while other players' clips were readily available on YouTube.
So the Tigers paid $6,000 for that package — a bargain considering Oregon gave Lyles $25,000 — but altogether since 2008 the Tigers have given the Houston-based businessman $26,000.
Head coach Les Miles, however, defended the video at SEC Media Days Friday, noting that
the video was helpful in scouting junior college quarterback Zach Mettenberger after he left Georgia.
The real issue that could be at play here is the recruitment of Class of 2011 signee Trevon Randle, a linebacker from the Houston area who has a relationship with Lyles. Randle's high school coach reportedly barred Lyles from campus after visiting the school to scout Randle with assistants from Oregon and LSU. In addition, LSU was in the running for Lache Seastrunk, the player at the center of the investigation at Oregon. Seastrunk is projected to play a significant role in the Ducks' offense this fall.
Oregon and LSU unquestionably are now linked — there's no question about that reviewing these payments and the players involved with Lyles in the recruiting process. The schools made payments to Lyles within months of the respective players signing letters of intent. Both Seastrunk and Randle looked to Lyles as an advisor. The mentor has already claimed that Oregon wanted access and influence to "his" players. Could it be a matter of time before Lyles admits LSU sought similar access?
The question now is if the NCAA concludes what many of us can as information continues to trickle out on the matter: that Lyles was unquestionably a "representative of athletic interests" for both Oregon and LSU.
Jeff Tedford and Cal, you're on deck.
Brunch leftovers
If you haven't checked out these recent articles, do so while you're finishing that last cup of coffee this morning.
— Steve Yanda of The Washington Post details how Maryland's athletic department has seen its expenses overtake its revenue — and the recent struggles of Maryland's football and men's basketball teams are central to the issue.
— Mike Bianchi of the Orlando Sentinel argues that Ron Zook left Florida's program in better shape for Urban Meyer than Meyer left it for new head coach Will Muschamp.
When it comes to anything and everything related to college football, I will continually spread what I hear on Twitter throughout the day at Miller_Dave, so be sure to stay tuned if you're a frequent tweeter. Also, you can find my stories under my Against the Grain column.
Have a college football question? Feel free to send me an email at dave.miller@nationalfootballpost.com.
Have a great weekend!