March 24, 2012 -
Dave Miller
NFP On Campus
Let's open up this weekend's notebook and see what's happening on campuses across the country.
Spring practice notes
• Arizona State certainly underachieved in Dennis Erickson's final season in Tempe. And no one exemplified that underachieving more than middle linebacker Vontaze Burfict, who has been the topic of conversation among draftniks leading up to April's NFL Draft because of character concerns. Who is in line to replace Burfict in Tempe this fall? New head coach Todd Graham currently has 6-3, 243-pounder Kipeli Koniseti taking first team reps at the Mike position in the early days of spring camp. However, Brandon Magee could ultimately end up at the spot if he fully recovers from last season's Achilles injury. Magee has always been looked upon by teammates as a great locker room presence. His return to health is huge, especially if the Sun Devils can keep him on the outside with Koniseti handling the job in the middle. ASU may have to lean on its defense in 2012 as the offense adapts to Graham's version of the spread.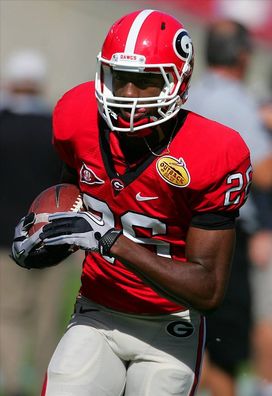 ICONMalcolm Mitchell will focus on learning the cornerback position this spring.
• With Georgia dealing with serious depth concerns in the secondary, Malcolm Mitchell will spend all of spring practice taking reps at cornerback, where he will use the team's 15 practices to get as comfortable as possible at the position. If he is able to handle the workload, Mitchell could start opposite Damian Swann in the season opener. Devin Bowman will also be in the mix. The Bulldogs also need someone to step in for Brandon Boykin at nickleback, so Mitchell's maturation as a top corner is critical. But head coach Mark Richt cautioned Bulldog fans not to get too comfortable with Mitchell exclusively in the defensive backfield. He told Seth Emerson of the Telegraph that he envisions Mitchell splitting duties between running routes and playing defense once spring ends. The longtime Bulldogs coach just believes it's vital to use the spring as an exclusive educational period for Mitchell to become comfortable on defense.
• If Oklahoma is to return to the BCS national championship game, as I projected in my very early 2012-13 bowl projections, new defensive coordinator Mike Stoops will need to be able to get his talented unit to play consistently well each week. One of the areas of strength is along the team's defensive line, where the Sooners are deep at every position, led by senior tackles Casey Walker and Jamarkus McFarland. Stacy McGee was also a solid contributor as a junior last fall. But two freshmen are making their presence felt early in spring camp at the position, which is a scary thought for opposing Big 12 offenses. Jordan Wade and Jordan Phillips have wowed thus far in camp, so it will be interesting to see if they're able to continue to impress and earn playing time in the fall and make a strong corps even stronger.
• Mississippi State opened spring drills this week, and head coach Dan Mullen confirmed that the offense will display more of a passing attack with Tyler Russell as the full-time starting quarterback. With dual-threat Chris Relf as the starter the past few seasons, Mullen employed a run-heavy attack. But with an experienced group of wide receivers and a QB who has proven that he can be effective in the passing game, the Bulldogs will open things up offensively while still operating out of the spread formation.
CONTINUE TO PAGE 2 FOR MORE NFP ON CAMPUS