May 14, 2011 -
Dave Miller
NFP On Campus
We're entering the midway point of May, but that doesn't mean the news cycle in the world of college football has come to a halt. As we all know, the offseason is filled with drama.
So let's open up the college notebook and see what's happening on campuses across the country.
Is Russell Wilson headed to Madison?
As I mentioned on Thursday in the NFP Forums, former N.C. State quarterback Russell Wilson has contacted Wisconsin and expressed interest in joining the program for his final season of eligibility. The 2010 second-team all-ACC selection, who was recently given his release by Tom O'Brien and the Wolfpack, would be eligible to play immediately.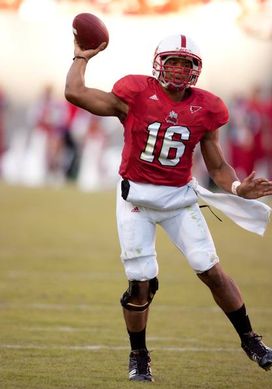 ICONIs Russell Wilson headed to Madison?
When Wilson was officially released from his scholarship from N.C. State after he wasn't willing to commit 100 percent to the football program — Wilson was a fourth-round pick of the Colorado Rockies in the MLB Draft and is currently playing Class A ball — he began looking at other options for the 2011 season. He wants to keep his football options open, but O'Brien understandably wanted his signal caller to be available for spring drills. Thus, Mike Glennon has taken over starting duties in Raleigh.
Many expect Wilson ultimately to choose a school in the Southern part of the U.S., likely somewhere in the SEC. Speculation centered around schools such as South Carolina, Auburn and LSU — schools with perceived quarterback issues. But could the Badgers be in play?
I just don't think it makes too much sense for both parties.
While Wisconsin enters the summer months with just two scholarship quarterbacks on the roster — neither of whom has a start under his belt — the Badgers seem content with Jon Budmayr atop the depth chart under center. While he only played in three games as a redshirt freshman last season, he seems like the perfect fit to run the team's complex, pro-style offense — one which is geared more toward a sound rushing attack. Wilson, meanwhile, is used to being the center of the offense and often carried the Wolfpack on his back during his career at N.C. State.
The other issue at play for anyone who receives Wilson's services is the fact that the Rockies assume Wilson will finish the baseball season. His team's finale, however, is scheduled for Sept. 5. The quarterback obviously would need to reach a deal with the Rockies to leave early, and then he would have to compete for a starting job in fall camp.
The Badgers are scheduled to open camp in early August in preparation for their regular-season opener on Sept. 1. It just seems a little too far-fetched at this point.
However, it's likely that a major program will take a chance on a one-year deal with the dual-threat Wilson, who threw for 8,545 yards and 76 touchdowns in three seasons at N.C. State.
It just doesn't seem like head coach Bret Bielema and the coaching staff would roll the dice on Wilson being able to learn the system in such a short amount of time and be a better option than Budmayr as the Badgers look to claim the Big Ten crown.
Let's throw a Fiesta
John Junker may no longer be running the show, but the Fiesta Bowl will live to tell another tale as it will keep its place in the Bowl Championship Series party and pay a $1 million fine for its well-documented transgressions. Surely we didn't expect the BCS to do anything more, did we? Not when the unpopular postseason formula already has a stranglehold on the college football world.
Now I've repeatedly said that the Fiesta Bowl should keep its place in the championship-game rotation for a number of reasons — first and foremost because of what the game means to the economy in Arizona. But what I really wanted to see get done was a full-length probe occur into every major bowl game — because it's highly likely that the Fiesta wasn't the only partygoer having a good time.
Forcier won't become a Hurricane after all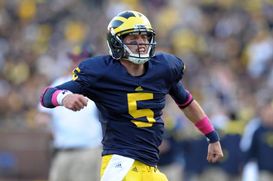 ICONTate Forcier will not be playing for the 'Canes in 2012.
So Tate Forcier won't be competing for the starting quarterback job at Miami in 2012 after all, according to ESPN.com's Heather Dinich. The former Michigan signal caller reportedly is citing personal issues for the reason not to join Al Golden's squad, which is slated to have just two quarterbacks on scholarship after next season — Stephen Morris and former Memphis starter Ryan Williams. Golden unquestionably will now pursue one of the top quarterbacks in the Class of 2012 even harder with Forcier electing to not transfer. Because of the lack of quarterback depth, it's not unreasonable to think that a young signal caller can step in and fight for reps immediately, especially if Morris doesn't develop as most envision.
Forcier started all 12 games as a freshman in 2009, completing 165 of 281 passes for 2,050 yards and 13 touchdowns. However, he lost his starting job last season to Denard Robinson as he battled academic and maturity issues. He saw action in eight games as a backup and completed 54 of 84 passes for 597 yards with four touchdowns and four interceptions in 2010.
As I mentioned Friday on Twitter, I can't help but feel Forcier may be better off at an FCS school, where he would be out of the spotlight but be able to play immediately. It will be interesting to monitor his status over the next couple of weeks and see what route he wants to take as he strives to continue his career.
Brunch leftovers
If you haven't checked out these recent articles, do so while you're finishing that last cup of coffee this morning.
— With Keith Price taking over for first-round draft pick Jake Locker as the starting quarterback at Washington, the Huskies could turn to Chris Polk and his talented backfield mates to carry a bigger load, writes Bob Condotta of the Seattle Times.
— LSU receiver Russell Shephard is excited for the opportunity to make more plays down the field this season under new coordinator Steve Kragthorpe, according to his interview with Sporting News.
— It's been awhile since we discussed the watered-down WAC's expansion plans. Jon Wilner of the San Jose Mercury News writes that the league should detail its plans on June 14 after school presidents take a look at the options presented by commissioner Karl Benson. Of course, the conference will lose Fresno State, Nevada and Hawaii next summer while adding Texas State, Texas-San Antonio and Denver. Denver, as of now, does not have a football program.
Skinny posts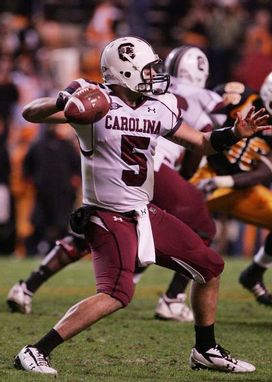 ICONWill Stephen Garcia be reinstated at South Carolina?
South Carolina head co ach Steve Spurrier said this past week that his favorite whipping boy — suspended quarterback Stephen Garcia — has "a chance of being back."
"We'll see how the summer plays out and see if he can mature a little bit and quit acting immature-ish and childish and things like that," Spurrier said at a recent South Carolina Fan Fest event. "Maybe we'll allow him to come back and join a bunch of guys who know how to act responsibly and represent the University of South Carolina. So, we'll see if Stephen can do that or not."
Translation: Connor Shaw will not be the Gamecocks starting quarterback as they look to repeat as SEC East champs in 2011.
Don't expect Kansas to continue its longstanding rivalry with Nebraska as long as Turner Gill is running the program.
"It best benefits us not to play Nebraska from a football standpoint," the second-year head coach told the Omaha World-Herald. "I have to look at what's best for our football team right now."
The series between the Jayhawks and Cornhuskers began in 1892 and the teams have played 116 times.
When it comes to anything and everything related to college football, I will continually spread what I hear on Twitter throughout the day at Miller_Dave, so be sure to stay tuned if you're a frequent tweeter. Also, you can find my stories under my Against the Grain column.
Have a college football question? Feel free to send me an email at dave.miller@nationalfootballpost.com.
Have a great weekend!