April 02, 2011 -
Dave Miller
NFP On Campus
It's Final Four weekend in college hoops, but not even VCU's magical run could overshadow the multiple allegations and investigations swallowing up the college football world. I'll do my best to remain drama-free this morning at the NFP.
So let's open up the college notebook and see what's happening on campuses across the country.
Opening kick
In honor of baseball being back in our sporting lives, I decided to put together a list of college football's 25 best players entering the 2011 season — a sort of 25-man roster, if you will.
I will be sure to release my Top 25 players in August before the season begins. But for now, here is an early list.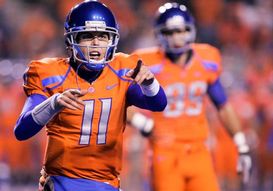 ICONKellen Moore is back at Boise State for his senior campaign.
1. Andrew Luck, Jr., QB, Stanford
2. Kellen Moore, Sr., QB, Boise State
3. LaMichael James, Jr., RB, Oregon
4. Justin Blackmon, Jr., WR, Oklahoma State
5. Denard Robinson, Jr., QB, Michigan
6. Dan Persa, Sr., QB, Northwestern
7. Marcus Lattimore, So., RB, South Carolina
8. Robert Griffin, Jr., QB, Baylor
9. Taylor Martinez, So., QB, Nebraska
10. Ryan Broyles, Sr., WR, Oklahoma
11. Trent Richardson, Jr., RB, Alabama
12. Brandon Jenkins, Jr., DE, Florida State
13. Landry Jones, Jr., QB, Oklahoma
14. Cliff Harris, Jr., CB/PR, Oregon
15. Janoris Jenkins, Sr., CB, Florida
16. Quinton Coples, Sr., DE North Carolina
17. Jared Crick, Sr., DT, Nebraska
18. Michael Floyd, Jr., WR, Notre Dame
19. Alshon Jeffery, Jr., WR, South Carolina
20. Vontaze Burfict, Jr., LB, Arizona State
21. Geno Smith, Jr., QB, West Virginia
22. Chris Polk, Jr., RB, Washington
23. Jayron Hosley, Jr., CB, Virginia Tech
24. Tank Carder, Sr., LB, TCU
25. Ronnie Hillman, So., RB, San Diego State
Five more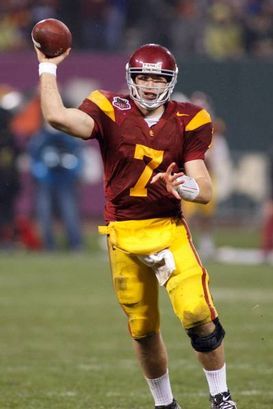 ICONMatt Barkley is poised to have a big junior season in Los Angeles.
Matt Barkley, Jr., QB, USC
Knile Davis, Jr., RB, Arkansas
Billy Winn, Sr., DT, Boise State
Darron Thomas, Jr., QB, Oregon
Brandon Weeden, Sr., QB, Oklahoma State
What's new on the practice field?
Remember A.J. Derby, who was one of Iowa's top signees in the class of 2010? Many close to the program felt that the quarterback would find a position elsewhere, but the athletic signal caller will remain under center for now. The 6-4, 232-pounder has impressed head coach Kirk Ferentz with the strides he's made since arriving on campus, so he's going to get his chance to take reps under center, as Marc Morehouse of the Cedar Rapids Gazette details.
"He fully wants to compete for the job," Ferentz said. "We're on board with that because he's got, I think, a lot of upside. Probably the question down the road (this season) is if he's not the first-team quarterback, will he play on special teams? That's a conversation we'll have to have. But I think he can help us."
With soon-to-be junior John Wienke likely to serve as the backup to James Vanderberg, it doesn't seem likely that Derby would want to remain on the sideline for too long. Jake Ruddock will also arrive on campus in the fall. Expect Derby's athleticism to be utilized in some way — perhaps even more than on just special teams next season.
An interesting battle started to take place in Lawrence on Friday as Kansas opened spring practice. Despite leading the Jayhawks in 2010 with 742 yards and nine scores on the ground, James Sims will have to hold off four other running backs for the starting job during the preseason. Matt Tait of the Lawrence Journal-World wrote this week that Sims will fight for carries with three signees from the Class of 2011 — Darrian Miller, Anthony Pierson and Dreamius Smith — as well as redshirt freshman Brandon Bourbon. Tait noted that an assistant coach told him this offseason that head coach Turner Gill was going to let the competition sort itself out over the offseason and into the fall. Sims may not be the fastest back, but he's dependable and efficient. I expect him to begin the season getting the bulk of the carries for the Jayhawks.
Who will replace Anthony Allen as Georgia Tech's new B-back? An unlikely candidate has emerged in Atlanta as former quarterback David Sims has been getting a look because of his athleticism. The Yellow Jackets currently have Tevin Washington and Synjyn Days getting snaps at center, so Sims' best chance to see the field may be at the position where Jonathan Dwyer and Anthony Allen excelled in the past. While switching positions is certainly an adjustment, Sims did rush for 2,800 yards in high school. Assistant coach Brian Bohannon is hopeful that Sims could compete for a starting spot by the end of the spring if he grasps the position well enough. Preston Lyons, Richard Watson and Charles Perkins also are in the mix.
Spring flings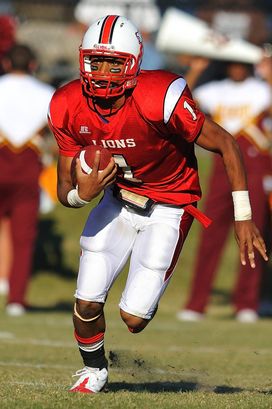 Randall Mackey continues to impress at Ole Miss.
— Randall Mackey continues to impress in the battle for the starting quarterback job in Oxford. While Nathan Stanley, Zack Stoudt and West Virginia transfer Barry Brunetti continue to get reps with the first team, the athletic Mackey could retain the edge because his running ability gives offensive coordinator David Lee another weapon when plays break down. The bonus is that Mackey's passing ability has shined this spring as the new offense slowly gets implemented at Ole Miss.
— Florida suffered a tough blow when redshirt freshman Mack Brown suffered a broken fibula a week ago. After having surgery on Thursday, the running back is expected to be sidelined for about three months. Rising senior Chris Rainey is the lone scholarship running back available for the rest of the spring with Jeff Demps running track, Mike Gillislee sidelined with a stress fracture in his foot and early enrollee Mike Blakely shelved due to shoulder surgery.
— Notre Dame fans, your first-team offense looked like this at Friday morning's practice: QB, Dayne Crist; O-Line (left to right), Zack Martin, Andrew Nuss, Braxston Cave, Trevor Robinson and Taylor Dever; RB, Cierre Wood; TE, Tyler Eifert; WR, Theo Riddick, TJ Jones and John Goodman. Tommy Rees came in and replaced Crist under center for the next series, where he wore the HelmetCam.
— Oregon State president Ed Ray, who was one of the officials at Ohio State who hired Jim Tressel away from Youngstown State, blasted the Buckeyes head coach this week. Ray is the current president of the NCAA's executive committee which oversees changes to NCAA's rulebook and bylaws. He, of course, wants to see the NCAA's standards and rules upheld. While his opinions don't necessarily reflect those of the NCAA, if his response to Tressel's transgressions are similar to those shar ed across the NCAA, that five-game suspension might just be the start for the Buckeyes head coach.
— By the way, if you need some good Sunday morning reading, check out the 283-page report on the financial improprieties which occurred within the Fiesta Bowl organization.
Victory formation
On Friday, Florida State head coach Jimbo Fisher released a statement through the school asking for prayers for his five-year-old son, Ethan, who is battling a serious health issue. Fisher missed the Seminoles' practice on Tuesday and it's not immediately known if he will take more personal time away from the team in the immediate future.
"We ask that you please respect our privacy as we deal with this as a family," read Fisher's statement. "We will rely on our faith, our immediate family as well as the entire Seminole family as we face these challenges in the coming months. With the right medical care and the proper optimistic approach, we are confident of positive results."
The National Football Post sends its thoughts and prayers to the Fisher family.
When it comes to anything and everything related to college football, I will continually spread what I hear on Twitter throughout the day at Miller_Dave, so be sure to stay tuned if you're a frequent tweeter. Also, you can find my stories under my Against the Grain column.
Have a college football question? Feel free to send me an email at dave.miller@nationalfootballpost.com.
Have a great weekend, and be sure to enjoy the college basketball games and the first baseball weekend of the new season.