June 11, 2011 -
Dave Miller
NFP On Campus
Eighty-four days until the first college football Saturday of the 2011 season.
Enough said.
So let's open up the college notebook and see what's happening on campuses across the country.
The U. getting back to its roots?
When Al Golden took over at Miami, it was clear that he took a crash course in the team's football history. With overwhelming support from former Hurricane standouts at the spring game — 150 ex-Canes showed up, including Michael Irvin, Bryant McKinnie and Bennie Blades — Golden has stressed the importance of Miami embracing the glory days of the program and re-energizing a program that was treading water under Randy Shannon.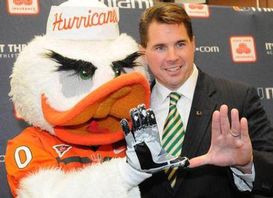 Al Golden is trying to bring the Miami program back to its roots.
But as noted in the Miami Herald recently, change will only occur if the players buy into the program — which wasn't exactly happening during the previous regime, <a href="http://www.miamiherald.com/2011/06/08/2255815/ex-cane-hill-um-player-behavior.html#ixzz1OpigARlH" target="_blank">according to former cornerback Ryan Hill.
After Miami fell to Notre Dame in the Sun Bowl to conclude a disappointing 2010 campaign, Hill had no problem voicing his displeasure with the state of the team.
"We have a lot of guys…that act like little boys," Hill proclaimed. And despite Golden's arrival, Hill says the former Temple head coach has work to do — especially because many of those same players are still on the roster.
"When I made that comment," he said, "what I meant is some guys are really immature. In my early years at UM, there were guys who were freshmen who acted like adults — Jon Beason, Teraz McCray, Greg Olsen. When I was a senior last year, some sophomores and juniors acted like freshmen. Guys would do silly stuff like pulling their pants down, wearing crazy stuff.
"Guys would come late to meetings. They would schedule appointments and not show up or listen to iPods in class. I was always told by academic advisors to talk to [teammates]. Some kids got worse after they got here. People were purposely doing stuff to mock Randy Shannon or do their own thing.
"Coach Shannon tried to make sure guys went to class and presented themselves well. But as soon as he turned his back, they would do what they wanted. There are a lot of guys who didn't produce, and how they act off the field has a lot to do with it. That has to change."
Hill also noted that, during the season-concluding loss to the Irish, a few of the receivers were having a snowball fight on the sideline when the team was trailing 21-0.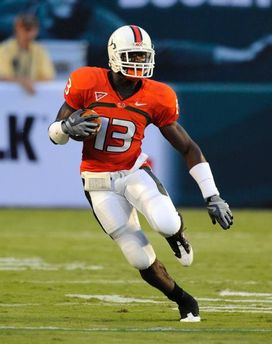 ICONFormer Hurricane Ryan Hill believes the team lacked maturity in recent years.
The overall message from Hill is that these players need to grow up and take more pride in being a Hurricane.
The other problem Hill discussed is one that is affecting college campuses and teams across the nation: marijuana. There are at least a handful of Miami players who are reportedly slated to be suspended for the opener against Maryland for using marijuana, although Golden has not confirmed those suspensions.
"Coach Shannon put fear in guys not to do pot during the season. But I know there were a couple guys that beat the system," Hill said. "Nobody got caught. Now coach Golden has a problem on his hands, and he has to figure out how to handle it. I'm sure there are guys still using, though there's no way to know for sure. You have to have a zero tolerance rule, make an example out of somebody. It's a problem across the country."
While Golden may not be expected to win an ACC title in his first season in Coral Gables, the winning culture must be fortified in Year One — or else we'll see more of the same from the 'Canes: disappointment. Since his arrival, Golden has stressed having good practice habits. We have already seen the depth chart constantly turn over this spring, so there's no question the new leader will not settle for complacency.
If they build it, will you move?
One of the biggest roadblocks to Villanova's entrance into the Big East is the fact that the team plays in a stadium that only holds about 12,500 fans. But with the report that the city's Philadelphia Union MLS soccer team is expanding its 18,500-seat venue, the Wildcats could be primed to make the move after all.
According to the Delaware County Times, the Union is looking to expand the seating capacity of PPL Park to 20,000 in the first stage, and eventually 30,000 in a second stage of work. The 10-year plan was reportedly laid out from the beginning, but it looks to be accelerated due to the Union's recent success.
The Big East asked 'Nova football officials if they'd like to join the program's basketball squad in league membership, but the conference later revealed concerns about the size of the team's current stadium. The league prefers about a 30,000-seat minimum — and that'd still be small by major-conference standards. While no formal agreement is in place, PPL Park has been rumored to be a potential home for the football team if it moved to a bigger conference. The 'Nova administration has reportedly been in talks with the Union to use PPL Park as its home venue if a move up to the FBS occurred.
The drama comes to an end in Morgantown
West Virginia officially named offensive coordinator Dana Holgorsen as its head coach on Friday night, replacing Bill Stewart. Check out the full audio of the press conference.
Skinny posts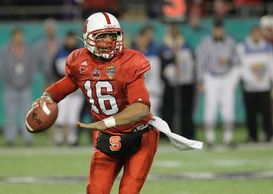 How close is Russell Wilson to becoming a Badger?
Former N.C. State quarterback Russell Wilson may not officially be a Wisconsin Badger yet, but his visit with Bret Bielema this past week went extremely well, according to Tom Mulhern. "It was a home run — a grand slam in baseball terms," a Badgers source said. The same source said that Wilson spent a lot of time with coordinator Paul Chryst to learn about the team's offense, as well as getting to know some of the players. The 5-11, 202-pounder has thrown for 8,545 yards with 76 touchdowns and 26 interceptions in his career as a three-year starter at N.C. State. He has one year of eligibility remaining, and it looks as though Wisconsin has the edge over Auburn for his services.
Oklahoma's defensive line took a hit this past week when it was announced that tackle Daniel Noble would have to end his playing career due to lingering effects of a concussion. Noble was injured midway through his true freshman season in 2010 and was sidelined for the rest of the season before practicing with the team in the spring. However, he was forced to sit out the Sooners' spring game when the afteref fects arose. OU will rely on rising juniors Stacey McGee, Casey Walker and Jamarkus McFarland at the tackle position, as well as redshirt freshman Torrea Peterson.
Russell Wilson has dominated the quarterback transfer talk as of late, but where will former Nebraska signal-caller Cody Green land? According to Steven M. Sipple of the Lincoln Journal Star, the quarterback is still looking around but would like to play in an offense that gets him to "the next level." Sipple mentioned in the past that Boise State may be a possibility. Green could redshirt this fall and battle for the starting job with star Kellen Moore set to depart after this season.
Danny Hope added some help to his Purdue offense with the addition of Patrick Bade, who played for Matt Painter on the Boilermakers basketball team. The 6-8, 229-pounder last played football during his junior year in high school — almost four years ago — but will make the full-time shift to the gridiron. It's unclear if he could help the team right away, but Purdue struggled mightily throwing the football last fall and lost four of its top five pass-catchers from 2010. Tight end Kyle Adams led the team with 36 catches, but he's gone, as well. And there is youth at that position, so it'll be interesting to see if Bade can help this offense sooner rather than later.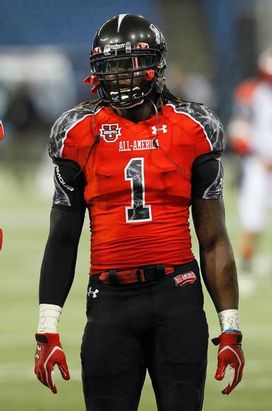 ICONIsaiah Crowell has arrived on campus at Georgia. How long will it be until he starts in the backfield?
He has arrived. Georgia's top recruit from the Class of 2011, Isaiah Crowell, landed on the Athens campus this past Tuesday, and the only real competition he faces for the starting job is rising senior Caleb King with Washuan Ealey no longer a part of the program. While Carlton Thomas and Ken Malcome are currently ahead of Crowell on the depth chart, that won't last too much longer as it's only a matter of time before he is the lead back for Georgia — so long as he is able to make the early adjustments to the college game.
West Virginia received a boost this week when former Wake Forest wide receiver Devon Brown and former Notre Dame linebacker Steve Paskorz arrived on campus as transfers. Because both will be fifth-year seniors and have enrolled in graduate programs, they will be eligible to play immediately. While Paskorz isn't expected to make big contributions, Brown led the Demon Deacons in receptions in 2009 and 2010. He finished his career at Wake with 110 receptions for 1,107 yards and eight touchdowns.
The Tennessee defense was further weakened when it was announced that tackle Montori Hughes is no longer a part of the program. While he had dealt with academic issues in the past, he also was one of the Volunteer players at the bar brawl that resulted in safety Darren Myles Jr.'s dismissal last summer and he had a recent incident in a dorm room. Head coach Derek Dooley did not give a reason for the 6-4, 327-pounder's ouster, but Hughes was listed as a backup to converted offensive tackle Daniel Hood at the end of spring practice. Former JUCO defender Maurice Crouch will also compete for the starting gig next to Malik Jackson. Defensive depth, especially in the secondary, has emerged as Dooley's biggest concern entering the summer.
Brunch leftovers
If you haven't checked out these recent articles, do so while you're finishing that last cup of coffee this morning.
— It's Tennessee that will be going in front of the NCAA's infractions committee on Saturday for violations within its basketball program under former coach Bruce Pearl and football program under former coach Lane Kiffin. But USC could be impacted, as well, depending on how Kiffin's charges of failure to monitor and promote an atmosphere of compliance play out. Will Kiffin miss any time on the sideline in the fall?
— CBSSports.com's Bryan Fischer explains how the conflicting timelines of Big Ten commissioner Jim Delany and the Ohio State administration may not bode well for the Buckeyes in the eyes of the NCAA Committee on Infractions.
— Dan Wetzel of Yahoo! Sports argues that Ohio State's case is worse than that of USC. I went back and forth on this issue, but I have a feeling the Buckeyes are not going to be given any special treatment despite the resignation of Jim Tressel and Terrelle Pryor opting to leave the program.
When it comes to anything and everything related to college football, I will continually spread what I hear on Twitter throughout the day at Miller_Dave, so be sure to stay tuned if you're a frequent tweeter. Also, you can find my stories under my Against the Grain column.
Have a college football question? Feel free to send me an email at dave.miller@nationalfootballpost.com.
Have a great weekend! And for those of you in the Chicagoland area, I'll see you at the Old Town Art Fair.