January 07, 2012 -
Dave Miller
NFP On Campus
We are just two days away from the BCS national championship game between LSU and Alabama.
In the meantime, let's take a look at the latest coaching and recruiting news happening around the country.
Coaching carousel
I mentioned earlier this week that Derek Dooley would need to find a strong replacement for Justin Wilcox, the Tennessee defensive coordinator who left for the same position at Washington. And it seems that Dooley may have found his man, as FootballScoop.com is reporting that former Miami head coach Randy Shannon will be named to the position on Monday. It's a big "get" for the Vols, who have suffered through a tumultuous offseason after a 5-7 fall campaign. Shannon will inherit a Vols defense that finished 28th nationally in total defense despite being an inexperienced and youthful group. With a make or break year coming up for Dooley in 2012, especially with so many starters returning, finding an experienced and proven DC as soon as possible was vital.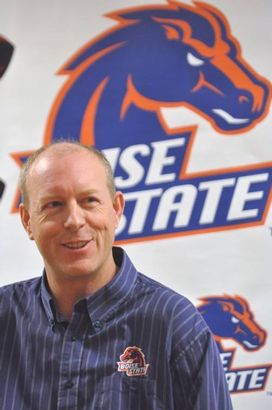 Brent Pease could be set to assume the offensive coordinator position at Florida.
While Florida has not made it official yet, it appears that Boise State's Brent Pease is set to become the Gators new offensive coordinator. What we do know currently is that Pease has left the Broncos staff. However, Alabama is also vying for his services, as its own offensive coordinator Jim McElwain will take over as head coach at Colorado State after Monday night's BCS title game. Pease was reportedly in Gainesville on Friday, so it will be interesting to see if his landing spot is with Will Muschamp at Florida, which is looking to replace Charlie Weis after the former Notre Dame head coach took over for Turner Gill at Kansas.
There have been multiple reports in the last 24-48 hours that Pat Narduzzi, Michigan State's defensive coordinator and a rising head-coaching prospect, is in College Station entertaining an offer from new Texas A&M head coach Kevin Sumlin to be the Aggies' new DC. If A&M is really offering $600,000 to $750,000, MSU may need to give Narduzzi a serious pay raise to keep him, as he made roughly $240,000 this fall. While he is scheduled to get a salary bump this February, it won't come close to reaching the Aggies' figure. Losing Narduzzi would be a tough blow for the Spartans, who have become one of the toughest units in the country on his watch. On the flip side, A&M would love to pair up his defensive mind with Sumlin's offensive prowess as it enters its inaugural season in the SEC.
New UCLA head coach Jim L. Mora will not be able to snag John Pagano for the team's vacant defensive coordinator position, as Pagano was named the new DC of the NFL's San Diego Chargers. He had been serving as the Chargers' linebackers coach before the promotion. Because Pagano is familiar with the 3-4 and Mora was set on hiring him, look for the Bruins to run that scheme under whoever is named the new DC. Mora expects to fill the position by the end of the weekend. Of course, Noel Mazzone has already been named offensive coordinator, so the Bruins should have a more up-tempo unit in 2012. Mazzone helped direct Arizona State's high-powered offense in recent years and helped in the development of Sun Devils quarterback Brock Osweiler, who built himself into a future NFL draft pick.
With Paul Chryst taking over as the head coach at Pittsburgh, Wisconsin head coach Bret Bielema is searching for a new offensive coordinator. It was thought that Bielema would land Jay Norvell, the Oklahoma co-OC who coached at Wisconsin in the 1990's. But ESPN's Joe Schad is reporting that Norvell will return to Oklahoma next year. It remains to be seen whether Bielema will turn his attention to another big name: former Kansas offensive coordinator Chuck Long.
Purdue head coach Danny Hope dismissed defensive coordinator Gary Emanuel, while inside linebackers coach Phil Elmassian is expected to become the defensive coordinator at UMass, which will be joining the MAC next season. Despite forcing seven turnovers in their bowl win over Western Michigan, the Boilermakers were one of the worst defenses in the nation at takeaways. Keep an eye on outside linebackers coach Donn Landholm and defensive backs coach Lou Anarumo as possible replacements for Emanuel.
CONTINUE TO PAGE 2 FOR MORE NFP ON CAMPUS