January 28, 2012 -
Dave Miller
NFP On Campus
National Signing Day is Wednesday, and the Class of 2012 still has plenty of uncommitted future college stars. Be sure to stay with the NFP for all of the latest recruiting news.
But for now, let's open up this weekend's notebook and see what's happening on campuses across the country.
Filling Schiano's shoes at Rutgers
There are some intriguing names that I would call if I was Rutgers athletic director Tom Pernetti, who is looking to replace longtime head coach Greg Schiano. Mario Cristobal, a former Rutgers assistant from 2001-03 under Schiano, would be my top target. The Florida International head coach has worked wonders building that Sunshine State program up after it was buried by NCAA sanctions. Speaking of sanctions, Cristobal would only get a call if Miami's Al Golden turned down an offer, which would likely occur if a call was made. Even if Golden was uncomfortable with potential looming sanctions at Miami, it's hard to imagine him leaving the 'Canes for Rutgers — despite the fact that Schiano did a great job of building the program up after inheriting a longtime doormat.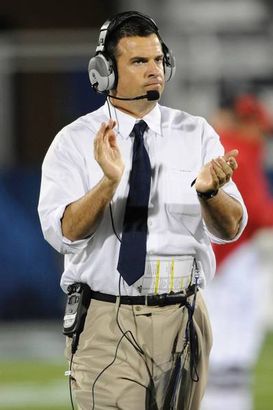 ICONFIU head coach Mario Cristobal would be an ideal fit at Rutgers.
After Golden and Cristobal, Delaware's K.C. Keeler and Temple's Steve Addazio would be two other excellent choices. Keeler actually coached in New Jersey at Division III Rowan for three seasons, while Addazio led the Owls to an impressive postseason win in his first season in Philadelphia. But with National Signing Day just days away and the Scarlet Knights poised to bring in a very good class, Pernetti might be wise to keep offensive line coach Kyle Flood as the interim head coach. I thought the interim promotion would have gone to Frank Cignetti, the team's current offensive coordinator and one of its better recruiters. But Flood received the news Thursday afternoon. I'm not sure what big-name candidate would jump right now from his own program, so it wouldn't be terrible if the Scarlet Knights had to "settle" for in internal promotion. Nonetheless, Pernetti is likely logging serious cell phone minutes as we speak.
On the recruiting trail
In case you missed it from Thursday afternoon, here is my list of the top 20 uncommitted prospects as we enter the final days before National Signing Day.
Let's take a look at some other prospects who are in the news…
A lot of Texas fans may be hoping that the nation's top wide receiver, Dorial Green-Beckham, will ultimately decide to choose the Longhorns. That seems like a fantasy at this point, but Mack Brown likely will land Daje Johnson from Hendrickson High School in Pflugerville, Texas, despite his current commitment to TCU. He is a far different receiver than DGB — Johnson is measured at 5-9 and 180 pounds. In fact, he could excel at the next level as a running back or a cornerback because of his blend of speed and agility. But if he does play receiver, he will be a nice little weapon to have in space for a Longhorns team that is in need of playmakers. It is expected that he will flip from the Horned Frogs to Mack Brown's program.
Remember Trey Metoyer? Oklahoma signed the receiver last year, but he was forced to attend classes at Hargrave Military Academy after he was unable to qualify in Norman. He has now been cleared by the NCAA clearinghouse and will join the Sooners and be ready for spring drills. Metoyer was a Top 10 receiver nationally in 2011, as the Whitehouse, Texas, native finished with 259 career receptions in high school — second all-time in Texas high school history. It's a big pick-up for the Sooners and will add to their strong receiver haul in the current class.
Offensive lineman Zach Banner is set to announce his decision Monday, and the Lakes High School (Lakewood, WA) recruit is down to three schools: Oklahoma, USC and Washington. While the Huskies would love to keep the 6-8, 305-pound tackle in state, he had a great visit with the USC staff, possibly giving the Trojans the edge after already having visited the campus twice on unofficial visits.
The day after National Signing Day, I will post my Top 25 team recruiting rankings. A lot can change between now and February 1, especially as players who are uncommitted sign their Letters of Intent. But, for now, here is how the NFP sees the Top 25 Class of 2012 team rankings.
1. Alabama
2. Texas
3. Michigan
4. Ohio State
5. Florida

6. Florida State
7. Miami (FLA)
8. Texas A&M
9. Clemson
10. Oklahoma

11. LSU
12. Notre Dame
13. South Carolina
14. Georgia
15. Cal

16. Auburn
17. Oregon
18. Tennessee
19. UCLA
20. Stanford

21. USC
22. Texas Tech
23. Virginia Tech
24. Arkansas
25. Vanderbilt
And five more classes that are trying to sneak into the Top 25
26. Virginia
27. West Virginia
28. TCU
29. Louisville
30. Baylor
Email dave.miller@nationalfootballpost.com or follow me on Twitter at Miller_Dave