December 10, 2011 -
Barry Dorey
NFP On Campus
The NFP Saturday Tailgate takes a hiatus with regular season action giving way to bowl games in the very near future. But there is one final game on the schedule: Army and Navy will battle at FedEx Field at 2:30 p.m. ET on CBS. It's one of the best games of the season because of the pageantry and the emotions involved for so many players competing in their final collegiate game. Be sure to catch even just a few minutes of the action if you're near a television.
Alright, let's take a look at the coaching carousel spinning across the nation...
Is the second time the charm?
Charlie Weis spent five seasons as Notre Dame's head coach after a very successful career running the New England Patriots offense under Bill Belichick. Weis, who was the highest-paid assistant in Florida history while running the Gators offense this fall, went 35-27 in South Bend from 2005-09 before being fired by athletic director Jack Swarbrick. He took the Irish to two BCS Bowl games as well as the Hawaii Bowl during his tenure, but he ultimately could not field even average defenses and struggled to develop his own recruits.
Kansas athletic director Sheahon Zenger believes in second chances, however, as Weis was named the Jayhawks' new head coach late Thursday afternoon. He was introduced at a Friday press conference.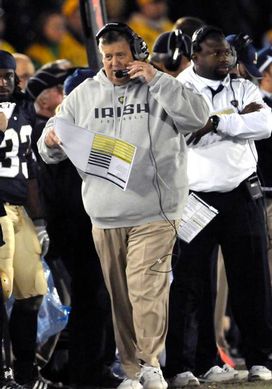 ICONCharlie Weis will look to change the losing culture at Kansas.
While Turner Gill certainly deserved more than two years in Lawrence, the fact is that Kansas football was not a relevant program in the Big 12. And, under former head coach Mark Mangino, it actually was at one point. The hiring of Weis, who owns four Super Bowl rings, was met with raised eyebrows and snickering across the nation — perhaps even in Lawrence — but the fact remains that Zenger would have had a difficult job selling the school to any potential big-name candidate. Weis may not win a national championship at Kansas, but what exactly are the expectations at the basketball school?
The main problem for Weis in South Bend was on the defensive side of the ball, where the Irish were not physical, fast or smart enough on any given Saturday. Weis takes over a team with the nation's worst scoring defense and total defense, and a lack of overall speed on that side of the ball is the biggest issue. Despite his rough season in Gainesville where the Gators had the 102nd-ranked offense in the nation, he's still a brilliant offensive mind. Getting the Jayhawks to seven and maybe even eight wins would be a coup. But he must surround himself with a strong defensive staff, or else the Jayhawks will continue to stumble in the Big 12. He also must dedicate himself to the recruiting trail and surround himself with tireless workers, because he went 16-21 his last three years at ND playing without Brady Quinn and his own recruits.
Note: Pete Thamel of the New York Times reported Friday that Dayne Crist, who announced he's leaving Notre Dame, will visit with Weis at Kansas over the weekend to discuss a potential transfer. Crist, who will have one year of immediate eligibility remaining, struggled to stay healthy and fit into Brian Kelly's version of the spread during his time in South Bend. He, of course, was recruited by Weis at ND.
Beckman to succeed Zook
Illinois named Toledo head coach Tim Beckman to succeed Ron Zook, who was fired after not being able to consistently win in Champaign. The 46-year-old Beckman took over a Rockets team that had fallen on hard times and engineered a quick turnaround at the MAC school. Toledo has won eight games each of the past two seasons and has lost just two conference games during that span; Zook was let go partly because of his poor Big Ten record. The Fighting Illini have talent because bringing in solid recruits was Zook's strength. Now they have a coach who knows how to maximize that same talent.
Beckman's squad averaged a MAC-best 42.3 points per game this fall, earning a berth to the Military Bowl. What's interesting is that Beckman is a former defensive coordinator at Oklahoma State and Bowling Green, working for Urban Meyer with the Falcons. But the Rockets were subpar on that side of the ball this year, twice allowing teams to score 63 points against them. With the defense being the strength of Zook's last team, though, Beckman will inherit a unit ready to complement an offense that should improve after disappearing the second half of the season. It will be interesting to see if Beckman considers keeping current Illini defensive coordinator/interim head coach Vic Koenning as his DC, because it's clear the players love playing for the former Wyoming head coach.
Penn State's head-coaching search
At the TicketCity Bowl news conference ahead of his school's game against Houston on January 2, Penn State acting athletic director Dave Joyner said Thursday that he hopes to hire a new head coach in the next 30 days. "I think the target is the next 30 days," Joyner said. "The natural process takes time to work through. We're going to do a search as rapidly as we can, but we don't want to be careless. My guess is (we'll have someone) in the next several weeks." Mississippi State's Dan Mullen and Harvard's Tim Murphy reportedly have been the leading candidates to become the Nittany Lions' new head coach, but Joyner has not ruled out interim head coach Tom Bradley or quarterbacks coach Jay Paterno despite their ties to the Joe Paterno regime. Joyner did not go into detail as to who the candidates are for the job or how much the university is willing to pay. He was happy with the candidates he's lined up, however. "I will say I'm happy with the interest that's been shown."
CONTINUE TO PAGE 2 FOR MORE NFP ON CAMPUS