June 04, 2011 -
Dave Miller
NFP On Campus
Hopefully your kickoff to summer last Memorial Day weekend was memorable. We know it was for Ohio State fans as the Jim Tressel and Terrelle Pryor news continued a drama-filled offseason in college football.
But there's other news, as well, so let's open up the college notebook and see what's happening on campuses across the country.
What's the latest in Columbus?
Here's the latest with Ohio State…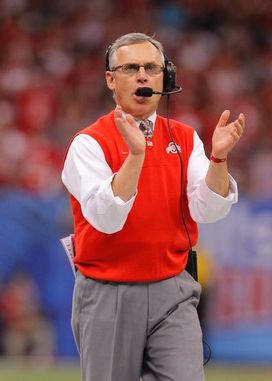 ICONJim Tressel is done at Ohio State. Will Terrelle Pryor and key members of the administration follow?
The Columbus Dispatch, which has been all over this story, reported Friday that an audit of the school's compliance department in November found that it wasn't doing a good enough job monitoring the use of cars, uniforms and equipment by athletes. Of course, a month later the Buckeyes suspended six football players, including Pryor, for violating NCAA rules by exchanging or selling memorabilia for tattoos. And this past March, Tressel admitted that he failed to report that he knew about the player violations. On Monday, Tressel resigned after receiving public support for months from both athletic director Gene Smith and university president Gordon Gee.
This week, Gee said that university officials are "taking a look at our failures" in the compliance department.
"We have an opportunity through this process not to hunker down, not to get into a bunker, but to set very high standards. And that's precisely what we're doing," Gee said. "We'll take a look at if we have the best compliance system in the country. That will be our goal."
In an emailed statement on Thursday, Smith said that an examination of the compliance program takes place on an ongoing basis to make sure it is working as best as possible. And the school's compliance director, Doug Archie, has repeatedly defended his department with the newspaper.
It's hard to believe Smith's insistence that a system of checks and balances has been in place for the compliance department — not with an avalanche of bad news spilling out of the campus.
Regarding Pryor's issues, I don't expect him to ever line up under center again in Columbus. Whether we don't hear from him until the 2012 NFL draft, he tries the supplemental route this summer or attempts to catch on in the CFL remains to be seen. But I don't see him wearing the No. 2 in scarlet and gray ever again.
In terms of Smith, one would think that it'd be tough to ultimately survive this fiasco — especially with the great possibility that more information will come out in terms of wrongdoing either by players or within the compliance department.
We know that Gee said that Smith's job is safe. But what else did we expect? Gee was the same guy who proclaimed at the infamous March 8 news conference that he was relieved that Tressel didn't fire him — rather than the other way around.
I expect Gee to continue to back Smith as long as the Pryor drama continues to unfold and the quarterback takes much of the heat. But at the end of the day, it may be smart for the Buckeyes to look for a new leader in the athletic department and start the healing process.
Though no time is a good time for such transgressions, this mess certainly couldn't come at a worse moment for Ohio State, including its president. Gee is leading a $2.5 billion fundraising campaign — the school's biggest ever — and the university is preparing to raise tuition prices following decreased state aid. With increased dissatisfaction from alumni, fans and donors, can Gee's history of bringing in large donations be enough to keep his position?
It may not be, especially if university officials want to wipe away the image of Ohio State being merely a football factory.
Prestwood is headed to South Bend after all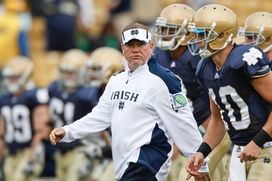 ICONBrian Kelly put together a very good Class of 2011.
This past recruiting cycle for Notre Dame definitely had its ups and downs. But ultimately not losing defensive end Aaron Lynch to Florida may have been the best news for the Fighting Irish as they assembled one of their best classes in recent memory. And Brian Kelly received even more good news Thursday when it was reported that Jordan Prestwood, an offensive tackle from Plant City, Fla., obtained his release from Florida State to attend Notre Dame. The 6-6, 280-pounder originally committed to ND in April 2010 before decommitting in mid-October, choosing Florida State and enrolling at the Tallahassee school in early in January.
"I had been hearing rumblings about that for a while, that he wasn't happy at Florida State," CBS Sports recruiting analyst Tom Lemming said. "This is a big pick-up for Notre Dame.
"Jordan has long arms and he moves his feet well. He was one of the top offensive tackle prospects in the country in the 2011 recruiting cycle, and sitting out a year will really benefit him, because he played tight end in high school."
The bad news is that Prestwood will have to sit out in 2011 to comply with NCAA transfer requirements — a tough blow considering it's only June. But those are the rules, and he'll have four years of eligibility remaining starting in 2012.
Skinny posts
CBS announced its SEC schedule for the upcoming season, along with a few other contests that will be aired on the network. Of course, the same batch of intriguing matchups are on the slate, but it's always fun to see them on the schedule when it's released in the summer. You'll notice that the schedule isn't complete — matchups for the weeks not listed will be announced six to 12 days before the games.
9.17: Florida vs. Tennessee, 3:30 p.m. ET
10.1: SEC doubleheader, 3:30 and 8
10.29: Florida vs. Georgia, 3:30
11.12: SEC doubleheader, Noon and 3:30
11.25: LSU vs. Arkansas, 2:30
12.3: SEC Championship, 4
12.10: Army vs. Navy, 2:30
12.31: Sun Bowl, 2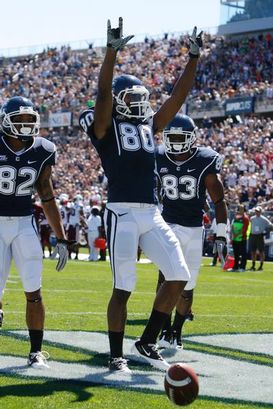 ICONUConn receiver Michael Smith will miss the entire 2011 season.
Paul Pasqualoni's debut season at UConn will be a little bit tougher now that wide receiver Michael Smith has been declared academically ineligible for the entire 2011 season. Smith, who will retain one year of eligibility if he chooses because he has yet to use a redshirt, will be able to practice and work out with the team while he works on his schoolwork. Smith's loss is big, especially because he led the Huskies with 46 receptions for 610 yards in 2010. As we exp ected, however, this will be a defense-driven Huskies squad in the fall. Still, you have to wonder how the offense will put up points with questions under center and at running back.
Oregon's Chip Kelly is taking nothing for granted these days. Despite the Ducks winning back-to-back Pac-10 titles and earning consecutive BCS bowl berths, the head coach is looking for any way possible to help his Ducks come out victorious in their postseason contests. This past week, Kelly put his squad through military-style bootcamp training. On Tuesday and Wednesday, the team participated in a workout designed as part team-building and part strength and conditioning while military-style drill instructors oversaw the practice. Rob Moseley of The Register-Guard has more on the secret workouts.
Good news for South Carolina fans: prized recruit Jadeveon Clowney has qualified academically under NCAA guidelines and will be eligible to start classes in July. It was a big week in Columbia with the nation's best player in the Class of 2011 qualifying and the suspension of embattled quarterback Stephen Garcia being lifted. Garcia will take part in voluntary summer workouts with the team. "Stephen is returning to the team on a probationary basis and still has to do some things here for the next two or three months to prove himself worthy of being a student-athlete at South Carolina," Spurrier said in a statement. "We will give him another chance and hopefully he can do the right things and represent the university in a first-class manner." Translation: backup quarterback Connor Shaw will remain on the bench.
Former Georgia running back Washaun Ealey has enrolled at Jacksonville State. Head coach Jack Crowe said that the former Bulldog will step right into a starting spot after he led Georgia in rushing the past two seasons. Jacksonville State is the same school that netted former LSU quarterback Ryan Perrilloux as a transfer in 2008.
Brunch leftovers
If you haven't checked out these recent articles, do so while you're finishing that last cup of coffee this morning.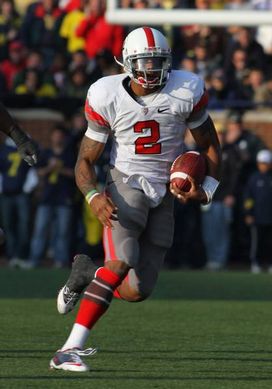 ICONPryor arrived at Ohio State as a much-hyped recruit. If he never takes another snap in Columbus, what will be his legacy?
— This article from Doug Lesmerises of The Plain Dealer came across my Twitter news feed this week, courtesy of Bryan Fischer of CBSSports.com. It's from March 2008, and its subject is Ohio State quarterback Terrelle Pryor. I found it interesting, especially when read as school and NCAA investigations cloud the dual-threat signal caller's future in Columbus.
— Okay, so you will either really want to buy this…or you will really want to destroy it — there's no in between. Me? I'm thinking I wouldn't mind picking it up at a discounted price. One nugget from the book that already came out is Tebow's admission that he had headaches before kickoff of the game against LSU in 2009 — two weeks after suffering a concussion against Kentucky. And, in fact, he lied to then-coach Urban Meyer about it, saying his headaches had gone away.
— In light of Chuck Landon's piece in The Herald-Dispatch, which alleges that West Virginia offensive coordinator/head-coach-in-waiting Dana Holgorsen may have been involved in at least three and as many as six alcohol-related incidents in the last six months, Mike Casazza of the Charleston Daily Mail writes that a source says that Landon's story "had blatant inaccuracies." For Holgorsen's sake, let's hope that's the case. With the Mountaineers reportedly not set to respond to Landon's allegations, it looks like it's essentially a case of one person's word against another.
When it comes to anything and everything related to college football, I will continually spread what I hear on Twitter throughout the day at Miller_Dave, so be sure to stay tuned if you're a frequent tweeter. Also, you can find my stories under my Against the Grain column.
Have a college football question? Feel free to send me an email at dave.miller@nationalfootballpost.com.
Have a great weekend! For those of you in the Chicagoland area, I'll see you at the North Ave. Beach volleyball courts — and at Castaways for some postgame beverages.