June 25, 2011 -
Dave Miller
NFP On Campus
Seventy days until the first college football Saturday of the 2011 season.
And, of course, it wouldn't be the offseason if another NCAA investigation wasn't ongoing, with all the confounding twists and turns that we've seen at Oregon this past week. We still have chaos at Ohio State, while Butch Davis remains the head coach at North Carolina.
But, for now, let's open up the college notebook and see what's happening on campuses across the country.
Opening kick
The Vanderbilt Commodores as a force to be reckoned with in the SEC? Okay, maybe not in 2011. But next year and beyond? Perhaps, and it's all because of the success that first-year head coach James Franklin is having on the recruiting trail.
We all loved Robbie Caldwell for his quick wit and his ability to make a presser more fun, but Vandy wanted to make a splash with its hire after the 2010 season. And while the Commodores didn't get Auburn offensive coordinator Gus Malzahn as they wanted, their backup plan certainly seems to be paying off.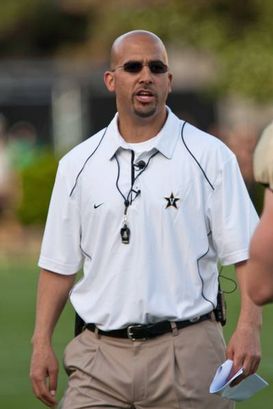 ICONFirst-year Vandy head coach James Franklin is bringing strong talent to Nashville.
Taking a sneak peek at how the Class of 2012 is shaping up, the Commodores are quietly putting together an impressive crop of talent. Despite having no recruiting ties to the South and no prior SEC experience, Franklin is selling top recruits on the city of Nashville and the Vandy program.
After netting quarterback Lafonte Thorougood on National Signing Day when many believed he was headed to Virginia Tech, Franklin has garnered seven commitments for the 2012 class thus far, and five of the recruits have been given three-star grades by Rivals.com. Leading that group from the defensive side is end/linebacker talent Josh Dawson from Georgia, who had offers from Georgia, Michigan State, Notre Dame, South Carolina and Virginia Tech, to name a few. He joins top offensive prospects wide receiver Drae Bowles and athlete Brian Kimbrow. And if you've seen the Vandy offense the last few years, you know the 'Dores need playmakers. Rounding out the class thus far are offensive tackles Blake Bars and Andrew Jelks, wide receiver Cory Batey and defensive end Caleb Azubike.
Perhaps the highest praise is the fact that the team ranks No. 24 in ESPN.com's 2012 rankings at this moment — and they could be rising. According to ESPN's Jamie Newberg, Franklin could be netting six in-state prospects next week, when the group is slated to have a joint press conference.
When, if ever, was Vandy that relevant?
Franklin has always been known as a passionate recruiter. And there's a reason why he was head-coach-in-waiting at Maryland. But he still has a heckuva tough job to do in 2011 and beyond from the coaching aspect.
But on the recruiting trail, he's garnering extremely rave reviews.
Skinny posts
Ohio State just can't catch a break. On Wednesday, more than half of the university's trustees met privately with other school officials, and board chairman Leslie H. Wexner said that one of the issues discussed was about NCAA compliance. However, discussions involving trustees in a closed meeting violate the state of Ohio's public-meetings laws. But after Wexner told WBNS-TV during a break in the meeting that compliance had been discussed, school president Gordon Gee proclaimed that no one should assume that compliance was discussed and that the meeting was not in violation of state laws. Athletic director Gene Smith would not comment on what was discussed, but trustee Clark Kellogg, a former basketball player at OSU and current CBS announcer, also denied that compliance issues were discussed. Were the Buckeyes really in violation, with Gee doing his best to put out the fire? Or was this a case of misunderstanding?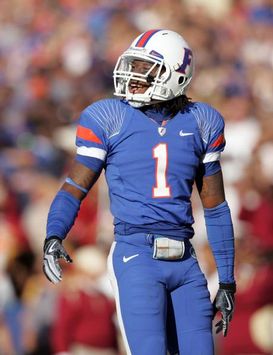 ICONFormer Florida CB Janoris Jenkins is taking his talents to North Alabama.
As expected, former Florida cornerback Janoris Jenkins will play at North Alabama this fall. Jenkins, who was arrested three times while in Gainesville, will play for former Auburn head coach Terry Bowden. Hopefully the former All-SEC defender keeps his nose clean with the Div. II Lions and moves onto a successful NFL career. But it would have been fun to see him lead a young secondary in his senior season at UF, where first-year head coach Will Muschamp is looking for all the experience he can get in that Gators secondary.
Throughout the offseason I've noted how Tennessee's defense has steadily become depleted — especially in the secondary. But now the defensive line has some depth issues. Last week, it was announced that tackle Montori Hughes is no longer part of the program, moving converted ends Corey Miller and Joseph Ayres up the depth chart. Now, according to Andrew Gribble of the Knoxville News-Sentinel, rising senior tackle Rae Sykes is currently not with the team because of academic problems. He certainly can still return if he cleans up his schoolwork, but it's never a good thing when a front seven is experiencing depth issues — especially when you're competing in the SEC.
A lot has been made of Florida wide receiver Avery Johnson's decision to re-open his recruiting this week, as the brother of former LSU cornerback Patrick Peterson has been a Tigers commitment. The fact is that he has not decommitted. Rather, the Class of 2012 prospect's verbal was always soft, and he will continue to go through the recruiting process. Oklahoma State, Florida, Florida State and Central Florida continue to show heavy interest in Johnson, one of the top receivers in the nation.
I want to believe in Arizona State this season, as the talent is seemingly always there for the Sun Devils in Tempe. I just need to see it to believe it. One thing they can rely on is a stellar front seven, led by stud middle linebacker Vontaze Burfict, 2010 defensive freshman of the year Junior Onyeali at defensive end and sophomore defensive tackle Will Sutton, who missed last season because of academics but is reportedly in great shape after losing nearly 30 pounds. It's a make-or-break season for Dennis Erickson, but will the offense be effective enough on a week-to-week basis?
And finally, former N.C. State quarterback Russell Wilson will likely announce his future intentions before July 1, according to Andy Baggott. Will it be Wisconsin, Auburn or a continued career in pro baseball? Stay tuned.
Brunch leftovers
If you haven't checked out these recent articles, do so while you're finishing that last cup of coffee this morning.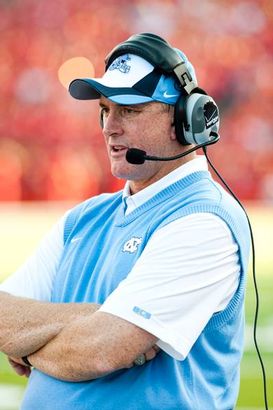 Will UNC head coach Butch Davis survive the mess in Chapel Hill?
— Butch Davis has done a good job of distancing himself from the mess in Chapel Hill. And the UNC administration has done a good job of painting former associate head coach John Blake as the central figure in the NCAA's investigation. But as CBSSports.com's Brett M cMurphy writes, Blake's track record — and the fact that Davis knew him for nearly 40 years — should raise eyebrows when considering Davis' proclamation that he didn't know what was happening with Blake, his recruiting style and his dealings with the late agent Gary Wichard.
— Caulton Tudor of The News Observer gets right to the point in this piece when he discusses the number of unanswered questions left in Chapel Hill.
— More college football programs are being created across the land. As the National Football Foundation & College Hall of Fame highlighted, eight new college football teams are set to take the field for the first time in 2011 with 17 more programs set to launch between 2012 and 2014.
When it comes to anything and everything related to college football, I will continually spread what I hear on Twitter throughout the day at Miller_Dave, so be sure to stay tuned if you're a frequent tweeter. Also, you can find my stories under my Against the Grain column.
Have a college football question? Feel free to send me an email at dave.miller@nationalfootballpost.com.
Have a great weekend!