May 21, 2011 -
Dave Miller
NFP On Campus
We're just a week away from Memorial Day weekend, which means the summer months are approaching. But that doesn't mean the news cycle in the world of college football has come to a halt. As we all know, the offseason is always filled with drama.
So let's open up the college notebook and see what's happening on campuses across the country — before The Rapture occurs today at 6 p.m.
Gabbert visits the 'Ville
As we mentioned when Tyler Gabbert decided to transfer from Missouri earlier this month, Louisville has emerged as a potential destination for the younger brother of recent Jacksonville Jaguars first-round pick Blaine Gabbert. According to ESPN.com's Joe Schad, Gabbert will visit Louisville this weekend and is strongly considering transferring to the Big East school.
After James Franklin emerged as the likely starter for Mizzou, Gabbert decided to leave Columbia and seek another opportunity. Louisville makes a lot of sense when you consider that the team's new quarterbacks coach is Shawn Watson, the former Nebraska offensive coordinator who is also a friend of the Gabbert family. The Cornhuskers nearly landed Gabbert coming out of high school, with Watson's presence in Lincoln one of the biggest reasons for the player's interest in the school.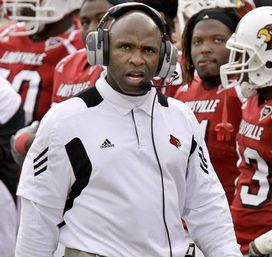 Will Charlie Strong and Louisville land the services of Tyler Gabbert?
The major issue I see with the Cardinals is the presence of Teddy Bridgewater. Head coach Charlie Strong was able to land a real gem when everyone thought the dual-threat signal caller was headed to Miami. Bridgewater is going to be hard to beat out for the starting job in 2012, especially with a full year of experience in Mike Sanford's offense after enrolling early and participating in spring drills. Junior Will Stein is the likely starter in 2011, but can the former walk-on play well enough to help the Cardinals compete for a Big East title? Could Bridgewater wrest the job away as soon as this season?
Clearly, the Cardinals are looking for more depth at the position despite their high hopes for Bridgewater. Dominique Brown is the third signal caller on the roster but he could be switching positions. Class of 2011 prospect DaMarcus Smith was set on coming to Louisville before changing his mind and signing with Central Florida.
Strong and his staff clearly have interest in Gabbert. But will the former Missouri quarterback head down South knowing that the talented Bridgewater is on the roster?
Some of these questions could begin to get answered this weekend.
Skinny posts
On Tuesday at the Big Ten's spring meetings, commissioner Jim Delany suggested that the conference should consider compensating student-athletes — an age-old argument in the world of college athletics, particularly big-money sports. While it's a touchy subject for some, I am in favor of players being able to have a little pocket change to spend during their social time. However, I would not want to see a big discrepancy between the power conferences and the smaller ones. The AQ conferences have huge TV deals while the non-AQs do not have such contracts. Delany is the commish of one of the Big 6 leagues. What about the MAC, the Sun Belt, etc.? I know those leagues may not generate the cash like the SEC and Big 12, but more division in the college football ranks is the last thing the game needs.
Also coming out of Chicago at the Big Ten spring meetings was the news that Wisconsin will get primetime love on ABC/ESPN four times during the 2011 season — more than any other Big Ten team. The Badgers will play two primetime home games against UNLV and Nebraska, but they also have the tough tasks of going on the road and playing back-to-back night games Oct. 22 at Michigan State and Oct. 29 at Ohio State. What a way for Bret Bielema's squad to finish up October.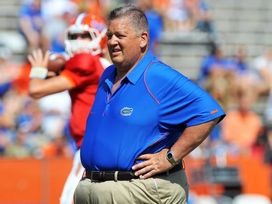 Charlie Weis received a hefty payment after being fired from Notre Dame -- and he's still getting paid by the Irish.
Do you need a loan? Maybe you should holler at new Florida offensive coordinator Charlie Weis, who was given a "termination payment" by Notre Dame of more than $6.6 million, according to the Chicago Tribune. The former Fighting Irish head coach will continue to receive money from ND until December 2015 for having his contract terminated after the 2009 season. So while Weis is doing his best to get John Brantley and the Gators offense running smoothly, he will be getting compensated handsomely by another major program. Not a bad gig, right?
Vanderbilt couldn't escape the basement in my SEC post-spring power rankings, but James Franklin is making sure his program brings in better talent. Franklin and his staff netted three prospects from the state of Georgia this past week, giving the Commodores a total of five in the Class of 2012 from the state. It's a nice start for Vandy, which signed eight players from Georgia in the Class of 2011.
I still believe there will be NFL football on Sundays in the fall, but Conference USA commissioner Britton Banowsky said during the league's spring meetings that it is possible teams could play games on Sundays this season if the lockout continues. C-USA's television contract with Fox Sports Media Group allows the network to move games to Sundays up to three weeks before a contest if the schools agree to the changes. Again, the NFL labor dispute would have to continue for this to even be an option.
A week after the tragic passing of Alabama offensive lineman Aaron Douglas, the college football world lost another young man when Oklahoma linebacker Austin Box died on Thursday. The National Football Post sends its thoughts, prayers and condolences to the Box family and everyone associated with OU football.
Brunch leftovers
If you haven't checked out these recent articles, do so while you're finishing that last cup of coffee this morning.
— Utah and BYU will get plenty of TV exposure in the future, writes Scott D. Pierce of The Salt Lake Tribune.
— I'm not a big gamer, but I have always been enthralled with EA Sports' NCAA series. Check out what's in store for the newest edition, which will be released on July 12.
— Georgia head coach Mark Richt is well aware of the high expectations for his prized recruit from the Class of 2011, running back Isaiah Crowell.
— For yet another example of how school's actually lose money by going to bowl games, check out how Alabama apparently lost about $400,000 from its appearance in the Capital One Bowl.
When it comes to anything and everything related to college football, I will continually spread what I hear on Twitter throughout the day at Miller_Dave, so be sure to stay tuned if you're a frequent tweeter. Also, you can find my stories under my Against the Grain column.
Have a college football question? Feel free to send me an email at dave.miller@nationalfootballpost.com.
Have a great weekend!