February 11, 2012 -
Dave Miller
NFP On Campus
Let's open up this weekend's notebook and see what's happening on campuses across the country.
Skinny posts
...Is Danny O'Brien leaving Maryland? There have been conflicting reports on the status of the one-time Terrapins starter. Whether or not he has already met with head coach Randy Edsall or he is still contemplating his future, it doesn't look like he is long for College Park. The former ACC newcomer of the year is scheduled to graduate in spring, and he still has two years of eligibility left and could play immediately if he chooses an FBS school that offers a grad program not provided at Maryland. He could essentially be the Russell Wilson of 2012 — and 2013. O'Brien was close with the former Terps staff, including former offensive coordinator James Franklin. And while new OC Mike Locksley will offer a more pro-style scheme as opposed to the one run last year by Gary Crowton, O'Brien may feel like this chapter in College Park has come to a close. He is still nursing an injury to his non-throwing arm, which will limit him in spring practice, so he may fall behind in the QB competition with C.J. Brown. O'Brien may have jumped on Twitter to say he is "still a Terp," but it doesn't mean he won't be gone when he gets his degree. O'Brien would be the 23rd Terp to leave since Edsall's arrival. And according to Eric Prisbell of the Washington Post, offensive lineman Max Garcia and linebacker Mario Rowson are also seriously considering transferring. Garcia is the team's starting left tackle. Certainly, Edsall has some work to do in College Park to get the team's fan base enthusiastic about next fall.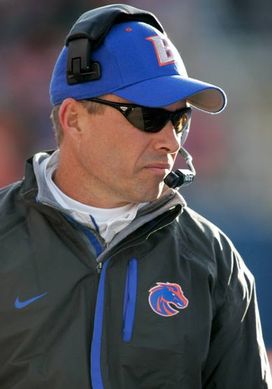 ICONWill Chris Petersen be coaching in the Big East in 2012?
...Could Boise State actually start competing in the Big East this fall? According to Brett McMurphy of CBSSports.com, the Broncos haven't ruled out joining the league a year early if West Virginia bolts to the Big 12. School president Bob Kustra said last week that it was too late to bolt the Mountain West early if the Mountaineers left the Big East, but sources told McMurphy that they believe Boise State will play in the Big East in 2012. Currently the Big East and West Virginia are locked in litigation, but West Virginia reportedly would be allowed to leave early if the school can get a team destined for the Big East in 2013 to jump a year early. And Boise State is reportedly on the wish list of the Big East, with Jon Wilner of the San Jose Mercury News reporting that Boise State is under pressure from the Big East. Boise State has reportedly had talks with the WAC about placing its Olympic sports in the league a year early if it were to leave for the Big East in football a year early to replace WVU. Chip Brown of OrangeBloods.com even reported that Temple was being discussed as a possible option if the Broncos were unable to join the league early. Temple, a former Big East member, was not thought to be a serious consideration to re-join the league but may now be an option. Regarding the Big East and WVU competing lawsuits, the Charleston (W.Va.) Daily Mail reported that the parties had reached a settlement, one that would let the Big East receive $20 million — WVU contributing $11 million and the Big 12 covering the remaining amount. The report states that the settlement would allow the Mountaineers to gain full membership of the conference on July 1. Certainly this situation must get resolved very soon so conference schedules for 2012 can get finalized and released.
…Is college football taking a page out of the NFL rule book? The NCAA's Football Rules Committee has recommended that kickoffs occur at the 35-yard line instead of the 30, and that teams take the ball at their own 25 in event of a touchback. Player safety, of course, is the main reason for the recommendation. The recommendations have to be approved by the Playing Rules Oversight Panel, which will meet Feb. 21. Jon Solomon of the Birmingham News pointed out that Purdue led the nation in kickoff returns in 2011 at 28.7 yards per return, led by freshman Raheem Mostert (33.5 yards). The Boilermakers certainly would be affected by these proposed changes. Fellow Big Ten member Illinois probably wouldn't mind starting at the 25-yard line, as the Illini ranked last among 120 Football Bowl Subdivision teams at 15.7 yards per return.
...With linebackers coach Joe Barry and wide receivers coach Ted Gilmore departing, how will USC fill their voids? Some of the names being tossed around for Barry's job include: former Trojans Jack Del Rio, Willie McGinest, Junior Seau and Clay Matthews. Possible names for Gilmore's vacancy include: former Trojans grad assistant Keary Colbert and J.K. McKay. All-American receiver Robert Woods even lobbied for Colbert on Twitter, though Colbert may want to continue his NFL career. Keep in mind that head coach Lane Kiffin also needs to fill the secondary coach opening, with names such as former secondary coach Rocky Seto and former USC safety Mark Carrier being tossed around.
...Jamaal Berry's time at Ohio State has come to an end, as the Columbus Dispatch reported this week that Berry's attorney, R. William Meeks, said the sophomore has been told that he's no longer a part of the team. Meeks is representing Berry in his misdemeanor assault case from last season. But the Buckeyes have plenty of depth in the backfield, with Jordan Hall, Carlos Hyde, Rod Smith and top recruit Bri'onte Dunn expected to compete for playing time in new head coach Urban Meyer's offense.
Hot reads
Where does Notre Dame fit into a potential new four-team playoff model? Sports Illustrated's Stewart Mandel writes that Fighting Irish athletic director Jack Swarbrick believes that playing the toughest competition possible should be considered in addition to rewarding conference champions. Of course, the Irish currently remain an Independent. Swarbrick's idea makes a lot of sense considering teams could play soft schedules and finish high in the BCS standings.
Email dave.miller@nationalfootballpost.com or follow me on Twitter at Miller_Dave