June 18, 2011 -
Dave Miller
NFP On Campus
Seventy-seven days until the first college football Saturday of the 2011 season.
Yep, we're going to keep up with the countdown every week, so get excited.
Let's open up the college notebook and see what's happening on campuses across the country.
Opening kick
You don't have to be an Oregon fan to appreciate the way Chip Kelly preaches discipline in his program. He had no problem sitting LeGarrette Blount for an extended period of time when other coaches would have been more lenient. He booted Jeremiah Masoli from the team when it was apparent that the quarterback couldn't learn from his mistakes. And he suspended linebacker Kiko Alonso indefinitely after another run-in with the law despite Alonso's strong spring for a unit that lost a handful of great players from last season.
So it's no surprise that the Ducks head coach suspended cornerback Cliff Harris indefinitely from the football program after he was recently cited for driving at 118 miles per hour with a suspended license. The suspension entails that the star defender will at least miss the Ducks' 2011 season opener against LSU at Cowboys Stadium in Arlington, Texas. It's a big loss for the Ducks, as the All-American defensive back and punt returner recorded a Pac-10-high six interceptions, led the nation with 23 passes broken up and was second in the nation with an 18.8-yard punt return average in 2010.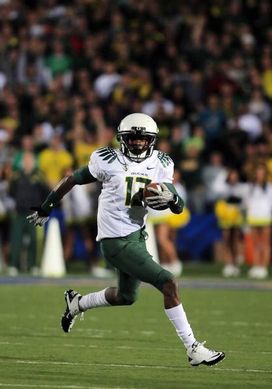 ICONOregon will be without Cliff Harris for at least the opener against LSU.
In the release issued by the school, Kelly emphasized that Harris' return would be dependent on his following the team's standards in place for the football program. The statement also noted that the suspension is for an accumulation of incidents and not just the one which occurred over the weekend.
While Harris is still learning his craft on the island — he is prone to giving up the big play — the fact is that he's a playmaker whose risk-taking pays dividends more often than not, which is an aspect of the Ducks defense that will be missed if he is sidelined for an extended period of time. If he only misses one game, Oregon may be okay. After all, as much as Les Miles has heaped praise on Jordan Jefferson this spring, we still need to see it to believe it with the Tigers quarterback. Moving forward against some more dangerous passing attacks? That remains to be seen. Meanwhile, on special teams, Kenjon Barner will be more than adequate returning punts in Harris' absence.
His way or the highway
Are you a Notre Dame fan who is concerned that Michael Floyd may miss part of the 2011 season? Don't be concerned, as it looks increasingly likely that the star receiver will be able to play in the opener — provided he continues to keep his nose clean this summer. The rising senior was arrested on March 20 for operating a vehicle under the influence — his third alcohol-related incident since 2008. As Brian Hamilton of the Chicago Tribune reports, head coach Brian Kelly is "very optimistic" that the Fighting Irish will have their best weapon on the field against South Florida.
"He makes one mistake, in terms of how he handles himself, he doesn't play here ever," Kelly said. "There is no suspension, there is no sit for one game. He's got to live his life the right way. If he does that — and all the signs point toward he's moving in that direction — then I expect him to play every game. That's why I've been optimistic."
Floyd's offense in March brought him an indefinite suspension from all football-related activities, but he was cleared last week for summer conditioning workouts with the Irish.
A familiar face to take the reins in Knoxville?
Phillip Fulmer has been receiving a lot of buzz recently as a strong candidate to succeed Mike Hamilton and become Tennessee's next athletic director. After all, no one else apparently wants what once was considered a premier job. Louisville's Tom Jurich, Boston College's Gene DeFilippo and Kentucky's Mitch Barnhart aren't going anywhere near Knoxville — especially with likely NCAA sanctions on the horizon and poor leadership within the university.
Promoting from within when a fresh start is needed? Not likely.
So Fulmer's name has been linked to the job since Hamilton resigned. But as David Climer of The Tennessean writes, is it really a good idea to bring in an old standby?
During a 14-month period from 2004-05, Fulmer had 11 players arrested or cited by police — not the type of background a program needs looking to build a new foundation on discipline. Climer also reiterates what a lot of Vols fans thought when Fulmer was head coach: his propensity to be too loyal to his coordinators and other assistants when many felt a staff shakeup was necessary.
It will be interesting to see how the search shakes out, as well as how hard the NCAA comes down on the program — and former head coach Lane Kiffin. USC fans most definitely should have an interest in this case, as well.
Another conference commish speaks out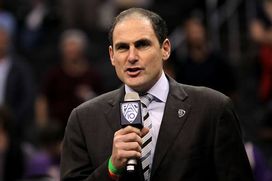 Pac-12 commissioner Larry Scott is speaking out on behalf of student-athletes.
We've heard the recent sentiments from Big Ten commissioner Jim Delany and SEC boss Mike Slive about increasing student-athletes' scholarships in light of rapidly rising tuition. Now, Pac-12 commish Larry Scott is echoing similar sentiments.
Fresh off the conference inking television deals with ESPN and Fox, which guarantee each Pac-12 school about $20 million a year in revenue, the second-year commissioner wants the schools to be able to allocate some of that cash to the athletes.
"It's a question of priorities, and sometimes you have to prioritize what's right," Scott said. "I think this is an issue of principle. And we're going to advocate for it."
When Scott mentioned his idea to league athletic directors at their recent meetings, it wasn't received quite as well as he would have liked, as many AD are likely looking forward to using some of the revenue to help get out of the "red."
The issue of athletes getting paid because of the draw of major college football — it's a billion-dollar business — has been discussed for years. But with the Big Ten, SEC and Pac-12 commissioners stepping up and vocalizing support for some sort of a benefit system, the idea is at least picking up steam.
Of course, how non-BCS schools would be able to afford such a concept is one issue that has been raised by many opponents. In addition, student-athletes in other sports besides football would want to see an increase in scholarship money, as well.
Skinny posts
The WAC announced on Tuesday that it was adding Seattle University, but the league is holding off on inviting another football member until at least next season. Commissioner Karl Benson admitted that having on ly seven football-playing members for 2012 was less than ideal, but the league wants to take its time and explore all of its options before adding another program. With Boise State's move to the Mountain West official in two weeks and Nevada, Hawaii and Fresno State moving to the MWC next season, the league has added only Texas State and UT-San Antonio to the football roster — two schools that will move up from FCS in the process. While the league looks significantly weaker with the loss of their premiere teams, Benson believes that the five members remaining — Louisiana Tech, New Mexico State, Idaho, San Jose State and Utah State — can end up having significant success, much like Boise State. The WAC currently possesses three bowl tie-ins for 2011, but they'll only have one left in 2012 — the Humanitarian Bowl for the league champion.
When it comes to anything and everything related to college football, I will continually spread what I hear on Twitter throughout the day at Miller_Dave, so be sure to stay tuned if you're a frequent tweeter. Also, you can find my stories under my Against the Grain column.
Have a college football question? Feel free to send me an email at dave.miller@nationalfootballpost.com.
Have a great weekend!