March 26, 2011 -
Dave Miller
NFP On Campus
As much as I love me some March Madness, nothing can compare to spring practice season for the die-hard college football fan.
So let's open up the college notebook and see what's happening on campuses across the country this week.
Opening kick
On Friday, Notre Dame players stepped forward and took responsibility for Michael Floyd's recent arrest and subsequent suspension. As Brian Hamilton of the Chicago Tribune writes, Fighting Irish teammates believe that they should have done a better job of preventing an act that threatens the season of the star receiver.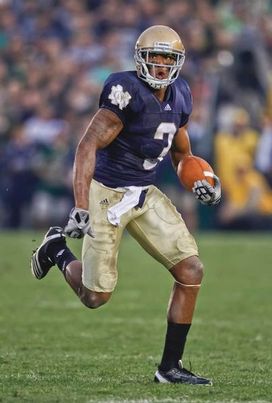 ICONWill Michael Floyd see the field again at Notre Dame?
"We understand that we have to do a better job of creating a network of leaders that have got to keep guys out of trouble," quarterback Dayne Crist proclaimed after practice on Friday. "That falls on the team as well."
"We can't completely shy away from the blame. We have to make sure that we're taking care of guys and make sure experiences like that never happen again. As players, we knew right when it happened that it was a big deal and something we needed to come together and fix. It was more of a reality check for everyone."
The absence of Floyd from spring practice has created a void that's been difficult to fill, no matter how much head coach Brian Kelly stresses the need to move on with the players who are at practice in shorts and pads. That's what happens when a team leader — and Floyd was one of two captains for 2011 — makes such a monumental mistake.
"We never want anybody to be in that type of situation," fellow receiver John Goodman said. "We always tell each other, call us if you need something. But a lot of guys weren't back (from spring break) at that point. I wasn't back. The scary thing is, had I been there, maybe something would have been different, if I had been in town. But I can't really say anything more about it. It was a bad decision, he's going to pay the price, and he'll be back, hopefully."
Hopefully — that's the key word for Floyd's coaches, teammates and ND fans. Because no matter how much Kelly preaches a "next-man-in" philosophy, it's awfully difficult to replace 79 catches, 1,025 yards and 12 touchdowns — no matter how friendly the offense is to receivers.
Obviously, getting behind the wheel of a vehicle while intoxicated is a mistake that no individual — no matter the age — should ever make in life. But the backing of his teammates should make Floyd realize that he has a strong brotherhood in the locker room. And even if he never steps onto the field of Notre Dame Stadium ever again, he would be wise to lean on teammates, friends and family at this time.
What's new on the practice field?
Another day, another injury at USC. The Trojans will likely be without Marc Tyler for the rest of spring drills after the running back injured his hamstring on the first play of team drills on the team's first day of spring practice this past week. Tyler, who led the Trojans with 913 rushing yards and nine scores in 2010, told The Orange County Register on Thursday that he doesn't want to rush back too soon and further aggravate the sprain. "I'm going to try to (return) but I don't want to rush back and hurt it worse," Tyler said.
The reason for the injury? Apparently, Tyler didn't feel he was stretched out enough.
"I didn't know we weren't going to stretch like we usually do," the rising senior noted. "I guess they want us to come here earlier and stretch before. I didn't know they changed it. My legs didn't feel good all practice."
The injury, however, could be a blessing for the Trojans because sophomore-to-be Dillon Baxter and redshirt freshman D.J. Morgan will see their reps increase in Tyler's absence.
ICONIncumbent Garrett Gilbert is trying to hold off tough competition for the starting gig in Austin.
The battle for the starting job under center in Austin continues to wage, as incumbent Garrett Gilbert tries to hold off Case McCoy, Connor Wood and early enrollee David Ash. All four have been taking snaps with the first team. I still expect Gilbert to ultimately win the job and run Bryan Harsin's new offense, but I think this competition will extend into fall camp.
Spring flings
— Minnesota captain Kim Royston was recently cleared for spring drills after breaking his leg a little less than a year ago and having three surgeries and a titanium rod inserted into his leg. The senior safety successfully petitioned the Big Ten for an additional year of eligibility — which is exactly what former Purdue wide receiver Keith Smith should have been given but was denied.
— Former walk-on Will Stein has a real shot to start under center for head coach Charlie Strong at Louisville. While Dominique Brown and Teddy Bridgewater may be the future for the Cardinals, Stein's work ethic has placed him as the signal-caller to beat in the battle to replace Adam Froman and Justin Burke. Bridgewater, of course, enrolled at the school in January to try to win the starting gig after he decided against going to Miami (FL).
— I love what Mike London is building at Virginia — after all, he out-recruited Frank Beamer and Virginia Tech this past cycle — but I'm worried about the quarterback play next fall. Michael Rocco, Ross Metheny, Michael Strauss and David Watford are all young and inexperienced and have not impressed thus far early in camp.
Victory formation
It was reported on Friday morning by Mike Wagner and Tim May of The Columbus Dispatch that Ohio State head coach Jim Tressel forwarded the infamous emails sent by Christopher Cicero to Ted Sarniak, a mentor to Terrelle Pryor, after Tressel received the warning that Pryor and at least one other player had sold memorabilia to a local tattoo-parlor owner who was under federal investigation for drug trafficking. The 67-year-old Sarniak is a businessman in Pryor's hometown of Jeannette, Pa., who accompanied Pryor on recruiting trips to Ohio State and other universities. At a March 8 news conference, Tressel said he kept the information to himself to protect the confidentiality of the federal investigation and for the safety of his players. Now, if this report is true, Tressel won't be able to use confidentiality as an excuse for why he didn't turn over the emails earlier to the Ohio State administration.
Tressel has had the backing of his university throu ghout this process, but the shine has certainly worn off the Vest in Columbus.
When it comes to anything and everything related to college football, I will continually spread what I hear on Twitter throughout the day at Miller_Dave, so be sure to stay tuned if you're a frequent tweeter. Also, you can find my stories under my Against the Grain column.
Have a college football question? Feel free to send me an email at dave.miller@nationalfootballpost.com.
Have a great weekend, and be sure to enjoy all the college basketball games on the Road to the Final Four.