July 16, 2011 -
Barry Dorey
NFP On Campus
Forty-nine days until the first college football Saturday of the 2011 season. The countdown continues…
But, for now, let's open up the college notebook and see what's happening on campuses across the country.
And, yes, this edition of NFP On Campus is dedicated to Bruce Feldman, a colleague whose one-day suspension — and it was indeed a suspension despite what the four-letter network maintains — was justly lifted on Friday afternoon.
LSU's involvement with Willie Lyles
On Thursday, LSU formally acknowledged its involvement with Willie Lyles, who has spent most of this offseason as the centerpiece of the recruiting controversy at Oregon after it was revealed that head coach Chip Kelly and his staff paid the Houston-based Lyles $25,000 for his "scouting services."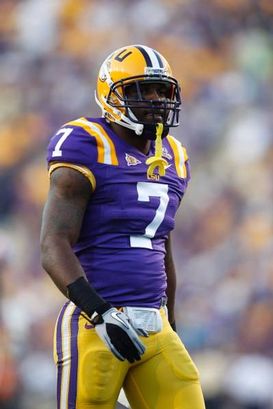 ICONLSU was first linked to Willie Lyles when news broke that former CB Patrick Peterson possibly had ties with the Houston-based provider of recruiting services.
The release from LSU states that the school paid Lyles $6,000 on December 21, 2010, for 32 DVDs featuring footage of California and Kansas junior college prospects from the 2010-11 recruiting year. The videos also contained footage of a 2010-11 Texas high school prospect and a 2007-08 junior college prospect from Kansas that LSU did not request. In addition, the staff received 91 pages of written material consisting of "roster-type information from junior colleges in California and Kansas." However, most of the written material consisted of data on prospects who had "finished junior college in 2009-10 and had already enrolled in a four-year college by the time LSU received the materials." LSU didn't attempt to retrieve 2010-11 information because the staff felt the video was sufficient for its evaluation.
According to the release, the university has submitted all of these recruiting materials to the NCAA, and the school continues to stress that it has fully cooperated with the NCAA regarding Lyles. In fact, a good portion of LSU's coaching staff met with an NCAA official in Baton Rouge last week.
The school said it will have no further comment regarding the Lyles situation at this time. For now, the Bayou Bengals can rest easy. Oregon, on the other hand...
The investigation in Eugene
During my weekly radio appearances across the country the last few weeks, the discussion has always began and ended with the situation in Eugene. And while this case is far from black and white, in my opinion it boils down to this…
I still think it's 50/50 whether head coach Chip Kelly survives at the university. The bad news for the program is that Willie Lyles' story, which he is relaying to any and all media outlets as well as the NCAA (when they meet for a second time if they haven't already), is going to be very hard for Oregon to defend. His actions during his relationship with Oregon — providing influence during the recruitment of running back Lache Seastrunk, specifically — seem to classify him as a booster. That just looks to be the case based on what we have heard from Lyles. The worst part about it for the Ducks is that Lyles maintains that 11 months after he was paid $25,000 by the Ducks, Kelly and staffer Josh Gibson contacted him to get him to scramble and hurriedly send some kind of recruiting materials to show that the payment was legit. That definitely looks like some sort of cover up, or at least covering of tracks.
We don't know what Kelly told the NCAA, but it better be a strong argument because based on what we know, it doesn't look good for the Ducks. And as we all know from the Jim Tressel case at Ohio State, any sort of cover up is always worse than the original crime. Despite the fact that the NCAA rulebook is ambiguous and that bylaws technically may not have been broken in this case, these types of emerging problems in the recruiting game are exactly what the NCAA is trying to crack down on. Will Oregon be the guinea pig?
A final thought on Ohio State's self-imposed penalties
As I wrote last week, no program will self-impose a postseason ban. That would be absurd. But for the Ohio State administration to not even strip away one scholarship — not even one — to show that it understands the severity of its penalties is pretty mind-boggling and arrogant. And this arrogance is displayed anytime athletic director Gene Smith steps in front of a camera or a microphone. Taking away the 2010 Big Ten title and all 12 victories from last season was a given, as the team used ineligible players. Two years' probation has essentially no effect on a program if it cleans up its act. But for players to receive extra benefits and have their head coach lie about it, the self-imposed sanctions were not "significant," as Smith maintained a little over a week ago. The AD said he can't speculate on whether the NCAA will come down harder on the program. But I can: the governing body definitely will be more harsh after the school meets with the Committee on Infractions on August 12, especially with the overwhelming sentiment that the world of college football is spinning out of control — and despite the notion of the NCAA looking at every situation on a case-by-case basis.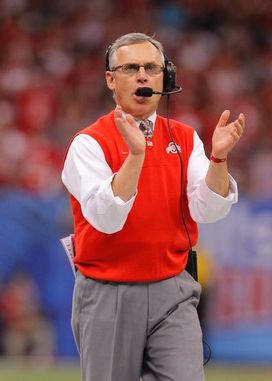 ICONJim Tressel had compliance issues early in his tenure at Ohio State.
Note: Despite the fact that he's no longer the head coach at Ohio State, Jim Tressel is still in the news. And, as always, The Columbus Dispatch has the story covered. Yes, the Vest had compliance issues even before Tattoogate.
Skinny posts
Former North Carolina defensive end Michael McAdoo officially had his appeal denied Wednesday after he sought reinstatement to the football team following his indefinite suspension due to academic misconduct. While the official announcement slightly weakens the Tar Heels' depth on the front four, Butch Davis' squad will still heavily lean on star ends Quinton Coples and Donte Paige-Moss.
With Georgia losing its leading rusher from the past two seasons, Washaun Ealey, as well as senior Caleb King, the Bulldogs replenished their backfield depth by moving linebacker Richard Samuel back to running back. Samuel arrived on campus in 2008 and spent his first two seasons taking handoffs before moving to linebacker last year when Todd Grantham arrived and installed the 3-4 defense. He missed the 2010 season because of injury and redshirted. He rushed for 528 yards on 114 carries and three touchdowns in 22 career games at running back. Of course, true freshman Isaiah Crowell is expected to be the Dawgs' lead back this fall. But without Samuel in the backfield, head coach Mark Richt really had limited insurance behind his prized recruit from this past February.
On the recruiting trail
Could the recent switch in commitment of Trevor Knight be bad news for Oklahoma fans hoping that head coach Bob Stoops would land Gunner Kiel? Knight, a 6-2, 190-pound quarterback from San Antonio Reagan High School, changed his mind and decided against playing for Mike Sherman and the Aggies late Wednesday night, instead choosing to head to Norman. Knight passed for over 1,600 yards and 11 touchdowns as a junior in 2010. While losing Knight was an unexpected blow for A&M, keep in mind that Sherman was able to land Matt Davis, who remains committed to the school as of now. As for Kiel, he was projected to commit in the middle of this month and had reportedly narrowed his list to Oklahoma, Alabama and Indiana, where his brother is currently vying for the starting gig in Kevin Wilson's first season as head coach.
Jarron Jones, a 6-6, 300-pound lineman from Aquinas Institute in Rochester, N.Y., has rescinded his previous verbal commitment to Penn State after a recent visit to Notre Dame. While he maintains that the Nittany Lions remain in the running, Jones said on Tuesday that Notre Dame, North Carolina, and Virginia Tech are in the mix, as well. Jones, who projects as a defensive lineman for the Irish, likes the ND campus. "Notre Dame is a smaller school and that's the kind of place I need to be," he said. "Aquinas is a smaller school and I've been doing a lot better there. It's just a better way to explore my options."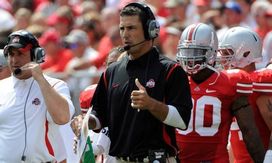 New Ohio State head coach Luke Fickell hopes to continue the Buckeyes' recruiting success.
Much has been made of Ohio State losing in-state offensive lineman Kyle Kalis to Michigan, as doubts continue to creep in about the Buckeyes' ability to put together their annual strong recruiting class in 2012. New head coach Luke Fickell did receive some good news this past week, however, when the program netted verbal commitments from guard Pat Elflein and linebacker Luke Roberts. Elfein would be a big gain for a unit that needs depth next season while Roberts will play under new assistant Mike Vrabel.
Brunch leftovers
If you haven't checked out these recent articles, do so while you're finishing that last cup of coffee this morning.
— Jon Wilner of the San Jose Mercury News takes a closer look at Willie Lyles' involvement in the recruiting efforts of Cal.
— Bob Wojnowski of The Detroit News discusses how Michigan and Michigan State could be primed to take advantage of Ohio State's woes on the recruiting trail.
— Steven M. Sipple of the Lincoln Journal Star on Bubba Starling's tenure at Nebraska, which isn't expected to last too long — but you never know.
When it comes to anything and everything related to college football, I will continually spread what I hear on Twitter throughout the day at Miller_Dave, so be sure to stay tuned if you're a frequent tweeter. Also, you can find my stories under my Against the Grain column.
Have a college football question? Feel free to send me an email at dave.miller@nationalfootballpost.com.
Have a great weekend!