August 06, 2011 -
Barry Dorey
NFP On Campus
Now it's time to start getting serious.
Twenty-eight days — just four weeks — until the first college football Saturday of the 2011 season. How beautiful is that?
In the meantime, let's open up the college football notebook and see what's happening on campuses across the country.
Risers and fallers
This past week, ESPN.com's Bruce Feldman (#freebruce) gave his thoughts on the offseason's biggest winners and losers. The teams he believed came out rising since the conclusion of the 2010 season include Stanford, Nebraska, Houston, Wisconsin and Notre Dame. The programs he believes have been hit the hardest are North Carolina, Auburn, Ohio State, Oregon and Georgia.
Certainly, his arguments are strong for each team on both sides of the ledger. But here are a few thoughts that came across my mind when analyzing those 10 programs.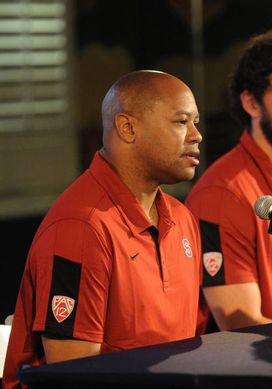 ICONStanford's David Shaw recently experienced his first Pac-12 Media Days as a head coach.
• While getting Andrew Luck back for another season was so huge for Stanford, especially in light of the coaching change, I'm still eager to see how David Shaw does in his first year with the head gig. Former coach Jim Harbaugh was Stanford football after he orchestrated the program's revival. Not only that, but losing Vic Fangio will hurt the Cardinal defense — a unit that was porous until his arrival before last season. Once Luck leaves, will Shaw be able to continue to see Harbaugh's vision through successfully?
• Houston is very lucky to have Case Keenum back under center after the NCAA granted him a sixth year of eligibility following his torn ACL. But the Cougars are also lucky that head coach Kevin Sumlin didn't get scooped up by a bigger program. The former Purdue linebacker is on a lot of athletic directors' "names to call" list in case their head coaches ever depart, and his wide-open offensive scheme would be effective in a BCS conference such as the Big Ten or Big 12 where he has served as an assistant. The Cougars should be able to flirt with the Top 25 once again with Sumlin and Keenum leading the way.
• I love what second-year coordinator Bob Diaco has been able to do with Notre Dame's defense. Speed on that side of the ball has been lacking in South Bend for many years, which is why the Irish have gone through so many coaches since the Lou Holtz regime. Second-year head coach Brian Kelly realized this immediately and has done a great job of infusing more athletes on that side of the ball. Defensive end Aaron Lynch was beastly this spring, and we'll see this unit continue to grow and become more physical and intimidating the next few years. My concern with the Irish this fall is on the offensive side of the ball even though the skill players will be more familiar with the scheme. In spring ball, the spread looked quite different when Dayne Crist and Tommy Rees were running the offense as opposed to when Andrew Hendrix and Everett Golson were under center. There's no question that Hendrix and Golson are more suited to run Kelly's style. But Crist and Rees have the experience. If Crist wins the job, does he have the goods to lead the offense up and down the field?
• You have to feel for the players at North Carolina who are dealing with a second consecutive chaotic season. The only saving grace is that interim head coach Everett Withers served as defensive coordinator and secondary coach the last three seasons and had to deal with severe personnel losses last fall — and he held the group together quite well all things considered. He's a 24-year coaching veteran who has the right demeanor to weather the storm in Chapel Hill this fall.
• While it's very likely Auburn won't repeat as national champions, don't underestimate the Tigers this season. Remember, offensive coordinator Gus Malzahn made Chris Todd a productive quarterback in 2009. What is really intriguing about this Auburn team for me is the defense. The run defense won't be quite as stout with tackle Nick Fairley and speedy linebacker Josh Bynes gone, but I think this could be a more balanced defense because of an improved secondary. Only four starters return from last season on that side of the ball, but Ted Roof's unit will produce a new wave of impact defenders.
• If Luke Fickell goes 10-2 in his interim season as Ohio State head coach, do the Buckeyes still open up a national search for a new face of the program?
• When will the NCAA finish its investigation at Oregon, and will the Ducks' quest for a return to the national championship game be interrupted with damning news from the sport's governing body?
Skinny posts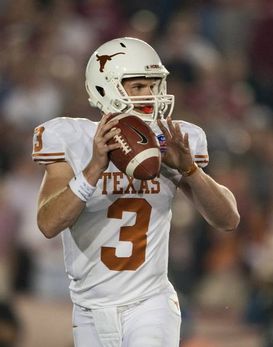 ICONIf Garrett Gilbert wins the starting QB gig at Texas, will he have enough weapons at WR?
Just as Georgia has been losing running backs and offensive linemen at an alarming rate, the Texas receiving corps has been hit hard as well. On Thursday, it was announced that wide receivers Malcolm Williams and Brock Fitzhenry were no longer on the team, meaning four receivers had left the program since June. No matter who wins the job under center — I still think Garrett Gilbert starts the opener — the pressure will be on Mike Davis and his inexperienced mates to pick up the slack. True freshman running back Malcolm Brown will also be leaned on as coordinator Bryan Harsin looks for any and all ways to get this offense clicking early.
Alabama has been dealing with personnel issues, as well. The Crimson Tide lost backup running backs Demetrius Goode and Corey Grant to transfers this offseason, and true freshman Dee Hart suffered a knee injury that will likely sideline him for the season. Hart was slated to get punt-returning duties. To top things off, second-stringer Eddie Lacy reportedly suffered a pectoral injury in a weight-lifting accident. He has appeared in practice with a wrap near his right shoulder. The Tide also has issues at receiver with Julio Jones gone and Darius Hanks missing the first two games of the season. In addition, Ohio State transfer Duron Carter has not been able to practice yet until his academic issues are cleared. While I think Marquis Maze and Brandon Gibson will be productive eventually, will they be able to step in and produce right away? They're going to have to step up and help out whoever is throwing them the football, whether it's AJ McCarron or Phillip Sims — or both, as head coach Nick Saban has hinted throughout the offseason.
Missouri suffered a tough injury when kick returner Marcus Murphy was lost for the season due to a shoulder injury suffered in 7-on-7 drills. While head co ach Gary Pinkel mentioned the possibility of the running back returning late in the season, Murphy likely will redshirt. Junior wide receiver Gahn McGaffie will likely step in, and he's had success in the past. McGaffie took the opening kickoff to the house in the Tigers' win over Landry Jones and the Sooners last season.
I came across a true gem while perusing YouTube this past week, and it really illustrates just how much the landscape of college football has changed.
Check out these Clemson recruiting videos from 1981.
Brunch leftovers
If you haven't checked out these recent articles, do so while you're finishing that last cup of coffee this morning.
— Louisville senior running back Victor Anderson is looking to return to his freshman form after injuries limited him the last few seasons, writes Cory McCartney of SI.com.
— Tony Barnhart of CBSSports.com gives us 10 trap games to watch in 2011.
When it comes to anything and everything related to college football, I will continually spread what I hear on Twitter throughout the day at Miller_Dave, so be sure to stay tuned if you're a frequent tweeter. Also, you can find my stories under my Against the Grain column.
Have a college football question? Feel free to send me an email at dave.miller@nationalfootballpost.com.
Have a great weekend!