April 16, 2011 -
Dave Miller
NFP On Campus
It's a huge weekend for spring games across the nation in college football. In case you missed my Big Ten spring game previews from Friday afternoon at the NFP, you can check those out here. In the meantime, I give you more quick glances at some of the action across the country this weekend.
And because it's the king of the mountain, let's focus on the SEC.
Alabama
Greg McElroy's leadership and steadiness under center may be irreplaceable. But no matter who wins the starting job under center, the Crimson Tide will be in good hands. The battle between A.J. McCarron and Phillip Sims likely won't conclude until the fall because Sims has made big strides in these 15 practices, so the spring game will be crucial for both. There's no question that with Trent Richardson in the backfield as well as Marquis Maze and Darius Hanks at receiver, enough talent remains on offense despite the losses of Mark Ingram and Julio Jones. And don't be concerned if the secondary looks shaky in Saturday's game — this won't be the same unit that gave up big plays in 2010. The secondary has just been banged up, with Mark Barron, Dre Kirkpatrick, Nick Perry and Jarrick Williams all dealing with injuries. Can the defensive line revert back to 2009 form with a collection of intriguing, yet unproven, pass rushers?
Arkansas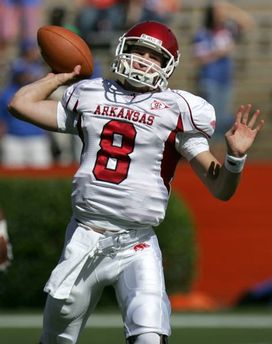 ICONTyler Wilson takes over under center in Fayetteville.
The Razorbacks received some awful news on Friday when it was announced that running back Broderick Green sustained a torn ACL in his left knee during practice Wednesday and will miss the 2011 season. The Hogs still have the league's returning rusher at running back in Knile Davis, but the news on Green isn't what any team wants to hear at this point. Meanwhile, new starting quarterback Tyler Wilson will have the best set of receivers in the nation to throw to every Saturday. Defensively, the Hogs answered the call and were much improved last year than in 2009. Next fall, coordinator Willy Robinson's unit may take another step forward as they're solid up front and have good speed across the board.
Auburn
Clint Moseley and Barrett Trotter continue to split first-team reps in the battle to replace Heisman Trophy-winning quarterback Cam Newton. Highly regarded recruit Kiehl Frazier arrives in the summer so both Moseley and Trotter will want to finish spring drills on a high note.
Even with the losses of Newton, wide receiver Darvin Adams and running back Mario Fannin, Auburn will score points in 2011. Look for a renewed emphasis on the traditional running game with Michael Dyer and Onterio McCalebb. And while Adams will be missed, Emory Blake had a team-high eight touchdown catches last season.
In the video below, courtesy of al.com, Tigers offensive coordinator Gus Malzahn looks ahead to the team's spring game and how the offense is shaping up with new faces across the unit.
Defensively, the Tigers return only four starters from 2010, so coordinator Ted Roof will be seeking out a new wave of impact defenders. While their run defense may slide with Nick Fairley gone, I expect this unit to be a little more balanced than last season and actually play surprisingly well given the roster attrition. Keep in mind that head coach Gene Chizik has put together some monster recruiting classes since his arrival a few years ago.
Georgia
Young quarterback Aaron Murray has looked good and shown no effects from his offseason injury, and receiver Tavarres King should play well enough in the fall to help mitigate the loss of stud A.J. Green. But who will be the primary running back in Athens? Caleb King and Washaun Ealey have not lived up to expectations, but one of the two will need to step up before Isaiah Crowell is ready to blossom. Defensively, Todd Grantham's unit will be expected to continue to make strides as it enters its second year in the new system. Keep an eye on nose guard Kwame Geathers and junior-college transfer John Jenkins up front. Defensive end Derrick Lott will need to be a pass-rushing force, as well.
Tennessee
The Volunteers can be scary good offensively in 2011, and the spring game will give Derek Dooley's squad a chance to showcase their firepower. Tauren Poole will be joined by spring standout Rajion Neal in the backfield, and the sophomore combo of Da'Rick Rogers and Justin Hunter gives quarterback Tyler Bray two top targets in the Vols' aerial attack. The major concern for Tennessee is its defense. The front seven lost five starters, and pass rushing remains a concern with a juggled line and questionable linebackers. The defense may have to rely on two JUCO transfers to start in the secondary, as well.
Finally, they'll meet again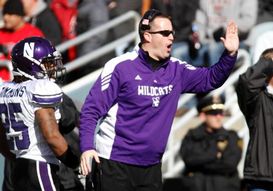 ICONThe last time Pat Fitzgerald met Notre Dame, he was on the winning sideline.
As announced on Thursday morning, Notre Dame and Northwestern will renew their football rivalry in 2014 — the first time the two programs will meet since 1995. The Wildcats will visit South Bend on Nov. 15, 2014, while the Fighting Irish will travel to Evanston in 2018.
"This is really an exciting time for Chicago's Big Ten team as we continue to upgrade our future nonconference schedule," said Northwestern athletic director Jim Phillips, a Chicago native who worked in Notre Dame's athletic department from 2000-2004. "With schools such as Boston College, California, Syracuse and Vanderbilt visiting Ryan Field in future years, combined with the addition of Nebraska to our division in the Big Ten, there's no better time to be a Wildcat football fan."
This is another step in the right direction for NU as it fights for a stronger position in Chicago's college football market. Because of its small emrollment, NU often takes a back seat to larger Big Ten universities as well as Notre Dame when it comes to exposure. Sure, the NU campus is in Chicago's backyard. But C hicago-area residents will tell you that you're more likely to see a Wisconsin Badger fan on his or her way to a sports bar on a Saturday morning than someone donning a Northwestern sweatshirt.
When ND makes its first visit to Evanston since 1976, it will likely be playing in a further-revamped Ryan Field. Phillips and the NU administration are scheduled to launch a thorough upgrade of the athletic facilities, and scheduling big games against teams such as Notre Dame can only help the school, community and city rally around and support the upgrading efforts.
Who can forget the last time these two fine academic institutions met? NU's Pat Fitzgerald sure won't. When the Wildcats head coach was a star linebacker at the school, his team entered Notre Dame Stadium as 28-point underdogs. However, Gary Barnett's 'Cats shocked the ninth-ranked Irish, pulling out a 17-15 victory. That year, NU would make its run to the Rose Bowl.
If you lived in the Midwest at the time, the outcome of this game was huge. It was, of course, big for the national scene. But if you were a Chicago-area resident, this was why you were a college football fan. Check out the highlights from the September 2, 1995 matchup.
Brunch leftovers
If you haven't checked out these recent articles, do so while you're finishing that last cup of coffee this morning.
The Virginian-Pilot's Kyle Tucker sat down with new Virginia Tech starting quarterback Logan Thomas for an extended Q&A.
The NCAA announced a few rule changes for 2011. Unfortunately for Tennessee and head coach Derek Dooley, one of them will be in place a year too late.
When it comes to anything and everything related to college football, I will continually spread what I hear on Twitter throughout the day at Miller_Dave, so be sure to stay tuned if you're a frequent tweeter. Also, you can find my stories under my Against the Grain column.
Have a college football question? Feel free to send me an email at dave.miller@nationalfootballpost.com.
Have a great weekend, and enjoy the start of the NBA playoffs.