March 12, 2011 -
Dave Miller
NFP On Campus
We're going Jim Tressel-free this Saturday morning at the NFP. Until the NCAA completes its investigation — which won't be for many months — my attention on the Buckeyes will concern only their preparations for the 2011 season. Besides, my thoughts on the matter haven't changed since Wednesday morning.
So let's open up the college notebook and see what is happening on campuses across the country.
What's new on the spring practice field?
New coordinator Steve Kragthorpe began to install LSU's new offense on Friday as the Tigers began spring drills. With the exception of Oklahoma, there may not be a more popular pick to claim to the BCS national championship for the 2011 season. LSU finished off an 11-2 campaign last season with a thorough 41-24 victory over Texas A&M in the Cotton Bowl, finishing No. 8 in the AP poll. The last time the time finished that high in the polls was when it won the 2007 BCS national championship. While all the talk nationally centers on Kragthorpe's mission of determining who will start the opener under center, keep in mind that the Bayou Bengals have to replace All-American defensive tackle Drake Nevis, All-SEC middle linebacker Kelvin Sheppard and All-American cornerback Patrick Peterson. Finding suitable replacements for those stars will also be of primary importance. Although, when you can recruit and land the best talent like Les Miles, that chore becomes a lot easier year after year.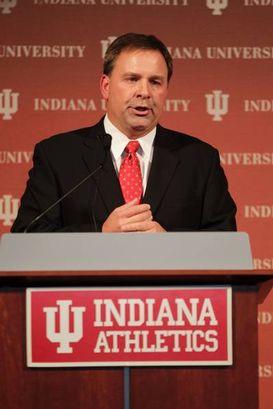 ICONKevin Wilson needs to find a replacement for Ben Chappell under center.
Indiana's search for a new starting quarterback began on Tuesday, as the Hoosiers finally lose longtime starter Ben Chappell to graduation. Offense was never really the problem when Chappell was under center, as he completed his IU career by tossing 24 touchdowns against just nine interceptions in 2010. I don't expect new head coach Kevin Wilson to make a decision between Dusty Kiel and Edward Wright-Baker after the team's spring game, unless it is to determine who will start fall camp atop the depth chart. Top quarterback recruit Tre Roberson will arrive in the fall, but it'd be hard to envision him calling signals in the opener as a true freshman. Wilson's quarterback-friendly offense should allow IU to put up points in 2011. As usual in Bloomington, it will come down to defense.
Who will emerge atop the depth chart at running back for Missouri? While most of the attention is focused on the battle under center between James Franklin, Ashton Glaser and Tyler Gabbert, the Tigers will have to find a way to keep their talented and deep running back corps happy by splitting the carries. De'Vion Moore led the team with 543 yards last season, but Henry Josey gained 461 yards on just 76 carries as a freshman, and Kendial Lawrence will enter his junior season coming off a 441-yard 2010 season. Whoever ends up as the starting quarterback will have the luxury of handing off to a productive back, that's for sure.
While Danny Hope has to be disappointed with the NCAA's decision not to give wide receiver Keith Smith a sixth year of eligibility, the Purdue head coach has to be thrilled with the way junior college transfer Akeem Shavers has looked at running back thus far. With Ralph Bolden continuing to recover from a torn ACL, Shavers has been able to get ample work with the first unit in West Lafayette, according to Mike Carmin of the Journal & Courier. The former Tyler Junior College star caught a 25-yard scoring pass in a recent scrimmage and has been praised by Hope for his toughness and ability to catch out of the backfield.
The Boilermakers return 16 starters from last year's squad, and they figure to be an intriguing team to watch in 2011. Despite a subpar season in 2010, Hope is one of the more underappreciated coaches in the nation. If there's a little more balance on offense — and a tandem of Bolden and Shavers would be huge for the rushing attack — Purdue should be able to slide into a lower-tier bowl game at a minimum.
Georgia opened spring camp on Thursday coming off its first losing season since 1996. The Bulldogs went through one practice before taking the next week off for spring break and returning to spring drills on March 21. Quarterback Aaron Murray, who could be in line for SEC player of the year honors in his sophomore campaign, threw for over 3,000 yards with 24 touchdowns and just eight interceptions last season. But stud wide receiver A.J. Green and underrated Kris Durham are gone. Is Tavarres King ready to step up as a No. 1 target? Keep in mind that he had four games of 70-plus yards receiving in 2010. Also keep an eye on tight end Orson Charles, who should become a bigger part of the offense after catching 49 passes combined his first two seasons. He will pose tough matchup problems for linebackers down the seams.
Spring flings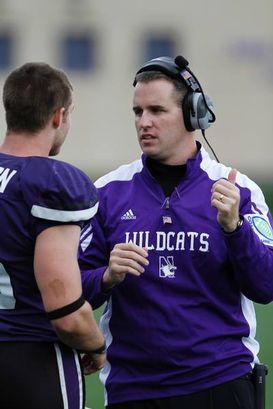 ICONPat Fitzgerald has been impressed with the improvement of Trevor Siemian.
— I had a chance to talk with Northwestern head coach Pat Fitzgerald as the Wildcats started spring practice last week, and he noted that redshirt freshman Trevor Siemian should not be dismissed in the team's competition to exit spring with a leg up in the race to back up incumbent Dan Persa in the fall.
— There seems to be genuine excitement down in Miami with Art Kehoe back on campus coaching the offensive line. Remember that he was with the Hurricanes for 20-plus seasons before being dismissed by Larry Coker. The thought of Seantrel Henderson getting taught by Kehoe should be a scary thought for opposing defensive ends.
*Did you know? Kehoe is the only person to own each of Miami's five national championship rings. Will a sixth be on the horizon?
— Don't forget about South Florida's A.J. Love. Before tearing his ACL in the team's spring game last year, he was primed to be the Bulls' No. 1 receiver. But the left knee is now 100 percent, and he will be a real weapon as Skip Holtz looks to vault USF up the Big East standings.
— I still believe that one of the reasons first-year Miami head coach Al Golden placed Spencer Whipple atop the pre-spring depth chart was to light a fire under Jacory Harris and Stephen Morris — specifically Harris — but the former third-string Whipple entered camp as the No. 1 and is really holding his own in the battle for the starting job.
— A lot has been made of Ryan Mallett's departure from Arkansas and whether Tyler Wilson could play as he did in relief last year against Auburn for an entire season. Just keep in mind that Wilson will be throwing to Greg Childs, Joe Adams, Cobi Hamilton and Jarius Wright. You name me a better receiving corps in the country…
Skinny posts
…Okay, so there is one little Tressel note in this week's notebook. In case you missed this piece from The Columbus Dispatch, the previously unidentified source of the emails to Tressel is discussed, as well as some interesting notes about bylaw 10.1 as it relates to Tressel's future in Columbus.
& hellip;The four Auburn players who were arrested early Friday morning for involvement in an armed robbery were kicked off the team by head coach Gene Chizik later in the afternoon. Safety Mike McNeil, sophomore receivers Antonio Goodwin and Shaun Kitchens, and tight end Dakota Mosley were permanently dismissed from the squad as each individual is being held on $511,000 bail. Current and former teammates expressed their shock via multiple social-networking avenues throughout the day on Friday, and future NFL draft pick Lee Ziemba called the arrests "unfortunate and embarrassing" while he was a guest on Paul Finebaum's radio show.
…The Jeremiah Masoli experiment at Ole Miss didn't quite work out for head coach Houston Nutt last season. While the Rebels were atrocious defensively, the former star quarterback at Oregon was expected to at least carry the team through some of its deficiencies and lead the program to another bowl bid. But Masoli threw just one more touchdown than interception (14 to 13) as Ole Miss struggled through a 4-8 campaign, including a 1-7 mark in SEC play.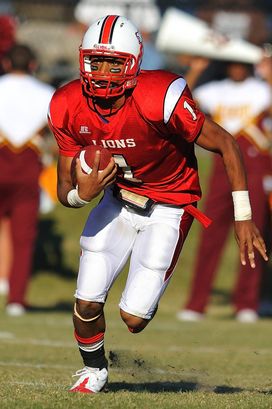 Randall Mackey earned All-America honors in 2009 at East Mississippi Community College.
So who will emerge as the starter under center in Oxford next fall? Well, as Kyle Veazey of the Jackson Clarion-Ledger points out, a rather odd situation played out in Oxford over the past week. After Veazey detailed a speech impediment that quarterback Randall Mackey said resulted from a concussion he suffered in eighth grade, the 2007 Parade All-American issued a statement later in the week saying that the impediment is a lifelong issue and was not caused by the concussion.
Mackey, who starred at East Mississippi Community College in 2008 and 2009 before enrolling at Ole Miss and earned All-America honors in 2009 after leading the country with 3,122 passing yards and finishing second with 32 passing touchdowns, apologized for misleading the media on the issue.
"My communications issues are something I have dealt with throughout my life and do not stem from a head injury," Mackey said via a statement. "It is a topic that is uncomfortable for me to discuss, and pointing to an injury was a convenient way to avoid talking about the problem."
Head coach Houston Nutt did not comment on Mackey's statement after being contacted by Veazey, but it's obvious that he wasn't pleased with his quarterback. Mackey's initial statements caused quite a stir because there was an overwhelming feeling that a speech impediment could help prompt a move to receiver, which many believe will ultimately be the case.
As it is now, when the Rebels open spring practice on March 28, Mackey will compete with junior college transfer Zack Stoudt, junior Nathan Stanley and West Virginia transfer Barry Brunetti for the starting job. However, Brunetti will need to be granted an NCAA transfer waiver for immediate eligibility.
…Utah quarterback Jordan Wynn will miss spring ball after undergoing shoulder surgery shortly after the season. Of course, Wynn sat out the Utes' bowl game against Boise State with the injury. With Norm Chow arriving on campus to install more of a West Coast offense, could Wynn be losing his grip on the starting job? According to Dirk Facer of the Deseret News, Utes head coach Kyle Whittingham maintains that — as of now — Wynn will remain the starter when he returns to full health.
"Nobody's job is set in stone," Whittingham said. "But Jordan's the guy that obviously has the most experience. But we'll see how [redshirt freshman Tyler Shreve and soon-to-be sophomore Griff Robles] react in spring ball and we'll carry the competition into the fall. But, yeah, as of right now, Jordan is the guy until he's beaten out."
The Utes don't have much experience behind Wynn, as Robles only attempted one pass last season. However, Shreve was recruited as more of a pocket passer, so it'll be interesting to see how well he picks up Chow's offense this spring.
Victory formation
check it out here in case you missed it. Video of Jones, who ran a blazing 4.39 in the 40-yard dash along with an 11'3" broad jump, is courtesy of my good friends at Under Armour.
When it comes to anything and everything related to college football, I will continually spread what I hear on Twitter throughout the day at Miller_Dave, so be sure to stay tuned if you're a frequent tweeter. Also, you can find my stories under my Against the Grain column.
Have a college football question? Feel free to send me an email at dave.miller@nationalfootballpost.com.
Have a great weekend, and be sure to enjoy all the college basketball games leading up to Selection Sunday.