August 26, 2013 -
Dave Miller
NFP preseason Heisman Watch
As we have seen the last three seasons, the winner of the Heisman Trophy wasn't exactly on everyone's preseason Watch List.
Just another beautiful part of college football.
This season, I think we see that "out-of-nowhere" streak end, with one of the top players from 2012 ultimately taking home the bronze statue from New York City in 2013.
With that in mind, let's take a look at some of the top players who could be positioned to be invited to New York in December for being the "most outstanding" player in the 2013 season. It's a mix of players from traditional power schools as well as a few players who could gain traction if their teams catch a few breaks.
Ohio State QB Braxton Miller: The junior finished fifth in the Heisman voting last year after recording 3,310 yards of total offense and 28 touchdowns en route to a 12-0 season. All expectations are that he will thrive even more in the second year of Urban Meyer's spread scheme. There's a possibility his rushing numbers decrease this fall, but he will show that he is an improved passer as long as his footwork stays consistent. The Buckeyes have the schedule to have a chance to be a national title contender, and Miller will be front and center of the team's success. An appearance in the Big Ten title game would only enhance his chances.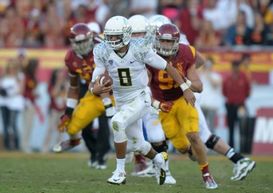 US PRESSWIREMarcus Mariota recorded 3,429 yards of total offense and 38 touchdowns last year.
Oregon QB Marcus Mariota: The sophomore will essentially be running the same up-tempo, high-octane offense we have seen under Chip Kelly, and we saw how prolific the Ducks' dual-threat signal-caller was last season. In 2012 he recorded 3,429 yards of total offense and 38 touchdowns, and he has a ton of weapons around him once again, including De'Anthony Thomas and Colt Lyerla. There are two concerns, though. First, how strong will the team's rushing attack be with Thomas, Byron Marshall and Thomas Tyner? The talent is there, but Marshall and Tyner must be able to carry a lot of the load because Thomas will be lined up all over. Also, Scott Frost will be calling plays at the college level for the first time, so that's something to certainly monitor. The Ducks' late-season contest against Stanford and a possible Pac-12 title game could help Mariota's cause.
Clemson QB Tajh Boyd: The senior produced 4,410 yards of total offense and 46 touchdowns in 2012 operating the juggernaut that is a Chad Morris offense. The Tigers have a monster home opener against Georgia, and they also host Florida State, play in-state rival South Carolina and could have another contest in the ACC title game. A schedule with marquee games helps tremendously, and an ACC title could position Boyd for a trip to New York because the numbers should be there at the end of the year. If Sammy Watkins reverts back to 2011 form, that will also help Boyd.
Louisville QB Teddy Bridgewater: The junior is considered the favorite for this award by a lot of national pundits, especially because he essentially started his campaign last year with the Sugar Bowl win over Florida. He is considered the best quarterback in the nation after finishing 2012 with 3,718 passing yards and 27 touchdowns. The major issue for Bridgewater is he will not have a ton of chances to perform on a big stage because he plays in a conference that is not elite. However, he will have games on non-Saturdays, which helps because the Cardinals will have more eyes on them. He also has a season-finale game at Cincinnati. It may not be fair, but the Cards may have to go undefeated for Bridgewater to win.
UCLA QB Brett Hundley: The redshirt sophomore was so good last season that former Bruins head coach Rick Neuheisel may still be kicking himself for not starting him in his true freshman season. Hundley was the single-biggest reason why Jim L. Mora had such great success in Year One, though there are questions about the Bruins' ground game with Johnathan Franklin gone. Hundley recorded 4,095 yards of total offense and 38 touchdowns last season, but he needs to not do too much, especially if UCLA doesn't have a true No. 1 tailback emerge. Hundley has high-profile games against Nebraska, Oregon and Stanford, so he will have a chance to be in the mix for the hardware.
Georgia RB Todd Gurley: The sophomore is the better half of the Bulldogs' backfield combination, although Keith Marshall is quite talented as well. Gurley was the first Bulldogs running back to rush for at least 1,000 yards as a true freshman since Herschel Walker did it in 1980, and he will have an even more productive season. The 'Dawgs have high-profile early games, and Gurley excelled in big games last season, especially against Florida and Alabama.
Others to watch
Texas A&M QB Johnny Manziel: The first freshman to claim the Heisman, the reigning award winner has a steep hill to climb if he wants to repeat because there likely will be Johnny Football fatigue in some voters.
Oregon RB De'Anthony Thomas: The junior Ducks playmaker seemingly is always on every preseason Heisman Watch list because he can take it to the house every time he touches the ball. Could this be the year everything falls into place for him?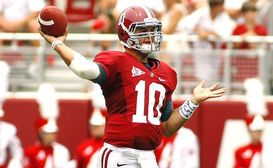 US PRESSWIREAJ McCarron is 24-2 as a starter with just eight career interceptions.
Alabama QB AJ McCarron: He showed last year he is much more than a game manager. If the Crimson Tide are in position to play for their third straight BCS title, the QB who is 24-2 as a starter with just eight career interceptions may have a chance to win without staggering numbers.
Northern Illinois QB Jordan Lynch: The dual-threat star led the Huskies to an Orange Bowl berth after passing for 3,138 yards and 25 touchdowns and rushing for 1,815 yards and 19 scores last fall.
Georgia QB Aaron Murray: If the Bulldogs can get past Clemson and South Carolina, Murray will be in the race because the Georgia offense is loaded. He is also coming off of a strong season that nearly resulted in a BCS title game appearance.
Alabama RB T.J. Yeldon: The Crimson Tide will continue to have a dominant rushing attack, and it's Yeldon's time now to be a No. 1 with Eddie Lacy off to the NFL. As a freshman last season, Yeldon ran for 1,108 yards and 12 touchdowns and caught 11 passes for 131 yards and one score.
USC WR Marqise Lee: Possibly the best overall offensive player in the nation, he had a ridiculous 118 catches for 1,721 receiving yards and 14 touchdowns last year. But how will the Trojans' quarterback play affect Lee's production?
Nebraska QB Taylor Martinez: If the senior eliminates his turnovers and he gets help from the Cornhuskers' porous defense, T-Magic is an interesting candidate. He recorded 3,890 yards of total offense and 33 touchdowns last year, and a schedule that features UCLA, Michigan and a potential Big Ten title game could help.
Baylor RB Lache Seastrunk: Can the junior put together a full season of explosive plays similar to those we saw at the end of last season when the Bears closed strong?
South Carolina DE Jadeveon Clowney: Since his hit against Michigan last year during bowl season, there has been a national clamoring for Clowney to be a contender. Manti Te'o finished second in the Heisman voting last year, but Clowney will need some impressive defensive numbers to have even a slight chance.
There are so many other great players that could be on this list, but these are the ones right now that I feel have the best chance to be in the conversation over the course of an entire season.
Dave Miller, the college football editor and writer for the National Football Post, is on Twitter @Miller_Dave.