August 25, 2014 -
Dave Miller
NFP preseason Top 25
With the start of the new FBS college football season just a few days away, let's take a look at the National Football Post's preseason Top 25, which is an attempt to show what a prospective end-of-the-year rankings could look like before the postseason slate is unveiled.
Note: The top four teams are ranked in order of how I believe the College Football Playoff selection committee would seed them for the inaugural playoff. Nos. 5-11 are also ranked with the CFP in mind. The twelfth team that would be a part of the top six bowls is Houston, which would receive an automatic major bowl berth because the Cougars would be the highest-ranked Group of Five team. However, it would not need to be ranked exactly at No. 12 in order to earn a berth into either the Cotton, Fiesta or Peach Bowl.
1. Florida State
2. Alabama
3. Oregon
4. Ohio State
5. Auburn
6. Oklahoma
7. USC
8. Baylor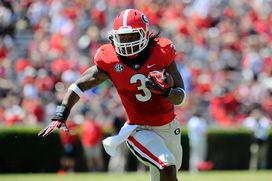 Todd Gurley leads a loaded Georgia offense.
9. Georgia
10. UCLA
11. Clemson
12. Michigan State
13. South Carolina
14. LSU
15. Stanford
16. Nebraska
17. Washington
18. Notre Dame
19. Florida
20. Wisconsin
21. Houston
22. Kansas State
23. Virginia Tech
24. Texas
25. Iowa
The next five
Ole Miss
North Carolina
Texas A&M
Texas Tech
Marshall
Dave Miller, the college football editor for the National Football Post, is on Twitter @Miller_Dave.