October 09, 2010 -
Dave Miller
NFP Saturday Tailgate
Last week, Alabama once again proved its dominance and Oregon showed that speed and skill can, in fact, outlast strength and physicality.
This week's schedule may not look overwhelming on paper. But never discount the unpredictability of the college game — especially when conference foes hook up in games that can alter division races.
So let's not waste any more time. Get that grill fired up and let's start this weekend's tailgate.
No health issues will get in the way of this one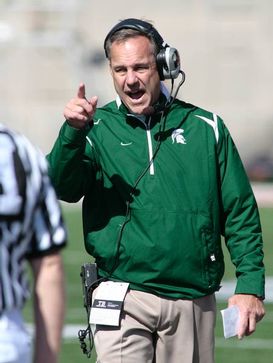 ICONMark Dantonio will be with the Spartans on Saturday in Ann Arbor.
Michigan State's Mark Dantonio expressed the importance of his school's rivalry with Michigan when he was hired to lead the Spartans, so it's only fitting that the head coach will be in the coaches' booth after being released from the hospital Monday following his blood clot scare.
Saturday's game in Ann Arbor will be a big test for MSU, which went 2-0 during Dantonio's absence, but the Spartans will be ready just as they were last week when Wisconsin visited East Lansing.
The problem for Dantonio's team is that they have yet to face — and won't face — a talent quite like Denard Robinson, who was named the Big Ten's offensive player of the week for the third time this season. The Wolverines dual-threat signal caller leads the nation in rushing at 181 yards per game and has already logged 27 runs of 12 yards or more on the season.
In other words, the Spartans are going up against the best player in the nation in the battle for the Paul Bunyan Trophy.
However, it's unlikely that "Shoelace" will face a better defender this season than Spartans All-American linebacker Greg Jones, who is coming off of a stellar performance against the Badgers. Jones, who has five tackles for loss and two interceptions, paces a defense that is yielding just 18.6 points per game. Especially solid has been the Spartans run defense, which is allowing only 101.2 yards per game and three scores.
While the Badgers were able to find some running room last week in East Lansing, they were still held below their season average. And quarterback Scott Tolzien was limited to only 127 yards through the air. Wisconsin's offense was made one-dimensional. Can the Spartans do the same against Robinson?
One aspect of the Michigan offense that has been overlooked is the play-action game — a dimension made possible because defenses stack the line to stop Robinson in the run game. But because his passing has improved so dramatically this season, he's been able to sell the run and hit Roy Roundtree down the seam for big plays. The MSU secondary was not exposed last week against the Badgers, but it could be this week.
There's no question that this is one of the more anticipated games in this rivalry in recent memory. While the emergence of Robinson has allowed head coach Rich Rodriguez to sleep a little bit better at night, Kirk Cousins has played very well under center himself for the Spartans. He threw for 269 yards and three scores against the Badgers and is the perfect complement to the talented rushing duo of Edwin Baker and Le'Veon Bell. He could have his way with a shaky Wolverines secondary if he doesn't face too much pressure from Michigan's front seven.
A balanced offense against a Greg Robinson defense? Even with a potential Heisman winner under center on their own team, that's a scary thought for Wolverines fans.
Can the bye week aid the Gamecocks?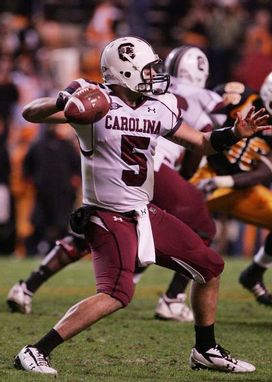 ICONWill the Head Ball Coach give a quick hook to QB Stephen Garcia?
The SEC schedule makers certainly didn't do Alabama any favors this season. South Carolina will mark the first of six straight opponents who will get a crack at the Crimson Tide coming off of their bye weeks. Will it make a difference for the Old Ball Coach's squad?
No matter who is under center — senior Stephen Garcia or freshman Connor Shaw — he will be facing a defense that is better than most offenses in the country. The Tide's inexperienced unit grew up in Fayetteville two weeks ago and absolutely dominated Urban Meyer's Florida Gators last week.
If Steve Spurrier has any chance of getting his defining win in Columbia, Shaw must stay on the bench, Marcus Lattimore must rush 25 times or more and the defense will have to find a way to contain defending Heisman Trophy winner Mark Ingram, who rushed for a Bryant-Denny Stadium-record 246 yards last year against the Gamecocks.
And even that may not be enough.
Prior to upsetting Ole Miss last season in Columbia, the Gamecocks had lost 22 straight to top-5 opponents. But that was a generously ranked Rebels squad. In their history, the Gamecocks are 0-14 all-time against teams in the top 2 of the AP poll.
Spurrier ended one streak last year. Will the extra week of preparation be enough to end another?
Can Les Miles help the Gators?
Last Saturday was a very interesting day of football for both LSU and Florida. We all witnessed the late-game meltdown by the Tigers coaching staff as they nearly lost to a Tennessee team playing hard under first-year head coach Derek Dooley. And, for those of us who were not focusing in on the Stanford-Oregon showdown out West, we saw Florida exposed once again by Alabama.
Now, both teams are hungry to put last week behind them. Fortunately for LSU, the record remains unbeaten. For Urban Meyer's Florida team? The same questions surrounding the offense remain unanswered.
Gators quarterback John Brantley will be hampered by sore ribs, and that's a dangerous proposition against a Tigers defense playing very well under John Chavis this season. Will we see more Trey Burton under center for Florida? As long as he doesn't try the Tim Tebow jump pass as he did last week, maybe so.
Still, opponents have a chance any time they face LSU because of their own problems under center. In their last four games, the Tigers have thrown six interceptions and no touchdown passes. Meanwhile, the Gators defense has 12 interceptions on the season. The combination of Jarrett Lee and Jordan Jefferson does not look very imposing even if Lee was able to deliver a late drive last week that set up the winning score.
Are they really back?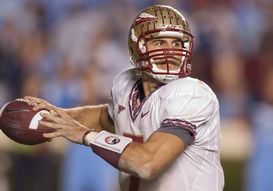 ICONChristian Ponder has been solid since the disaster in Norman.
The annual Florida State-Miami showdown will take place this week. Are we in store for another "Wide Right" situation?
The Seminoles have bounced back nicely from their blowout loss to Oklahoma in Norman. Since the loss to the Sooners and during their three-game win streak, the Seminoles have not trailed (or been tied) at any point — against BYU, Wake Forest and Virginia. Coordinator Mark Stoops' unit leads the nation in sacks and is second in tackles for loss, and the team is very good defensively on third down, as well. Quarterback Christian Ponder is playing more like the high draft pick that many scouts believe he will be, and there's a sense that the 'Noles are ready to continue to roll in ACC play.
Meanwhile, the Hurricanes lead the nation in tackles for l oss and are second in sacks, and they're coming off a stellar effort against Clemson — a game in which quarterback Kyle Parker was made to look silly.
While the Hurricanes' own signal caller Jacory Harris continued to make big plays in the passing game, he still managed to turn the ball over and continues to struggle with his accuracy. It's been a game of Good Jacory/Bad Jacory — not a game you want to play against Stoops and Co.
No more Carroll, but Harbaugh still wants to win
USC travels to Stanford in what is already a must-win game for both teams, each coming off tough conference losses. We know how much Stanford head coach Jim Harbaugh enjoyed beating Pete Carroll. Does he feel the same going up against Lane Kiffin? Likely.
It's also likely that the Cardinal will put on a clinic offensively against a Trojans defense that ranks 99th nationally. Is Monte Kiffin's Cover-2 scheme too complex to master? Or is the lack of depth taking its toll in Los Angeles?
Skinny posts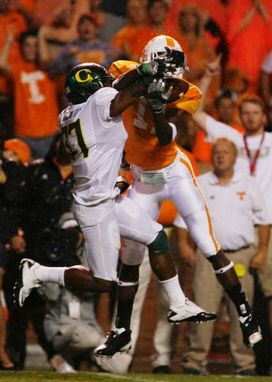 ICONWR Justin Hunter is in line for more playing time with the Vols.
…Tennessee has been surprisingly competitive this season, and one of the reasons is the steady play under center of Matt Simms, who certainly was one of the biggest concerns for the Vols offensively heading into the season. The junior-college transfer hasn't killed the Vols, throwing for 957 yards and six touchdowns against three interceptions while completing 56 percent of his passes. He should feel more comfortable as the season progresses because the coaching staff plans on playing true freshman wide receiver Justin Hunter a lot more the rest of the way. Hunter was one of the country's top high school high and long jumpers but has only caught six passes for 126 yards and a score thus far. But after his big third-down snag last week at LSU, he's received more reps in practice in coordinator Jim Chaney's three-WR sets and could be primed for a nice second half of the season.
…Is Penn State still Linebacker U.? Well, the jury is out on that as the Nittany Lions could have a completely new starting unit this week. Senior Nate Stupar was already replaced at the strongside by sophomore Mike Mauti, and true freshman Glenn Carson took over for senior middle linebacker Chris Colasanti during last week's loss to Iowa. Now, Bob Flounders of the Harrisburg Patriot-News writes that true freshman Khairi Fortt has been working at the weakside in place of senior Bani Gbadyu in practice this week while Gbadyu deals with a minor injury. Nittany Lions coaches like Fortt because of his athleticism. Whether or not Fortt starts is uncertain, but playing two true freshman at linebacker may not seem too crazy considering that the team's signal caller is fresh out of high school, as well.
…One quick offensive note on the Nittany Lions: The team has scored just six TDs in 18 chances inside the 20 this season. The struggle to score points likely will continue, as the offense just isn't very dynamic.
…Even if Dion Lewis continues to be the running back to start the game for Pittsburgh, backup Ray Graham unquestionably should see an increase in his workload. Panthers head coach Dave Wannstedt said this week that he will play the hot hand, and Graham will get his chance to show his worth following a 277-yard and three touchdown effort last week against Florida International. The sophomore Lewis has struggled with production and a shoulder injury so far this season.
Quote of the week
"It's a game that really is a season in itself. You have your conference play, your nonconference play, and the Michigan game…Last year, we went in 1-3, but we didn't care. It was just a matter of beating them." — Michigan State quarterback Kirk Cousins, on the importance of playing Michigan.
Have any suggestions for this column or have a college football question? Feel free to send me an email at dave.miller@nationalfootballpost.com.
Enjoy the games!
Check out the latest edition of the NFP Top 25 and NFP Heisman Watch.
Follow me on Twitter at Miller_Dave
Want to work in the NFL? Click here to register for the NFP's "Chalk Talk" seminar in Chicago on October 22nd.