November 27, 2010 -
Dave Miller
NFP Saturday Tailgate
With the high-profile contests that took place on Friday while we were indulging in turkey sandwiches and multiple pieces of pie, let's take a look back at the exciting action before starting today's tailgate.
Our football Saturdays are slowly coming to an end...
Friday's games were fantastic, but these games should carry some weight, as well.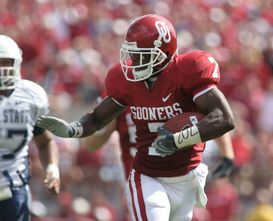 ICONCan DeMarco Murray and the Sooners withstand the Bedlam?
Oklahoma at Oklahoma State: Which trio would you rather have on your side? The Sooners' Landry Jones-DeMarco Murray-Ryan Broyles connection? Or the Cowboys' fantastic threesome of Brandon Weeden-Kendall Hunter-Justin Blackmon? It arguably can be considered a push, so this 2010 renewal of Bedlam may come down to defense. I still think the Sooners have the athletes on that side of the ball to run with Dana Holgorsen's spread attack, but this game is in Stillwater. The winner in all likelihood will advance to the Big 12 title game next Saturday at Cowboys Stadium (Texas A&M is still alive but the Aggies likely wouldn't finish ahead of the winner in the BCS standings, which would be the tiebreaker for these three teams with 1 conference loss).
LSU at Arkansas: When most fans think about the Razorbacks, the first player to come to mind is quarterback Ryan Mallett — and rightfully so. But the Hogs have steadily become one of the more balanced offenses in the nation this season because of the emergence of running back Knile Davis, who has rushed for 1,031 yards and 12 touchdowns after claiming the top spot in the backfield. With the ground game complementing an aerial attack that features three pass-catchers — Jarius Wright, Joe Adams and D.J. Williams — with at least 500 receiving yards, it's easy to see why the Hogs are on a five-game winning streak. The Tigers, meanwhile, received an unexpected standout passing performance from junior Jordan Jefferson last week against Ole Miss. Granted, it was against a porous Rebels defense, but I'm sure head coach Les Miles and Tigers Nation will never complain about a 254-yard effort from Jefferson. LSU has been much more efficient on first down in recent weeks, and they'll need to continue to stay in manageable third down situations against an improved Razorbacks defense. If it wasn't for Auburn-Alabama, this could be the game of the week.
Big Ten title mix
Michigan State at Penn State: Nittany Lions head coach Joe Paterno announced this week that he'll be back for his 46th season in 2011, although I'm not sure it's even his decision at this point. Still, he said that he is excited for the squad he'll have returning next year. And Penn State has an opportunity to build some momentum heading into its bowl game and the offseason with a win over a ranked team, especially with the Nittany Lions losing by more than 20 points to Alabama, Iowa and Ohio State this year.
Northwestern at Wisconsin: The Badgers lead the Big Ten and rank seventh nationally in scoring at 40.9 points per game, while the Wildcats looked lost offensively last week against Illinois without standout quarterback Dan Persa. During its current six-game winning streak, the Badgers have outscored their opponents 44.7-22, doing it with their usual potent rushing attack and the efficient and steady Scott Tolzien under center.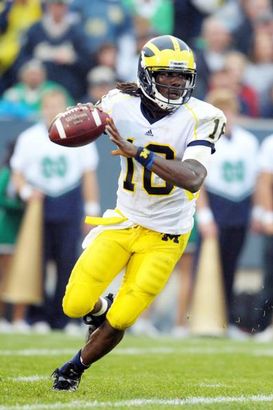 ICONDenard Robinson has a chance to claim Big Ten offensive player of the year with a stellar effort in Columbus.
Michigan at Ohio State: With the Big Ten title picture involving multiple teams — and the Wolverines remaining on the outside — this game feels like it's going under the radar. It also doesn't help that this has turned into a one-sided series. Michigan, however, hasn't had a difference-maker like Denard Robinson in a while. He could stake his claim to offensive player of the year with a big performance at the Horseshoe. Terrelle Pryor, however, found a way to steal a win for the Buckeyes in Iowa City last week. Even if the matchup under center is a draw, the Wolverines still lack quality playmakers on defense.
ACC and Big East love
NC State at Maryland: Tom O'Brien's Wolfpack, who beat North Carolina for the fourth straight year last week, can clinch the ACC Atlantic with a win over the Terrapins. If they lose, Florida State will win the division and meet Virginia Tech in the ACC championship game.
Cincinnati at Connecticut: Just like in 2009, here come Randy Edsall's Huskies. After starting the season 3-4 and 0-2 in the Big East, UConn has won three straight over arguably the league's best teams: West Virginia, Pittsburgh and Syracuse. Could the Huskies claim their first-ever BCS bid? Well, Pitt was smashed 35-10 by West Virginia at home on Friday, putting the Huskies in control of their own destiny. If UConn beats Cincinnati and South Florida, Edsall's squad will likely be headed to the Fiesta Bowl.
Are these rivalries again?
Notre Dame at USC: Is this the year Notre Dame brings some semblance of actual rivalry back to this series, particularly at the Coliseum where the Trojans have won the past four meetings by an average of nearly 30 points? Or will Lane Kiffin have ND's number much like Pete Carroll did in his tenure at 'SC? We've seen the Irish put together back-to-back strong contests against Utah and Army, but USC is a different animal — even during the Trojans' trying times. Freshman signal caller Tommy Rees has been solid for the Irish, but once again it will be up to the defense to keep ND in this contest for four quarters. Bob Diaco's unit has played very well as the season has progressed, allowing no touchdowns against Utah and Army and just one offensive score against Tulsa in the last week of October. The Trojans are well balanced, however, and they should be prolific even if Mitch Mustain starts over Matt Barkley, who is battling an ankle sprain.
Florida at Florida State: The Gators have won six in a row against the Seminoles, while head coach Urban Meyer is 17-1 against Florida State, Georgia, Miami and Tennessee — the Gators' chief rivals — during his tenure in Gainesville. Against the Seminoles defense, Florida must be able to move the ball through the air. And it looks like Jordan Reed may be more equipped to do so than John Brantley, as Reed has thrown scoring passes in each of the last three games. Because the offensive line has been subpar, allowing 21 sacks on the season, you may see Reed get the bulk of the time under center because he is more elusive than Brantley. After all, the 'Noles lead the country with 41 sacks.
Quick slants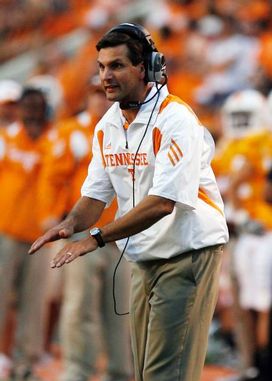 ICONDerek Dooley has the Vols close to a bowl bid.
…Tennessee (5-6, 2-5) has won 25 straight games against Kentucky (6-5, 2-5) — the longest active winning streak in the country involving rivals that play annually. One would think that of all the years to finally break through and snag a wi n, this would be it for the Wildcats. After all, the Vols have endured a trying season in Derek Dooley's first year in Knoxville. But the Vols are playing much better now than at any point in the season, and they need this win to get invited to a bowl game. A 6-win season would be a major coup for the Vols, all things considered.
…In case you missed Boise State president Bob Kustra's response to Ohio State president E. Gordon Gee's comments regarding the Broncos and TCU being unworthy of national championship consideration, check this out:
"He claims that in the SEC, Big Ten and Big 12 it's murderer's row every week and there's absolutely little substance to that claim…The BCS has finally found someone to stand up and defend the indefensible and Gordon Gee proved it — he not just proved that it's indefensible but he did so with facts that are simply wrong…Everyone in intercollegiate football knows that athletic directors of those large power conferences are scheduling more and more teams who are I-AA, who are teams at the weaker end of the non-AQ conferences, and for Gee to stand up and talk about murderer's row every week is just the height of folly. It's ridiculous. I think he's going to set off a firestorm he probably has no interest in creating. To say that he overstated his case is an understatement." — From Chadd Cripe's piece in The Idaho Statesman.
TCU athletic director Chris Del Conte also weighed in on ESPN Radio: "When a president of a major institution is taking shots at us, I know we've arrived...I thank him very much."
Classic.
…Can South Carolina beat Clemson for the second straight season? The Gamecocks look to beat the Tigers twice in a row for the first time since winning three straight from 1968-70. While South Carolina is the SEC East division champion, that won't mean anything at kickoff. Last year, the Gamecocks were unranked and on a three-game losing streak. The Tigers, meanwhile, were solidly entrenched in the Top 25, ACC Atlantic division champs and on a six-game winning streak. The end result? South Carolina cruised to a 34-17 victory.
…It's been a rough year for Georgia and head coach Mark Richt. But the Bulldogs can end the regular season on a high note if they can beat Georgia Tech and keep their bowl streak alive. The Dawgs have gone bowling the last 13 seasons.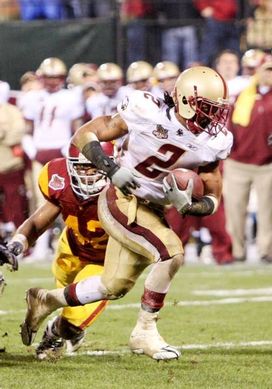 ICONWill Montel Harris be back at BC for his senior season?
…Boston College running back Montel Harris, who was 125 yards away from becoming the leading rusher in school history, will miss the rest of the season after injuring his knee against Virginia. True freshman Andre Williams, however, stepped up against the Cavaliers with 108 yards on 12 carries — including a 59-yard run — after Harris went down. How will he fare this week against Syracuse, which has the No. 34 rushing defense in the country?
…Congratulations to Akron for notching its first win of the season this week. The Zips, after nearly beating Ball State and Miami (OH) the last two weeks, beat Buffalo on Friday to avoid their first winless season since moving to the FBS in 1987.
Because of the Thanksgiving holiday, the On the Quad podcast is on hiatus this week. However, yours truly and NFP Director of College Scouting Wes Bunting will be back next week to break down this weekend's action and preview the big conference championship games next week.
Check out the latest edition of the NFP Heisman Watch and NFP Top 25.
Quote of the week
"A lot of seniors stepped up, Cam stepped up and said some things. We didn't let the storm weather us. (Newton) didn't say much, just 'Keep on. We comin'. We feed off of, him saying 'We comin.'"— Auburn safety Zac Etheridge after his team's emotional win over Alabama.
Have any suggestions for this column or have a college football question? Feel free to send me an email at dave.miller@nationalfootballpost.com.
For updates throughout the games — and pretty much 24/7 because I don't really sleep too much — follow me on Twitter at Miller_Dave
Enjoy the games!