October 29, 2011 -
Barry Dorey
NFP Saturday Tailgate
Week 9 offers us a full slate of intriguing matchups as conference races continue to heat up across the country.
Can Georgia Tech deliver Clemson its first loss of the year? Will Oklahoma bounce back from its first loss to hand Kansas State its first defeat? And does USC have enough defensive prowess to contain Stanford's prolific offense?
These questions and many more will be answered on Saturday.
So dust off that grill and get it fired up because we're ready to start this weekend's tailgate.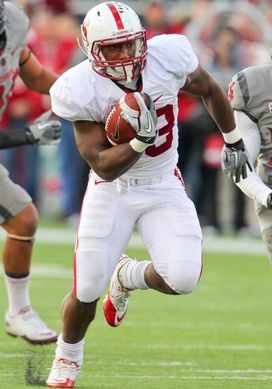 ICONStepfan Taylor and the Cardinal rushing attack had a record-setting day on the ground last week.
Stanford (7-0, 5-0 Pac-12) at USC (6-1, 3-1 Pac-12): The Trojans look to break a two-game losing streak to the Cardinal in this highly anticipated Pac-12 showdown. The last time these two teams met at the Coliseum was in 2009, when Stanford embarrassed USC 55-21 and then-coaches Jim Harbaugh and Pete Carroll had an uncomfortable postgame handshake. This time around the Trojans are coming off of a very impressive road win against Notre Dame, a game they dominated on both sides of the line of scrimmage. However, the Cardinal were impressive in Week 8 as well, winning their 10th straight game by 25 points or more in a thrashing of Washington. Stanford didn't even need Andrew Luck's aerial attack against the Huskies — the ground game was so prolific and effective. This week, expect Luck to take his shots down the field. Because despite the Trojans limiting Notre Dame's passing game last week, they still have a very poor secondary. And injuries remain a concern in the 'SC defensive backfield. Lane Kiffin's squad has been able to manage the personnel deficiencies, though, because in the last three games the Trojans have forced 10 turnovers. They'll need to keep that up against the Cardinal. The problem is that Stanford has only turned the ball over five times all year. While both teams play physical on the defensive side of the ball, don't expect much punting. The Cardinal and the Trojans rank No. 1 and No. 2 in the FBS for fewest "three-and-outs," so points will be scored in this contest. Last week, Stanford scored on 10 of its 11 possessions with just one three-and-out. Meanwhile, USC has just two three-and-outs in its past three games. The health of the Trojans' star playmakers is a bit of a concern. Receivers Robert Woods, Marqise Lee and Brandon Carswell are banged-up, as is running back Marc Tyler. They'll play, but expect the Stanford defense to test them.
Keep an eye on: the Stanford TEs
The Cardinal possess the best trio of tight ends in America — Zach Ertz, Coby Fleener and Levine Toilolo. They have combined for 47 receptions, 867 yards and 12 of Luck's 20 touchdowns. All three stand at least 6-6 and weigh at least 252 pounds. Their average per catch is 18.4 yards, and they are lethal when Stanford's play-action game is working — which is pretty much always.
Clemson (8-0, 5-0 ACC) at Georgia Tech (6-2, 3-2 ACC): Clemson running back Andre Ellington had a big game against the Yellow Jackets last season, rushing for 166 yards and two scores on 20 carries. Meanwhile, the Tigers did a pretty decent job against the Yellow Jackets' triple option offense, holding them to 242 yards on the ground in 2010 — solid numbers against a high-powered ground attack. Clemson's defensive line is athletic, but it's susceptible to giving up a big run. Can the Jackets move the ball enough on the ground to allow quarterback Tevin Washington to make enough plays through the air? The last time Clemson played GT when it was 8-0 was in 2000. The Jackets knocked off the Tigers to knock them out of the national championship race. Can they repeat the feat Saturday night in Atlanta?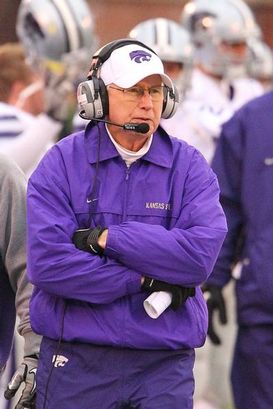 ICONBill Snyder continues to prove that he is one of the best head coaches in America.
Oklahoma (6-1, 3-1 Big 12) at Kansas State (7-0, 4-0 Big 12): Scary stat for Kansas State fans…Sooners head coach Bob Stoops has not lost consecutive games since 2003. And he has never lost consecutive Big 12 games. In fact, the Sooners haven't lost back-to-back conference games since 1998. The good news for the Wildcats is that the Sooners could still be without middle linebacker Tom Wort and cornerback Jamel Fleming — two players they really missed last week in the loss to Texas Tech. K-State dual-threat quarterback Collin Klein paces the rushing attack, and the Wildcats could strike on special teams after returning a kick for a touchdown the last two weeks. The problem for Bill Snyder's team is that the pass defense is very subpar, so Landry Jones could have a prolific day against that secondary.
Michigan State (6-1, 3-0 Big Ten) at Nebraska (6-1, 2-1 Big Ten): How good is Nebraska? We're going to find out this week in Lincoln when the Cornhuskers host the Spartans. Michigan State is playing very good football, coming off of wins over Ohio State, Michigan and Wisconsin. And its second-ranked defense in the nation gets back end William Gholston this week. The Spartans slowed down Michigan's run game when the teams met two weeks ago, and they did a solid job of not letting the Badgers' rushing attack kill them last week. Rex Burkhead will have to get out on the edge, especially when the Huskers run the option in its no-huddle attack. If the Huskers can play ball-control, they may have the edge because of their offensive line. But it could be a long day for Nebraska if the Spartans make the Cornhuskers offense one-dimensional and make Taylor Martinez make plays through the air. Defensively for Nebraska, the Blackshirts have had their share of issues this fall. The good news for the Huskers is a lot of their struggles came against mobile quarterbacks — Keith Price, Russell Wilson and Braxton Miller. Kirk Cousins won't scare anyone with his legs, but he's very effective if his play-action game is sound. The Spartans will look to run early as they try to overcome the possible "letdown" factor after their recent string of big wins.
NCAA '12 simulation results: The NFP did a simulation of this game, as well as the Baylor-Oklahoma State matchup. The PS 3's forecast? A 38-18 Nebraska winner. Taylor Martinez went 12 of 19 for 210 yards and two touchdowns and had 47 yards and another score on the ground. LeVeon Bell had 105 yards and a touchdown on the ground for the Spartans in a losing effort.
Baylor (4-2, 1-2 Big 12) at Oklahoma State (7-0, 4-0 Big 12): While the Bears should be able to move the ball against the Pokes, how can Phil Bennett's defense contain Brandon Weeden, Justin Blackmon, Joseph Randle and this Cowboys offense? Baylor ranks 90th in the nation in pass defense. The Pokes have had their issues against mobile quarterbacks this season, so Robert Griffin III could have a big day on the ground. And while OSU is very susceptible on defense, it's a unit that forces turnovers and makes big plays. However, RG III and this offense do a good job of protecting the football. At the end of the day, Baylor will have to play its best defensive game of the year in order to knock the Pokes from the ranks of the unbeaten.
NCAA '12 simulation results: In the PS 3 simulation of this game, Oklahoma State recorded a 48-24 victory to remain unbeaten. Brandon Weeden threw for 335 yards and three touchdowns on 20 of 29 passing while Robert Griffin III threw for 260 yards on 19 of 29 passing with two touchdowns in the loss.
Other games worth monitoring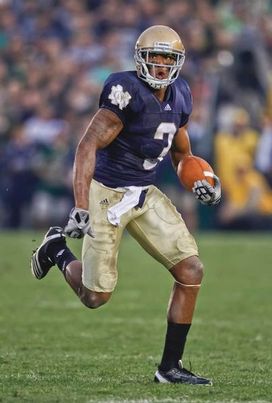 ICONCan Michael Floyd and the Irish avoid another upset at the hands of Navy?
Navy (2-5) at Notre Dame (4-3)
ACC: Wake Forest (5-2, 4-1 ACC) at North Carolina (5-3, 1-3 ACC)
Big Ten: Purdue (4-3, 2-1 Big Ten) at Michigan (6-1, 2-1 Big Ten); Illinois (6-2, 2-2 Big Ten) at Penn State (7-1, 4-0 Big Ten); Wisconsin (6-1, 2-1 Big Ten) at Ohio State (4-3, 1-2 Big Ten)
Big East: Syracuse (5-2, 1-1 Big East) at Louisville (3-4, 1-1 Big East); West Virginia (5-2, 1-1 Big East) at Rutgers (5-2, 2-1 Big East)
SEC: Georgia (5-2, 4-1 SEC) vs. Florida (4-3, 2-3 SEC); South Carolina (6-1, 4-1 SEC) at Tennessee (3-4, 0-4 SEC)
Have a great weekend. Enjoy all the games Saturday, and help me Sunday root on the Detroit Lions and get them back into the win column against Denver. #Tebowing
Follow me on Twitter at Miller_Dave
Check out the latest college football news under the Against the Grain column.
Have a college football question? Feel free to send me an email at dave.miller@nationalfootballpost.com