September 18, 2010 -
Dave Miller
NFP Saturday Tailgate
Week 3 is typically put up or shut up time in the world of college football.
While there are still major programs playing against lower-level competition in the third week, many teams are entering into league play or competing in tough nonconference action.
Common excuses cited for sloppy play on opening weekend — being mere weeks removed from fall camp, inferior conditioning, overlooking opponents — need not apply anymore.
This week, the nation gets a chance to see teams exposed — as contenders or pretenders.
So fire up the grill and let's start this weekend's tailgate.
Underrated game of the year?
It may not be the sexiest game of the season, but the Iowa-Arizona matchup in Tucson Saturday night likely will be one of the best games of the year — and it's the week's lone matchup involving ranked teams on both sidelines. Last season in Iowa City, the Hawkeyes beat the Wildcats 27-17. However, quarterback Nick Foles was not under center for the Wildcats until early in the fourth quarter of that contest. Matt Scott, who was the starter at the time, threw a critical interception late in the third quarter to shift the momentum of the game.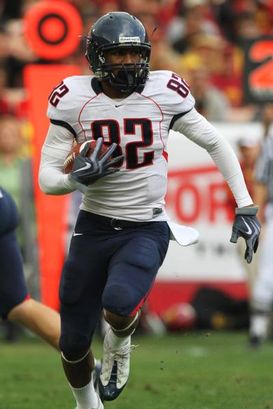 ICONJuron Criner makes plays in the Arizona passing game.
This season, Foles is firmly entrenched under center, and the Wildcats are averaging over 46 points per game. Foles is completing more than 83 percent of his passes for 287 yards per game, and top receiving target Juron Criner has 12 catches for 236 yards and a score. Keeping the Arizona offense balanced is tailback Nic Grigsby, already has found the end zone five times and is averaging 8.4 yards per carry.
The Hawkeyes, however, are all about defense, a sound ground attack and just enough of the Ricky Stanzi magic to get the job done. Iowa is giving up just 216 total yards per game — including just 71.5 yards per game on the ground, where they have yet to yield a score. Led by All-American end Adrian Clayborn and tackle Karl Klug, this unit is stingy.
On the other side of the ball, Iowa effectively moves the chains by employing a productive rushing attack led by Adam Robinson and Jewel Hampton, along with the steady arm of Ricky Stanzi. The Hawkeyes are averaging 36 points and 457 total yards per game and run the ball just about as much as they pass. Their well-balanced offense and stout defense give them the best opportunity to knock the Buckeyes from the top of the Big Ten ladder.
But before they enter Big Ten play, taking care of the Wildcats on the road is priority number one. Offense or defense…who ya got? I know which unit I always defer to — let's just say I believe pitching wins in the MLB playoffs. Did I just tip my hand?
Actually, I don't recommend betting against the Hawkeyes, but something tells me Mike Stoops' boys steal a 20-19 home victory…
Contenders or Pretenders?
So the Iowa-Arizona matchup in Tucson is the class of the schedule this week. But if we had "Monster Saturday" last week, why not have "Validation Saturday" this week? These matchups will act as good barometers of just how successful or unsuccessful a team's season could be in 2010.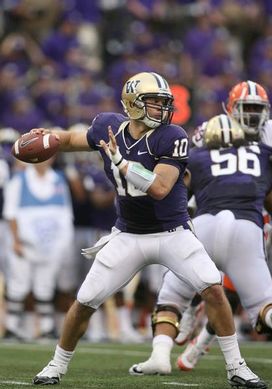 ICONCan Jake Locker deliver Washington a signature win?
Nebraska at Washington: This one could have been a battle of unbeatens but Washington fell in its opener to BYU. Quarterback Jake Locker wasn't able to rescue the Huskies against the Cougars, but he did rally the team from a 10-0 deficit last week against Syracuse. He suffered a bruised wrist in the game but will be ready to go Saturday. Meanwhile, the Blackshirts have been playing well and are primed for their first road test. But can freshman Taylor Martinez take his dual-threat act on the road to Seattle and steal a nonconference victory in hostile territory? Or can Nick Holt's defense put the clamps on Martinez?
Arizona State at Wisconsin: With starting wide receivers Nick Toon and David Gilreath out for the game against the Sun Devils, quarterback Scott Tolzien's job will be a lot more difficult. Expect John Clay to carry a heavy load, as Wisconsin is one of just six teams to have averaged at least 200 yards per game on the ground in each of the last three seasons. Can the Sun Devils stop clay? Last week, Northern Arizona had just 69 yards on 34 carries. But this defense will be entering Big Ten territory — and John Clay is a different animal.
Clemson at Auburn: Can Kyle Parker lead his Clemson offense into Auburn and score a big victory for the ACC? In the battle of the Tigers, the stage is set for Parker's showdown with Auburn quarterback Cameron Newton. While Clemson's ground game is still a force without C.J. Spiller, the passing attack is still looking for a go-to guy. Parker may have to rely on tight end Dwayne Allen a lot Saturday if Auburn generates consistent pressure. Meanwhile, Newton will face a run defense that has been susceptible to the run, giving up 166.5 yards per game on nearly four yards per carry in two games against inferior opponents. With Gene Chizik emphasizing the need to rely less on Newton and more on Auburn's backs in the running game, this could be bad news for Clemson.
Texas at Texas Tech: The Longhorns have put an emphasis on the running game this season to give new quarterback Garrett Gilbert time to settle in to his starting role. But against an aggressive Red Raiders defense led by outside linebacker Brian Duncan, who basically plays defensive end in their 3-4 scheme, Gilbert will have to take it to the air — and look for Mike Davis and Malcolm Williams. The passing attack of the Red Raiders under Taylor Potts hasn't missed a beat without Mike Leach, and receiver Lyle Leong already has five touchdowns. The Red Raiders' rushing attack hasn't been as prolific as Tommy Tuberville had hoped, but it's going to have to be to keep the Longhorns honest. Will the athletes on Mack Brown's squad be too much, or will the Red Raiders out-scheme their way toward a Big 12 victory?
Don't sleep on…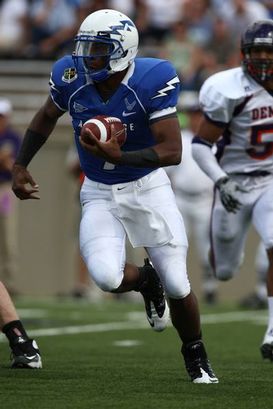 ICONTim Jefferson paces the Air Force offense under center.
Air Force at Oklahoma: The nation's longest home winning streak will be on the line in Norman when the Falcons visit the Sooners. OU is coming off of a surprisingly easy victory over an overmatched Florida State squad, while Air Force was able to handle BYU 35-14 last week. Perhaps the Cougars will find rough waters as they prepare to say goodbye to the Mountain West Conference. Air Force leads the nation in rushing at 423 yards per game — over 90 yards per game more than any other team in the nation. Falcons quarterback Tim Jefferson not only can run, but the third-year starter has an arm, as well. While he doesn't get many opportunities to showcase it in Air Force's option attack, he may need to against the Sooners. If Air Force can avoid third-and-longs, this game could get really interesting. But if the Sooners dominate the line of scrimmage and provide a heavy dose of DeMarco Murray, the Sooners could roll.
Want more? Check out my four most underrated games on the weekend slate from my Four-down territory post Friday afternoon.
Skinny posts
…North Carolina receives a boost this week with the return of running back Shaun Draughn, who was one of the players suspended for the LSU game. Draughn, who was the Tar Heels' starter the past two seasons, has been cleared to play against Georgia Tech and should help in the Heels' quest to rebound from their loss to the Tigers in the opener. Draughn has rushed for a combined 1,433 yards and four touchdowns the past two years and may be able to take advantage of a Georgia Tech run defense that is allowing 159.5 rushing yards per game.
…Could Jordan Jefferson's days as the LSU starting quarterback be numbered? Despite the Tigers' 27-3 win over Vanderbilt last Saturday, Jefferson did not play well under center. After the game, head coach Les Miles admitted that his play wasn't good enough. "We're going to continue to evaluate our quarterback situation, and frankly, we're going to expect more out of the position, period." Jefferson will start this week against Mississippi State, but what if Dan Mullen's Bulldogs are able to move the ball against the Tigers defense and the game becomes a bit of a shootout? Will Jefferson be able to move the ball without turning it over? Or will Miles look to backup Jarrett Lee, who was well-known during his freshman year for throwing interceptions that went the other way for scores? If Jefferson can't improve his accuracy and TD-to-INT rate, however, Miles may make a move. With Terrence Toliver, Reuben Randle and Russell Shepard at receiver, talent like that can't go to waste — which is what will happen if the signal caller can't get the ball to them consistently.
…So much for the ACC Coastal division being the strongest division in major college football. Georgia Tech, Miami, North Carolina and Virginia Tech have all gone down early — with the Hokies sitting at 0-2. There's still plenty of time for these teams to get going as conference play kicks off, but the rep of the ACC has taken yet another hit in what was expected to be a showcase season.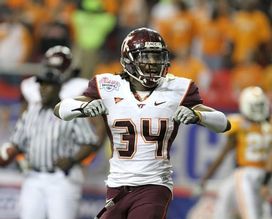 ICONRyan Williams and the 0-2 Hokies are off to a rough start.
…For all the talk of Virginia Tech having the best backfield in the nation — and I had a front seat on the bandwagon — neither Ryan Williams nor Darren Evans has eclipsed 100 yards on the ground. They have combined for 51 carries and 174 yards and two scores on the season.
…Kansas redshirt freshman Jordan Webb started in place of Kale Pick at quarterback last week against Georgia Tech, and he helped put behind a tumultuous week for the Jayhawks with a 179-yard, three TD effort in his first career start. Not only was Kansas coming off of a season-opening loss to North Dakota State in head coach Turner Gill's debut, but the program was dealing with the abrupt retirement of athletic director Lew Perkins. For the Jayhawks faithful who weren't thrilled with the Gill hire, he showed against the Yellow Jackets that he can flat-out coach.
…The Old Ball Coach dedicating his offense to the run? Believe it, as freshman Marcus Lattimore's name was called 37 times last Saturday against Georgia in his first SEC game. He tallied two 2-yard TDs, and Spurrier will continue to keep it on the ground with the bruising tailback because the Gamecocks have a defense that can keep them in every ballgame — as long as the offense remains balanced.
…Missouri didn't miss running back Derrick Washington last weekend. Freshman Henry Josey scored on three of his first four carries and finished with 112 yards on just seven carries against McNeese State. Josey began the game as the third-string tailback after Washington was kicked off the team before the season.
…How good has Oregon's special teams played thus far? With Kenjon Barner filling in for LaMichael James at running back in the opener against New Mexico, cornerback Cliff Harris filled in for Barner returning punts and returned two for scores. With James on the field against Tennessee last week, Barner was back returning punts and took one 80 yards to the house. Harris? He merely returned an interception for a touchdown.
…Much of the coaching hot seat talk in the Big Ten entering the season surrounded Michigan's Rich Rodriguez and Ron Zook of Illinois. But Minnesota's Tim Brewster also made my coaching watch this offseason, and if the first two weeks of the season are any indication, it could be a tough year for Brewster and the Golden Gophers. A week after almost losing to Middle Tennessee without its best player, South Dakota finished the job last week. Up next for the Gophers? A USC team that has yet to hit its stride. A defense that features 11 new starters had no answer for South Dakota quarterback Dante Warren, who accounted for 433 total yards and five touchdowns. Will Matt Barkley and the Trojans get back to their scoring ways this week?
Quote of the week
"Everybody says, 'Well, you can't run your quarterback 20-some times a game.' Well, did they say that when you handed off to Barry Sanders? You can't run Barry Sanders 20-some times a game? If he can handle it, he can handle it." — Michigan head coach Rich Rodriguez, on whether Denard Robinson can hold up under a heavy workload.
Have any suggestions for this column or have a college football question? Feel free to send me an email at dave.miller@nationalfootballpost.com.
Enjoy the games!
Follow me on Twitter at Miller_Dave
Click here to win cash today playing fantasy football with the NFP and FanDuel.