September 11, 2010 -
Dave Miller
NFP Saturday Tailgate
Let's get to the heart of the matter. With Week 1 in the books, did you survive your first tailgate experience of the season? If so, get back in the saddle because you know you're ready for more.
This Saturday has been dubbed "Monster Saturday," but can it top last weekend — a slate of game that included a few Top 25 teams falling, Ole Miss losing to Jacksonville State, Michigan and Notre Dame rising from the dead, and Boise State getting its signature win over Virginia Tech.
A look at this week's games, and I think the answer could be a resounding 'yes.'
With that being said, let's start this week's tailgate.
The main event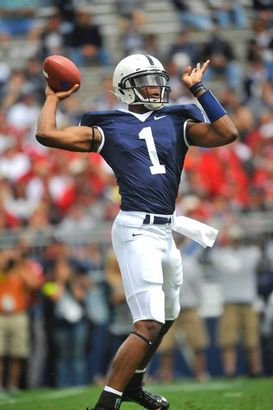 ICONRobert Bolden will face his most difficult test yet against the defending national champions.
Penn State's true freshman quarterback Robert Bolden is in store for a big test Saturday night when he'll look across the line of scrimmage and see one of the most talented defenses in the nation. It was a little surprising to see Nittany Lions head coach Joe Paterno tab Bolden as the starter in Happy Valley, 29 practices removed from his high school career. And while some may argue that the youngster won the competition by default because of underwhelming camps by returnees Kevin Newsome and Matt McGloin, the coaching staff would not have inserted Bolden into the lineup if he couldn't at least handle it from a talent perspective.
Nerves, on the other hand, could be a different story. Even the most veteran of signal callers would find the crowd at Bryant-Denny Stadium daunting.
Last week in the opener against Youngstown State, Bolden remained poised in the pocket and resisted the temptation for happy feet. A skilled runner, it was a good sign to see him committed to throwing the football. Granted, it was Youngstown State. And he did have moments when he looked like a freshman quarterback, particularly when he overthrew his receivers. But his one interception occurred when receiver Derek Moye slipped on his route. And he ran the offense smoothly, finishing 20 of 29 passing with two touchdowns to Brett Brackett.
One thing that will be crucial for Penn State Saturday night is getting increased production from running back Evan Royster, who only logged 40 yards on 11 carries in the opener. A lot of his ineffectiveness was the result of an offensive line that wasn't all that physical — a trait that will be exposed against an Alabama line that is stout even without defensive end Marcell Dareus, who will be completing his two-game suspension by sitting out against the Nittany Lions. But if Royster doesn't get going early, my colleague Wes Bunting believes that PSU could turn to backup Stephfon Green to try to kick start the rushing attack.
Balance on offense, solid special-teams — perhaps more magic from Chaz Powell — and mistake-free football is the recipe for Paterno's bunch to stay competitive in this contest.
Paterno and his staff have been preparing for this tilt all summer long. Sure, the Big Ten schedule always awaits and staffs always have to know their conference rivals inside and out. But do you think Paterno would allow a younger Penn State team to be unprepared heading into Tuscaloosa?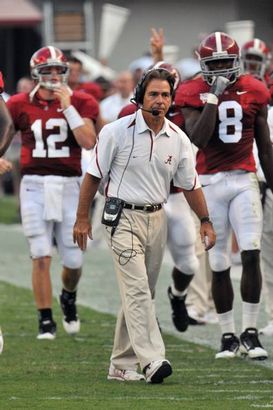 ICONNick Saban squares off with the legendary Joe Paterno Saturday night in Tuscaloosa.
On the flip side, while Nick Saban and the Crimson Tide certainly aren't overlooking this game, the gauntlet they have to go through to reach the SEC championship game will always be first and foremost on their minds. I'm not saying Penn State has an advantage here; rather, don't discount the preparedness of Paterno's bunch.
Even if the Nittany Lions find scoring at a premium, their defense will find a way to make a game of it. Coordinator Tom Bradley has his work cut out, for sure, specifically with the play-action game that Alabama is able to use because of such a successful rushing attack. Even with Heisman-winner Mark Ingram on the sideline, we've seen that there will be no dropoff with Trent Richardson running the rock.
Crimson Tide quarterback Greg McElroy has 0 INTs in 12 of 15 starts — and just four total picks in his career. Good decision-making from its quarterback, dominating play at the line of scrimmage and a talent in Julio Jones when you want to go down the field spells a long night for any defense.
Bear Bryant would be proud of this matchup. By the way, he would be 97 on Saturday if he was still with us.
The Top 25 matchups
Besides the Penn State-Alabama matchup in Tuscaloosa, be sure to keep an eye on these intriguing contests.
Florida State at Oklahoma: The Sooners didn't look great last week against Utah State — particularly quarterback Landry Jones and the pass defense. Running back DeMarco Murray, however, was in midseason form, as he carried OU to victory. The Seminoles, meanwhile, did not look past their matchup with Samford, scoring 42 points in the first half. Seminoles quarterback Christian Ponder only threw the ball 14 times, but he connected for four TDs. Jones will need to play at a high level to keep the Sooners' offense balanced. But will Murray be held in check? Last week, Samford's career rushing leader, Chris Evans, was held by the Seminoles to 39 yards on a dozen carries. This is the statement game the 'Noles have been waiting for to prove that they deserve to be in the national conversation again.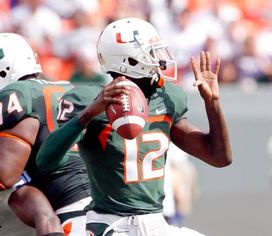 ICONJacory Harris and the Hurricanes match up with Terrelle Pryor and the Buckeyes.
Miami at Ohio State: The Buckeyes are 26-2 at home against nonconference opponents under head coach Jim Tressel, but the defense has a real test this week as the Hurricanes storm into Columbus. The Buckeyes don't have great speed defensively up front, so they dial up the blitz often. Can Harris make them pay? It may only happen if the 'Canes are able to run against the stout Buckeyes run defense and maintain some balance offensively. Meanwhile, Pryor gets another opportunity to show that his Rose Bowl performance was no fluke. Like the Seminoles, Miami has a chance to show the nation that it should be taken seriously on the national radar.
Georgia at South Carolina: Steve Spurrier had a successful re-debut calling plays for the Gamecocks last week in their win over Southern Miss. We saw the premiere of "The Marcus Lattimore Show" at running back and the potential that we all knew quarterback Stephen Garcia possessed. Now, can South Carolina keep the ball rolling against a veteran Georgia squad that will play without top receiver A.J. Green — and with young signal caller Aaron Murray, who was poised last week but will be going against an always-tough Gamecocks defense. Something tells me this is the year the Gamecocks show some consistency and balance on offense, and it will help Saturday that the Bulldogs are still adjusting to their new 3-4 defensive scheme.
Don't overlook these contests
Michigan at Notre Dame: Raise your hand if you projected the performance of Wolverines quarterback Denard Robinson last week against Connecticut? We heard stories of his progress as a passer throughout the offseason, but to see it on display against a solid Huskies team was impressive. How does Notre Dame defensive coordinator Bob Diaco go about shutting down the Robinson-led Wolverines offense? "All we're going to do is do the best we can in selecting from the menu of installation that we have, preparing the players mentally, focusing on the nuts and bolts of defense in terms of block destruction and tackling and effort," Diaco said. "They need to just clearly know their assignment the whole time." It sounds easier said than done, right? Meanwhile, Dayne Crist and the Irish ran Brian Kelly's up-tempo spread offense as well as a team could for the first time executing it in a game. Remember, the Wolverines defense still remains a concern. And their secondary is very thin. This could be an old-fashioned shootout.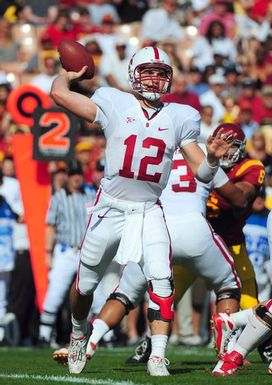 ICONA strong running game will make Andrew Luck even more dangerous.
Stanford at UCLA: Kevin Prince is expected to line up under center for the Bruins despite his bum shoulder, but can he shake off the rust from missing most of fall camp? He really struggled last week against Kansas State — and so did the UCLA run defense, which could spell doom because Jim Harbaugh and the Cardinal still plan on running the ball despite the loss of Toby Gerhart to the next level. A successful rushing attack will only enhance the productivity of future NFL quarterback Andrew Luck. This Pac-10 opener for both teams will be a nice late-night treat if you are still craving pigskin.
Oregon at Tennessee: There's no question that sophomore Darron Thomas looked great under center last week in Oregon's 72-0 rout of New Mexico. Along with running back Kenjon Barner, who had a career-high 147 yards and five total touchdowns in place of suspended LaMichael James, Thomas and the Ducks rolled up a school-record 720 yards in total offense in the victory. But playing in the humidity in front of a boisterous Neyland Stadium crowd will be a huge test for the Ducks' young signal caller. Still, it's tough to see youth being served for the Volunteers. Top receiver Gerald Jones is out with a broken hand, and although talented freshman wideout Justin Hunter and future pro tight end Luke Stocker give quarterback Matt Simms options in the passing game, I think the Ducks' defense will play too fast for Simms to contend with — forcing him to make mistakes. The Vols need to play keep away with running back Tauren Poole, who helped lead the way last week when the Vols rushed for 332 yards against Tennessee-Martin. But I think Thomas and the Ducks break away in the second half against Derek Dooley's bunch.
Two others worth keeping an eye on
South Florida at Florida: Can the Gators get rolling offensively — and keep the ball off the ground — against Skip Holtz's Bulls?
Colorado at California: Quarterback Kevin Riley and Cal have a good chance to snag a nonconference win at home against a future Pac-10 rival.
Skinny posts
…With a depleted receiving corps entering the season, South Florida was looking for a second legit option alongside spring game star Dontavia Bogan for quarterback B.J. Daniels. Skip Holtz and the Bulls may have found one in Evan Landi, a 6-3, 221-pound sophomore who caught just five passes last season. In their 59-14 win over Stony Brook last week, Landi caught 6 passes for 104 yards. "Mr. Surehands," as Daniels calls him, will surely be needed Saturday when the Bulls visit The Swamp to take on a Florida team coming off of an ugly win.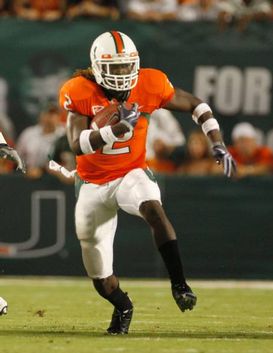 ICONGraig Cooper returned to action quicker than anybody could have expected.
…Although Lamar Miller saw the bulk of the action in the backfield for Miami last week in its opener, it was great to see Graig Cooper — the Hurricanes' fifth-leading rusher in school history — enter the game in the third quarter. Cooper severly injured his right knee in the Hurricanes' bowl game in late December, and it looked as though he would miss the entire 2010 season. But there he was on the field last week, finishing with 11 yards on two carries, plus 13 yards on two receptions. However, he suffered another injury when a defender's helmet appeared to hit him near the knee on an out-of-bounds play, though some reports list him as having an ankle injury. He is doubtful for Saturday's game against the Buckeyes, but his real feat was even getting back onto the field this season.
…Minnesota ran the ball 67 times for 281 yards last week against Middle Tennessee and dominated the time of possession 45:34 to the Blue Raiders' 14:26. But even without suspended starting quarterback Dwight Dasher, Middle Tennessee only lost 24-17 last Thursday night. Even under yet another coordinator, the Gophers' struggles on offense may continue this fall.
…Iowa State quarterback Austen Arnaud spent much of the offseason revamping his throwing motion. In the opener last week against Northern Illinois, he went 27-of-36 for 265 yards — with a pair of interceptions. He did add a touchdown run, however, and the Cyclones may want to keep it on the ground this week against Iowa. Alexander Robinson rushed for 97 yards and two scores last week, and he'll need to be productive again Saturday for the Cyclones to have any chance against the Hawkeyes. If Arnaud is asked to win the game by himself with a stalled running game, ISU is in trouble.
Quote of the week
"Mama wanted me to be a preacher. I told her coachin' and preachin' were a lot alike." — legendary Alabama head coach Bear Bryant
Have any suggestions for this column or have a college football question? Feel free to send me an email at dave.miller@nationalfootballpost.com.
Enjoy the games!
Follow me on Twitter at Miller_Dave
Click here to purchase the Total Access Pass / Fantasy Draft Guide from the NFP.