November 13, 2010 -
Dave Miller
NFP Saturday Tailgate
Beware: You are now entering a Cam Newton-free zone…
Actually, more news broke on the Newton front late Friday night. Click here to get the latest.
As we enter the second weekend of November, not even the chilly air will prevent a good old-fashioned cookout. So get that grill fired up and let's start this weekend's tailgate.
An SEC championship game participant — already?
What a difference a month makes.
Four weeks ago, Florida was sitting at 4-3 and 2-3 in SEC play following an ugly 10-7 home loss to Mississippi State. The Gators had dropped their third consecutive game, they couldn't score — hell, they couldn't move the football down the field — and the only question was what else could go wrong to add to the embarrassing state of the program.
Fast forward to today, and the Gators will be SEC East champions and on their way to Atlanta with a win at home against the Head Ball Coach and South Carolina in the final game of conference play for both teams.
So what has happened to make the Florida offense suddenly potent?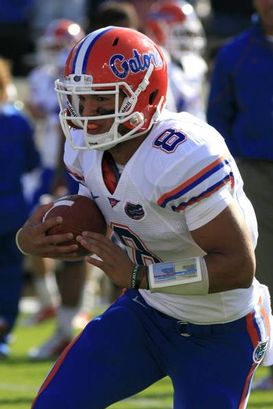 ICONTrey Burton gives the Gators a different look at quarterback.
Well, since coming back from their bye week after the three-game skid, the Gators combined to tally 89 points in wins over Georgia and Vanderbilt. During their skid, the offense averaged just 14 points per game. The spark? A variety of looks in the backfield, with three different quarterbacks taking snaps: John Brantley, Trey Burton and Jordan Reed. Florida's shift to a more traditional offense wasn't getting it done, as Brantley has struggled getting the ball consistently down the field, completing just 39.5 percent of his throws on passes of 15 yards or longer. While he wasn't helped by a receiving corps that often couldn't hang onto the football, head coach Urban Meyer knew he needed to go back to having his signal caller be more of a run threat. Enter Reed and Burton.
We saw what Burton, an H-back hybrid type, could do earlier in the season when he scored six times against Kentucky. He is the best run option under center. Reed, a 6-3, 240-pound athletic tight end, is also dangerous on the ground, but he also can be effective through the air. For the rest of the season, and perhaps well into the future, you will see a variety of formations from the Gators on offense. Add in the return of Chris Rainey and the return to health of Jeff Demps, and you can see why there has been an offensive revival in Gainesville.
At South Carolina, the Gamecocks are trending in the opposite direction, especially on defense. The same team that looked so good against Alabama in Week 6 looked so bad against Arkansas last week. It's the typical late-season nosedive — the very thing many had thought this team had overcome after Steve Spurrier and Stephen Garcia notched their landmark wins in Columbia against the Crimson Tide.
Since that seemingly defining win over Nick Saban's squad on October 9, the Gamecocks lost to Kentucky, looked mediocre in a win over Vanderbilt, found themselves in an unexpected shootout against rebuilding Tennessee and never looked confident in a bad home loss to the Hogs. Not exactly what Gamecocks fans had in mind entering this showdown at The Swamp. Then again, fans in Columbia are used to this.
To add even more angst, South Carolina is just 5-27 against the SEC in November since 1992, with only one of those wins coming on the road. Coincidentally, that was the last time the Gamecocks won the SEC East.
If South Carolina has any chance at all, running back Marcus Lattimore will need to carry a big load. But coming off a knee injury and being effective against the Florida front will be difficult — and perhaps too much to overcome for a team that earlier in the season looked to finally be settling in as a legitimate SEC contender.
I thought the SEC West was best?
Dan Mullen has made Mississippi State football relevant again as we enter mid-November, and his Bulldogs may just be ready to spring an upset over a suddenly vulnerable Alabama team. The reason that fans in Starkville have been able to enjoy a Bulldogs revival? Defense and a sound ground game.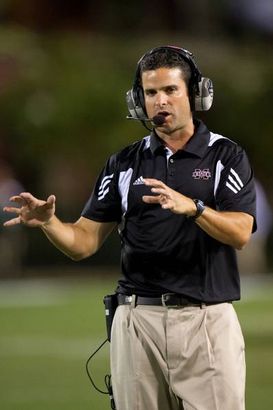 ICONMississippi State coordinator Manny Diaz has revamped the Bulldogs defense.
First-year defensive coordinator Manny Diaz has revamped the unit, which is ninth in the nation in scoring defense at 17 points per game — nearly a 10-point improvement compared to last season. While the defense doesn't dominate in most other categories, Diaz prides himself on the scoring defense stat because at the end of the day, it isn't how pretty you look during the game. It's about the end result: winning games. And that comes with keeping opponents out of the end zone, which the Bulldogs have done well throughout the season.
Alabama running backs Mark Ingram and Trent Richardon face a difficult task against this front seven. And as we have seen, you have a chance to win if you can stop the Tide's rushing attack. The ground game was held in check in the team's losses on the road to South Carolina and LSU, and it's hard to envision Diaz's unit being generous against the run in this game. It's a unit that likes to blitz, so Tide quarterback Greg McElroy will have to get the ball out quickly. He has weapons in the passing game, of course, and this could be one of those games where Ingram and Richardson do most of their damage catching swing passes and screens out of the backfield against an overly aggressive defensive unit.
It will be a tough task stealing a win in Tuscaloosa, no matter how well the Bulldogs have been playing and no matter that the Tide have two losses. But the Bulldogs have done a great job of controlling the tempo of games, with running back Vick Ballard and quarterback Chris Relf pacing a rushing attack that is methodical and productive. They may rank 101st in the country in passing, but an effective ground game and a defense that rarely wilts because of its excellent conditioning will win a team a lot of football games. LSU rushed for 225 yards last week against the Tide, and Mississippi State is the SEC's third-best rushing team, averaging 219 yards per game on the ground. Will it be enough to hand Saban and the Tide loss No. 3 this season?
Wait, Auburn is in the news?
This is a Newton-free zone, so because he remains eligible at this time we will stick to on-the-field action. The Tigers can clinch the SEC West and secure its first trip to the conference title game since 2004 by beating Georgia at Jordan-Hare. The Dawgs have won four straight games in the series, but as we've seen this is a different Auburn team because of Newton.
Auburn took care of LSU already, so Les Miles' squad needs to win out and have Auburn lose both of its remaining SEC games. Alabama is still alive in the West, as well, but the Tide making it back to Atlanta is a long shot.
A lot of the talk this week has been about Gene Chizik's team having to deal with the distractions due to the ongoing investigating regarding Newton's recruitment. Will that carry onto the field? While those players and coaches are only human, I think it will be all business on the football field. The entire program has done a good job of putting up a united front, so expect the Tigers to play their best — perhaps even more dedicated to show the college football world that this season shouldn't be tainted.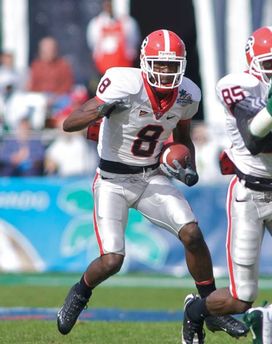 ICONThe return of A.J. Green has helped the Georgia offense.
They will be facing a Georgia team, however, that is much improved from the sputtering squad in September, specifically since wide receiver A.J. Green has come back into the fold after his suspension. He has had 85 yards or more in four of his six games and has seven scores this season. The Bulldogs are deep at receiver with Tavarres King and Kris Durham, and while the rushing attack has not been as dominant as many expected, they have shown flashes that they could be ready to break out.
More than likely, though, this game will feature big plays in the passing game. Both defenses have been susceptible against the pass, with the Tigers having given up 16 touchdown passes and the Bulldogs having allowed 13 scores through the air. South Carolina's Alshon Jeffery found success against the Tigers, as did Greg Childs of Arkansas. Green may be primed to do the same. You will likely see a lot Auburn receiver Darvin Adams, as well — when Newton isn't trying to run around and through the Bulldogs defense.
To get more analysis on all of this weekend's biggest games, including the SEC showdowns, check out the latest On the Quad podcast, featuring yours truly and NFP Director of College Scouting Wes Bunting.
Colorado coaching search
With Dan Hawkins out of Boulder, Colorado athletic director Mike Bohn has composed two lists of potential coaching candidates — an A list and a B list, according to John Henderson of the Denver Post. Among those reportedly on the A list: popular former Colorado coach Bill McCartney, former Oregon coach Mike Bellotti, Air Force coach Troy Calhoun and LSU coach Les Miles. Miles is an unrealistic hire because of the $2 million salary cap the Buffaloes have on the vacancy, while Calhoun likely could have a better opportunity with a program that has better facilities and more resources. After all, he turned down Tennessee in 2009. And the Bellotti hire, to me, just doesn't feel right. Here are the candidates that I think are more realistic:
McCartney: While many may feel like it's a "been there, done that" hire, the fact is that McCartney knows this program inside and out. He could be a stopgap hire who brings along Dave Logan, a former Buffaloes quarterback and local high school coach, and Eric Bieniemy, a former CU running back and current Minnesota Vikings assistant.
Mark Stoops: The former Arizona assistant is currently Florida State's defensive coordinator and obviously has a name that carries a lot of weight. It would be a nice fit with the Buffaloes looking for a fresh start in the Pac-12.
Jim McElwain: The Alabama offensive coordinator is a Montana native and likely would be interested in a return closer to home. He interviewed at San Jose State last year and has really done an underrated job with the Crimson Tide.
Skinny posts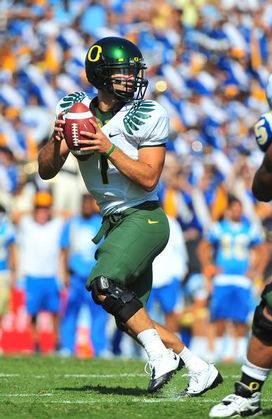 ICONNate Costa's career at Oregon has come to an end.
…There's really nothing else to say regarding Oregon backup quarterback Nate Costa's season-ending injury except that it's incredibly disheartening. As many college football fans know, Costa fought back from three serious knee injuries and just fell short in his bid to begin the year as the starter for the Ducks. Last Saturday against Washington, he suffered the fourth serious injury to the knee after a botched field goal attempt, and his football career in Eugene is now over with the Ducks seeking a national championship. Costa's holding duties now fall to punter Jackson Rice, although don't be surprised to see starter Darron Thomas see time there on potential fake field goals. Speaking of Thomas, if the redshirt sophomore signal caller gets hurt, true freshman Bryan Bennett will be next in line and not Daryle Hawkins, as it looks like the redshirt freshman will remain as a slot receiver. He's been there since losing the No. 3 job to Bennett. Oregon does not want to lose Bennett's redshirt season, though, so you may see Thomas stay in games late even in blowouts.
…An update on the Minnesota coaching search: Joe Schmit of KSTP-TV in Minneapolis tweeted this week that school officials have contacted San Diego State head coach Brady Hoke about its opening, and Charley Walters of the St. Paul Pioneer Press reports that Hoke is definitely on the Gophers' list of serious candidates. Hoke is from the Midwest (Ohio), spent eight years as an assistant at Michigan and was head coach at Ball State for six years — logging a 12-1 mark in 2008. He may not be the big name Minnesota fans are hoping for, but he knows the Big Ten and would fit into the salary range for this job. Hoke currently has the Aztecs sitting at 7-2 and 4-1 in the MWC, with both losses — including one to Missouri — coming by just three points. Air Force's Troy Calhoun is also a strong candidate. Coincidentally, Hoke's Aztecs beat Calhoun's Falcons this season.
…We knew that Miami would be without starting quarterback Jacory Harris once again this week against Georgia Tech as he recovers from his concussion suffered against Maryland. True freshman Stephen Morris once again will be under center for the Hurricanes. But it seems as if starting running back Damien Berry will also miss the game against the Yellow Jackets as he deals with an unspecified leg injury. Head coach Randy Shannon added that Berry has also been dealing with the flu and wasn't able to do any football activities for multiple days in a row. Last week against the Terps, however, redshirt freshman Lamar Miller filled in ably, rushing 22 times for 125 yards and a score.
Quote of the week
"I hope that people will reserve judgment in fairness to the SEC, in fairness to the institutions and most importantly in fairness to the young man. I hope people will exercise thought and patience before making those decisions. I'm concerned about fairness. This has to do with fairness." — SEC commissioner Mike Slive
Have any suggestions for this column or have a college football question? Feel free to send me an email at dave.miller@nationalfootballpost.com.
For updates throughout the games — and pretty much 24/7 because I don't really sleep too much — follow me on Twitter at Miller_Dave
Enjoy the games!
Check out the latest edition of the NFP Top 25 and NFP Heisman Watch.