September 17, 2011 -
Dave Miller
NFP Saturday Tailgate
After Thursday night's LSU-Mississippi State slugfest to kick off the weekend, are you ready for a full day of excitement on Saturday?
Of course you are.
So dust off that grill and get it fired up because we're ready to start this weekend's tailgate.
Are they truly back on the national radar?
In a rematch from last season's 47-17 laugher in Norman, Florida State (2-0) gets its chance to prove that it's ready to assume its position once again as one of the country's elite programs when it hosts Oklahoma (1-0) at Doak Campbell Stadium on Saturday night.
The last time there was this much chatter about the Seminoles being major players on the national stage was when they played in the 2001 Orange Bowl, where Bobby Bowden's squad fell meekly to Bob Stoops' Sooners 13-2. While FSU played in two ACC title games and a few BCS bowls since then, they haven't come close to matching the success the program enjoyed from 1987-2000. In that time frame, the 'Noles won at least 10 games every season and finished in the AP Top 5 for 14 straight seasons. In addition, Bowden's team captured two national championships along the way.
Now, former coach-in-waiting Jimbo Fisher is the face of the FSU program, intent on building off of a 2010 season in which the 'Noles won 10 games for the first time since 2003. The recruiting classes he's brought in during his first two cycles were among the best in the nation, and he has a defense led by second-year coordinator Mark Stoops that should be one of the best in the country. The ingredients are there for Seminole fans to be excited for years to come.
But do the 'Noles have enough to cash in on their big moment Saturday night?
Quarterback E.J. Manuel has thrown for 581 yards with six touchdowns and two interceptions in his first two games, but the rushing attack hasn't been as productive as many expected.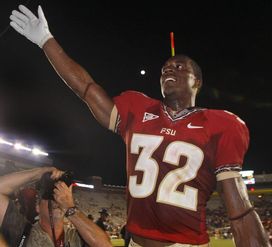 Can RB James Wilder Jr. help give the 'Noles balance on offense?
James Wilder Jr. leads the Seminoles in rushing with just 76 yards, so Fisher has tinkered with the offensive line to help get the ground game moving. Of course, being a one-dimensional offense is a recipe for disaster against a tough Sooners defense, one that has been stout even with Travis Lewis sidelined.
Meanwhile, OU looked as sound as ever in their lone contest of the season, and quarterback Landry Jones has already had a prolific game against the 'Noles on his resume. Last season, he completed 30 of 40 passes for 380 yards with four touchdowns, and the Sooners amassed 487 total yards against the Seminoles. While FSU's defense has given up just 275 yards per game this season, OU is a different offensive animal.
A lot has been made of OU linebacker Travis Lewis' absence, but Corey Nelson fills the void athletically and Tom Wort has picked up the on-field leadership that was lost with Lewis' injury. The key question for this game, I believe, is can Manuel make plays down the field? And will he be put in third-and-long situations if Wilder and Co. can't run the ball.
A big night for the FSU program, but a loss shouldn't be viewed as a major disappointment. A small setback? Maybe. But if the Seminoles stay with the Sooners throughout the game and keep it competitive, the writing will continue to be on the wall.
Fisher has this program on the way back — and it's primed for big things.
Michigan State (2-0) at Notre Dame (0-2)
With the efficiency of the Fighting Irish offense under quarterback Tommy Rees this fall, Brian Kelly's squad could be sitting on a 2-0 record. Instead, 10 turnovers in two contests have the Irish at 0-2 and searching for answers.
The solution to getting into the victory column is simply not turning the ball over, because receivers Michael Floyd and Theo Riddick and tailback Cierre Wood have helped ND move the ball up and down the field against both South Florida and Michigan. Against the Spartans at Notre Dame Stadium on Saturday afternoon, I'm not sure even a stingy Michigan State defense can prevent ND from putting points on the board.
Freshmen defensive ends Aaron Lynch and Stephon Tuitt were shockingly held out of last week's stunning loss at Michigan. Defensive coordinator Bob Diaco said this week that the players were held out by design because of Michigan's "option-ish" offense and the idea that the Wolverines' read-option game didn't fit those two players' strengths with the Irish spending extra time in their nickel packages. Diaco said the pair will "play a much larger role" in this week's game against Michigan State, a team that has had the Irish's number in recent seasons and one that will not be rattled by the road environment.
Although, there was that Spartans debacle in Iowa City last season…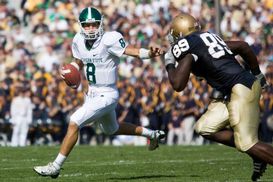 ICONQB Kirk Cousins and the Spartans aren't intimidated by the Irish.
Besides steady senior quarterback Kirk Cousins, the Spartans rely on a deep rushing attack and an overall defense that ranks fourth nationally after two easy nonconference contests. There's no question that MSU will face a different offensive animal than it's seen the first two weeks of the season, but can the Irish be turnover-free?
Ten turnovers in two games — the main reason why the Irish are sitting at 0-2. Until that gets cleaned up, the Irish faithful can expect the same result week after week.
The Irish road to recovery begins this week, as Diaco's bunch should cause enough trouble for the Spartans offensive line to get ND into the win column.
Tennessee (2-0) at Florida (2-0)
Some sophomore slump for Tyler Bray, eh?
The Volunteers quarterback, who threw for a career-high 405 yards and four scores last week in a win over Cincinnati, is enjoying the easy life down in Knoxville with stud receivers Da'Rick Rogers and Justin Hunter, a duo which has combined for 502 receiving yards and five scores in two games this season. Running back Tauren Poole brings a balance to this offense, which is doing its best to help out a defense that is dealing with depth and injury issues.
Florida's defense, meanwhile, has been stingy in its first two games against inferior opponents. We still need to find out about this young and inexperienced secondary, and we'll get a good idea of what to expect from this unit in the game against the Vols.
Charlie Weis' offense has certainly looked sharper than the one run by Steve Addazio last fall, and it's mainly because of the ground attack led by Jeff Demps and Chris Rainey. Quarterback John Brantley has not been spectacular, but he hasn't needed to be as the ball has been in the hands of the Gators' best playmakers. That has to remain the case at The Swamp this week.
The Vols haven't faced a team with Florida's speed thus far, and the Gators can really use that asset to their advantage on offense to wear down a Vols defense that could wilt because of depth issues. Look for Weis to get his best playmakers in space to cause problems for the Vols. And while Bray will be able to take some shots down the field against this UF secondary, I think the Gators will be able to win the battle at the line of scrimmage, limit Poole's effectiveness and force Bray to make a mistake or two, which ultima tely will be the difference in the game.
Other contests to monitor throughout Saturday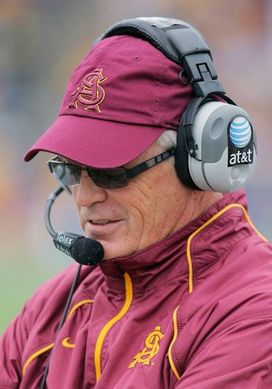 ICONDennis Erickson's Sun Devils notched a big victory last week. Can they do it again?
Arizona State (2-0) at Illinois (2-0): Illinois quarterback Nathan Scheelhaase is a more accomplished passer entering his second season as a starter than Missouri quarterback James Franklin was last week when the Tigers battled the Sun Devils in Tempe. Making matters worse for ASU is the fact that Scheelhaase is an even more dangerous runner. We'll find out a lot about these teams during this one, and Dennis Erickson's squad already answered critics last week with its win over Mizzou. Can the Illini and Ron Zook flip the script this week and prove to their fans that this Illinois squad is a Big Ten contender?
Ohio State (2-0) at Miami (0-1): The Hurricanes would have been able to compete with the Buckeyes last year in Columbus if not for the horrid play of quarterback Jacory Harris. The senior signal-caller is back from his one-game suspension, and he has company as well. Linebacker Sean Spence, one of the team's top defenders, and defensive tackle Marcus Forston will be back, as well as fellow defensive lineman Adewale Ojomo and receiver/returner Travis Benjamin. The 'Canes held their own in the opener against Maryland, but turnovers and depth issues across the line ultimately spelled their doom. The reinforcements on the line will help, and I think Harris plays a better game than he did last year. For the Buckeyes, I think Joe Bauserman and this offense really miss DeVier Posey and to a lesser extent Boom Herron. Tight end Jake Stoneburner is good, but he can't be the only viable pass-catching weapon for OSU to steal this roadie.
Auburn (2-0) at Clemson (2-0): Do we know anything about these teams yet? The only thing I can bet on is that this year's version could equal last year's exciting battle.
Have a great weekend. Enjoy all the games Saturday, and have a blast watching my Detroit Lions move to 2-0 against the Kansas City Chiefs.
Follow me on Twitter at Miller_Dave
Check out the latest college football news under the Against the Grain column.
Have a college football question? Feel free to send me an email at dave.miller@nationalfootballpost.com.