September 24, 2011 -
Dave Miller
NFP Saturday Tailgate
Week 4 of the college football season is off and running, and there are some matchups going under the radar this week.
And, of course, an SEC West showdown highlights all of the action.
So dust off that grill and get it fired up because we're ready to start this weekend's tailgate.
Can they match last year's drama?
The SEC West takes center stage this week as Arkansas (3-0) and Alabama (3-0) headline the Week 4 slate of games. And the hope across the nation is that the Razorbacks and Crimson Tide can re-enact the high-energy contest these two teams staged last season.
The Razorbacks built a 20-7 lead in the third quarter behind the big-play arm of quarterback Ryan Mallett against a Tide secondary that did not have youth on their side. The Hogs had the home crowd in a frenzy, and it was the first time in the season that Nick Saban's bunch looked rattled.
But the defending national champs had running backs Trent Richardson and Mark Ingram, the steady hand of quarterback Greg McElroy and a pressure defense that caused Mallett to throw two costly interceptions. No pun intended, but 'Bama was able to turn the tide.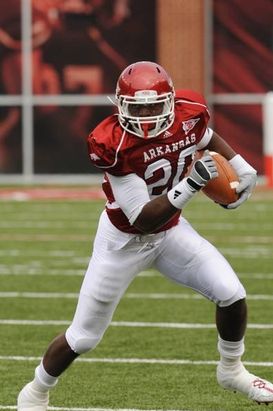 ICONCan Ronnie Wingo give the Hogs a balanced attack against the tough Tide defense?
Mallett is now gone, replaced by Tyler Wilson, who played well when he stepped in for an injured Mallett last season. But top running back Knile Davis is out for the season, so Ronnie Wingo, who rushed for a career-high 109 yards and had three touchdowns in the win over Troy last week, faces a stiff test as he tries to give balance to an offense that has the deepest set of receivers in the nation. It will be difficult, considering Arkansas ran for just 64 yards on 20 carries in the loss to 'Bama last season.
So it's a prolific Hogs offense against perhaps the nation's best all-around defense in the Tide.
What makes the Alabama defense so difficult to play against is the fact that it's complex. Coordinator Kirby Smart's unit is one of the best at calling an audible right after the opposing quarterback does the same thing. So when the signal-caller checks out of one play and into another, the result is not often a desired one. Will Wilson try to imitate Peyton Manning in order to try and throw off the Tide? He might as well, because it would be beneficial to do anything possible to try and confuse this juggernaut.
There's no question Arkansas had this game circled on its calendar all offseason, especially after losing its grip on the game last season. And as we saw last week when the Razorbacks held on for a 38-28 win over Troy after holding a 24-0 lead, their minds may have been wandering and looking ahead. The offense stalled in the second half, as it endured four three-and-outs and a Wilson interception that was returned for a touchdown. That type of play will get the Hogs blown out against a team like 'Bama. And keep an eye on those young tackles on the Hogs' offensive line because they're in for the biggest test of their lives.
Besides containing Richardson and not letting him rip off many big plays, Arkansas will have to confuse A.J. McCarron, a first-year starter who has improved the last few weeks. 'Bama doesn't have the luxury of leaning on McElroy, the steady national champion quarterback anymore. But leaning on a strong running game and stingy defense isn't a bad option either.
LSU (3-0) at West Virginia (3-0)
The Tigers and the Mountaineers clash in Morgantown in another return contest. Last fall, LSU claimed a 20-14 victory; however, John Chavis' defense will be facing a different animal this season as Dana Holgorsen has installed his up-tempo offense, which has been embraced beautifully by quarterback Geno Smith.
This will be the first time the Tigers are facing such a prolific passing attack this season. In their statement victories over Oregon and Mississippi State, LSU showed the nation that its defense is unstoppable against the run — whether it's a finesse rushing attack like the Ducks or a more powerful one like the Bulldogs' style. But West Virginia poses a different type of offense, and it will test the LSU secondary.
The Tigers have a strong defensive backfield, however, as they've allowed only two completions on throws of 15 yards or longer this season. And despite having playmaking cornerbacks in Tyrann Matthieu and Morris Claiborne as well as a quality safety tandem, the Tigers help them out by blitzing with regularity. So Smith will need to be able to handle the pressure and get the ball out of his hand early. Perhaps the Mountaineers can make the Tigers pay for the blitz, though it will be difficult with the speed of this defense, particularly in the backfield.
Smith has developed nicely in this system and has handled the blitz well so far this fall, including completing 9 of 15 passes for 132 yards against extra pressure in the win over Maryland last week.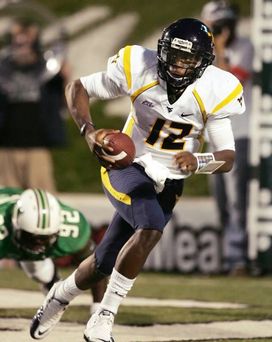 ICONWill Geno Smith and the Mountaineers be able to knock off the Tigers?
The main concern for Mountaineer fans is the lack of a ground attack, and it's impossible to beat this LSU team with a one-dimensional offense. However, WVU could get help with a de facto rushing attack — short, quick passes — to help soften up the defense. In addition, Smith's ability to distribute the football to a variety of weapons — Tavon Austin, Stedman Bailey, Ivan McCartney and Devon Brown each have at least 10 catches — will keep the Tigers defense guessing as to where Smith will throw the football. And do expect the Mountaineers to throw in at least one trick play. Why not? Maybe some of that Les Miles magic will work for the opposition.
In their meeting with the Tigers last season, West Virginia could have mailed it in when LSU went up 17-0. But the Mountaineers cut the deficit to 17-14 in the third quarter. While they ultimately fell short, they hurt themselves with poor special teams plays — giving up the Patrick Peterson punt return for a touchdown, having one field goal blocked while missing another. As tough as this LSU defense is, Holgorsen's offense is effective. If the Mountaineers play a relatively clean game, this one could go down to the wire in the crazy environment that is Morgantown.
Other contests to monitor throughout Saturday
Oklahoma State (3-0) at Texas A&M (2-0): Could this be the last time we see these teams play for awhile? It's looking like that will be the case, as the Aggies are on their way to the SEC. This is essentially a Big 12 elimination game if we accept that Oklahoma is the team to beat in the conference. The Cowboys have won three straight against the Aggies, but A&M quarterback Ryan Tannehill didn't play in the 38-35 Cowboys win last season. In that game, former A&M starter Jerrod Johnson was very generous, turning the ball over several times to make things easy for the Cowboys.
How can A&M beat OSU and stop its three-year skid? By blitzing Brandon Weeden, which will be incredibly risky against this offense. If Weeden finds the seams in A&M's zone defense, coordinator Tim DeRuyter's unit is in trouble. But the Aggies have to do anything they can to rattle Weeden, who already has thrown six interceptions this season.
A&M has to play ball control with running backs Cyrus Gray and Christine Michael in order to keep first-year coordinator To dd Monken's offense off of the field in this first matchup between Top 10 teams at Kyle Field since 1975. I think Tannehill plays a bit steadier than Weeden and commits fewer turnovers, which helps to give A&M the edge.
By the way, if you want an in-depth look at this game, check out my guy John Harris breaking it down like no one can.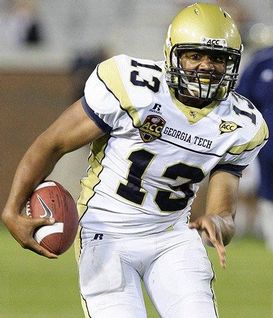 Tevin Washington has given GT quite the passing attack so far this fall.
North Carolina (3-0) at Georgia Tech (3-0): While it seems most in the college football world are excited to watch the Florida State-Clemson ACC matchup, the Tar Heels and the Yellow Jackets surely will kick off the day with an exciting game in Atlanta. We all knew that GT would have a prolific rushing attack, as usual, but where did quarterback Tevin Washington come from? The signal-caller leads the nation with five completions of 60 yards or more, and this Jackets offense has looked unstoppable. North Carolina has NFL talent all over the field, but can they play disciplined enough against the triple-option attack? UNC quarterback Bryn Renner has been helped by a better-than-expected rushing attack, so it'll be interesting to see how this Tar Heels offense fares against Al Groh's 3-4 defense.
Florida State (2-1) at Clemson (3-0): The Seminoles couldn't quite close the deal against the Sooners last week, preventing them from capturing their biggest win in a very long time. However, the FSU defense made things difficult for OU's prolific offense. It doesn't look like E.J. Manuel will get the start under center, so Clint Trickett will be in charge of a Seminoles offense that has some offensive line concerns and a lack of true difference-makers. However, Brandon Jenkins, Greg Reid and this defense will make things difficult for Tajh Boyd, Sammy Watkins and this Tigers offense.
Have a great weekend. Enjoy all the games Saturday, and have a blast watching my Detroit Lions move to 3-0 against the Minnesota Vikings.
Follow me on Twitter at Miller_Dave
Check out the latest college football news under the Against the Grain column.
Have a college football question? Feel free to send me an email at dave.miller@nationalfootballpost.com.