October 23, 2010 -
Dave Miller
NFP Saturday Tailgate
In emphatic fashion, Oregon showed Thursday night that it was not ready to suffer the same fate as Alabama and Ohio State. Succumb to the pressure of being the No. 1 team in the nation? That's not likely, as Chip Kelly's Ducks seemed to embrace the idea of being the top dog in both polls and holder of the No. 2 spot in this week's Bowl Championship Series standings.
Ah, yes, those BCS rankings. Now that they have taken center stage, teams not sitting at No. 1 and No. 2 know that there is work to be done.
With that in mind, let's not waste any more time. Get that grill fired up and let's start this weekend's tailgate.
This isn't an ordinary battle of the Tigers
And just like that, there is a new frontrunner for the Heisman Trophy.
That's how things have gone in the 2010 campaign. Just when Alabama looked unbeatable, the Crimson Tide faltered to the Head Ball Coach and South Carolina. Of course, the Gamecocks gave away all momentum the next week with a loss to Kentucky — the first career loss for Steve Spurrier to the Wildcats.
Denard Robinson was the best player in the nation, until he couldn't stay on the field and Michigan suffered back-to-back losses.
So Ohio State and its star, Terrelle Pryor, stepped onto center stage. Less than a week after being the new No. 1 team in the land, the Buckeyes were kicked to the curb by Wisconsin in Madison.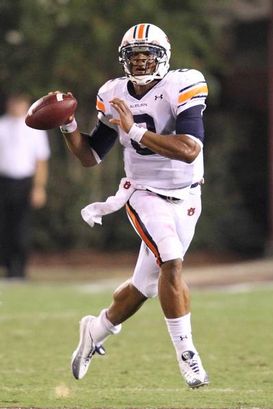 ICONCam Newton leads the nation in TDs with 25.
While all of that drama played out, Auburn quarterback Cam Newton was running Gus Malzahn's offense so effectively that the Tigers had no problem digging themselves early deficits in ballgames, storming back behind their dual-threat signal caller and letting the defense clamp down when it needed to most. Auburn played in some of the most exciting games of the season en route to its 7-0 mark, yet the Tigers tended to go under the radar.
But that all changes this week when they host Les Miles and LSU.
With both teams unbeaten, these pair of Tigers are now at the forefront of the SEC. Alabama is certainly still in the national picture, but the winner of this game controls its own destiny. And Florida? There's concern that the Gators may not score another point the rest of the year.
Meanwhile, Newton is navigating the Tigers offense through the opposing defense, running the zone-read option and veer option with ease. The efficiency of the running game has made the play-action game deadly, especially in the red zone.
The 6-6, 250-pounder, who was set to succeed Tim Tebow in Gainesville, leads the nation in TDs with 25. If you're a Florida fan, you can't help but weep at the fact that he could be leading that struggling Gators offense. But I digress…
Newton actually leads the SEC in rushing, and it's quite possible that he will finish the season as the conference's leader, which would be the first time in 47 years that a quarterback led the league in rushing for a season (Auburn, Jimmy Sidle, 1963). So if you're LSU defensive coordinator John Chavis, is loading up the box LSU's best chance to stop this offensive attack? Or will that make the Bayou Bengals too susceptible to the pass?
As coordinators, Malzahn and Chavis have gone head-to-head on two occasions.
In 2006, while Chavis was at Tennessee and Malzahn was at Arkansas, the Razorbacks used a 21-point second quarter to a claim a 31-14 victory in Fayetteville. The Hogs, however, were held to only three points in the second half.
In 2009, with both men at their current schools, the LSU defense forced two turnovers and had four sacks while allowing only 193 total yards en route to a 31-10 victory in Baton Rouge.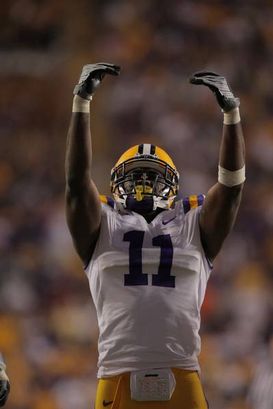 ICONKelvin Sheppard will play a big part in helping to shut down Newton.
Does Chavis have the upper hand? With defensive tackle Drake Nevis, linebacker Kelvin Sheppard and cornerback Patrick Peterson, he at least has more material than perhaps any other defensive unit to at least try to slow down the dual-threat signal caller. It's about as strong as a unit at all three levels as you will find, leading the SEC and third in the country in total defense at 242 yards per game.
Against Tim Tebow last year, LSU held No. 15 to 38 yards on 17 carries — never breaking off a run of at least 10 yards.
Can Newton find more success against Chavis' bunch or will "Miles magic" continue for another week?
Just to chew on: In the last 10 years of this series, LSU is 6-1 at night and 0-3 during daylight. And 2008 was the only time the road team (LSU) won. Bad omen for LSU?
How good is Missouri?
We all know about Missouri quarterback Blaine Gabbert. But how good has Mizzou's defense been this year? The unit has really been the surprise of the year for me, especially after losing linebacker Sean Weatherspoon to the NFL and playing a good chunk of the year without Aldon Smith, the team's best pass rusher, who may be available to play Saturday night. Only one team in the Big 12 has more sacks than Mizzou — the Sooners — and the unit is No. 2 in the country in scoring defense. However, it has yet to see an offensive attack quite like OU's.
Meanwhile, the Sooners are now the hunted as the No. 1 team in the BCS standings. But they are finally clicking on all cylinders, both offensively and defensively, after going through the motions the first month of the season. Quarterback Landry Jones is performing as efficiently as predecessor Sam Bradford, DeMarco Murray has remained healthy and is lurking as a candidate in the Heisman race and Ryan Broyles is one of the best receivers in the country.
The Oklahoma defense, led by end Jeremy Beal and linebacker Travis Lewis, can be very creative. But first and foremost, it will be aggressive. It's going to be critical for the Tigers to establish some semblance of a rushing attack. Tailbacks Henry Josey and De'Vion Moore have showed promise, but I think this is a game where the Tigers feel the effects of the loss of Derrick Washington for the first time this year.
As good as Gabbert has been, he needs to stay out of third and longs. The signal caller is completing 73.8 percent of his passes on first and second downs, but just 44 percent on third down. His 97.8 passer efficiency rating on third down ranks 98th out of 109 passers with at least 30 attempts. That was startling for me when I came across that stat.
We will find out Saturday night in Columbia if Mizzou is for real. Gary Pinkel is 0-6 in his career against OU, the same team that knocked the Tigers from the top of the polls in 2007 and hammered Mizzou in both of its appearances in Big 12 title games (2007 and 2008). The Tigers finally have a defense to give them a chance against the high-powered Sooners. Is it enough to get them over the hump?
Don't forget about Iowa
ICONCan Bret Bielema go back to Iowa City and steal a win?
Wisconsin travels to Iowa City this week following its standout win over Ohio State. Head coach Bret Bielema finally notched his signature win in Madison, but he likely didn't have much time to enjoy the victory knowing that Kirk Ferentz and the Hawkeyes were on the horizon.
Badgers running backs John Clay and James White were able to find holes against the Buckeyes last week, combining for 179 yards and three scores on 38 carries. But can left tackle Gabe Carimi and left guard John Moffitt be sturdy enough against perhaps the best defensive line in the nation led by end Adrian Clayborn and tackle Karl Klug?
I think this is a battle, much like the Wisconsin-Michigan State game, where Badgers quarterback Scott Tolzien will have to make some plays through the air to keep the defense honest. I don't like betting against his counterpart, Ricky Stanzi, too often. And I think the Hawks do a good enough job up front of giving Stanzi enough time to find Derrell Johnson-Koulianos down the field.
This is the first of three big home tests for the Hawkeyes in conference play. Michigan State and Ohio State follow. But if they hold serve in Iowa City, it could be another magical year for Ferentz and Co.
Nebraska at Oklahoma State: In the other big Big 12 contest, Nebraska travels to Stillwater following its surprising home loss to Texas last week. Quarterback Taylor Martinez was completely bottled up by Will Muschamp's defense, and the redshirt freshman was ultimately benched by Bo Pelini. The Cornhuskers didn't help themselves — or their QB — by dropping three would-be touchdowns in the game, however. They're going to need to hang onto the ball in this one to keep pace with Dana Holgorsen's spread attack, which is giving defenses all kinds of fits. Quarterback Brandon Weeden, the former New York Yankees farmhand, is leading the aerial assault with top target Justin Blackmon, a sophomore who has emerged as a potential Heisman finalist because of his ridiculous numbers. However, he will be going up against his stiffest test yet and one of the best cornerbacks in the nation, Prince Amukamara. Can "T-Magic" bounce back against a defense that may be improved but is nowhere close to that of the Longhorns?
The Spartans finally head out of town
I am very much looking forward to being in the press box in Evanston Saturday morning when undefeated Michigan State faces a very difficult test against one-loss Northwestern. We're supposed to have a rainy weekend in the Chicagoland area, so hopefully it will end up being an old-time Big Ten affair. Check out my preview for the game from Friday.
Skinny posts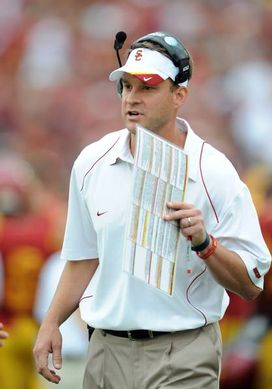 ICONLane Kiffin may employ the spread offense next season in Los Angeles.
…When Notre Dame and USC meet next year in South Bend, will both teams be employing the spread offense? That's a distinct possibility as Trojans head coach Lane Kiffin said Thursday that he is strongly considering moving from the pro-style set to the more wide-open scheme. The former Tennessee general cited the lack of depth at fullback (with the impending graduation of Stanley Havili) and the fact that the team has so many skilled receivers, backs and tight ends returning next year. With scholarship restrictions coming into the play (one reason for a lack of depth at FB), going to the spread may be in the team's best interests, at least for the next year or two. Matt Barkley lining up in three- and four-receiver sets and/or empty backfields consistently could be a nightmare for opponents.
…With the loss of Dejuan Miller to a season-ending injury, senior Cameron Kenney may not be the only fill-in employed by Oklahoma. Jake Trotter of The Oklahoman writes that slot receiver Ryan Broyles could also move to the outside while true freshman Trey Franks or any of four running backs — true freshmen Brennan Clay or Roy Finch or seniors DeMarco Murray or Mossis Madu — could swing inside to give the Sooners even more different looks for the opposition.
…Notre Dame is faced with the possibility of being without two of their starting receivers when the Fighting Irish battle Navy. We already know that sophomore Theo Riddick, the team's No. 2 receiver, will miss the game with a severely sprained ankle. True freshman T.J. Jones will move inside to Riddick's slot position with junior John Goodman moving to Jones' spot. The main question is whether leading receiver Michael Floyd will be able to play as he is dealing with a hamstring injury. The junior is likely to be a game-time decision. If he can't go, the Irish will turn to senior Duval Kamara, who never has lived up to expectations following significant playing time as a freshman. The Irish already are playing without junior tight end Kyle Rudolph, who had season-ending hamstring surgery last week. The real concern for the Irish against the Middies, however, is how Bob Diaco's defense will be able to shut down the option attack that propelled Navy to victory two of the last three seasons.
…Look for Mississippi State to use junior running back Vick Ballard more out of the Wildcat formation. Head coach Dan Mullen didn't debut the look until last week in the win at Florida, but Mullen likes the idea of using Ballard in a different look. Plus, it takes some of the load off of running quarterback Chris Relf.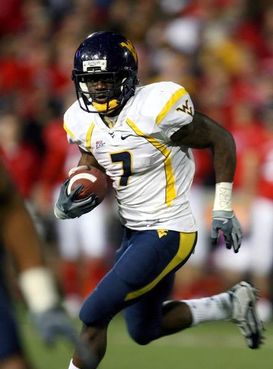 ICONNoel Devine continues to play at less than 100 percent.
…West Virginia senior running back Noel Devine is still not 100 percent after spraining a toe earlier in the season against LSU, and Colin Dunlap of the Pittsburgh Post-Gazette writes that there is "no question it has deeply impacted the offense and, in some regard, playcalling." This could become a real problem as the Mountaineers are now immersed in Big East conference play. Head coach Bill Stewart has relied on sophomore fullback Ryan Clarke in short-yardage situations and sophomore wide receiver Tavon Austin when Devine needs rest. Dunlap writes that Stewart doesn't appear enamored with sophomore Shawne Alston, redshirt freshman Daquan Hargrett and true freshman Trey Johnson to step up and help out in the backfield.
Quote of the week
"He runs hard. He gives a blow like a fullback. He's elusive like a tailback, and he has a great touch on the ball. As capable as he is running, he's also that capable throwing. Legitimately, he's a Heisman contender." — LSU head coach Les Miles, discussing Auburn's talented quarterback Cam Newton.
Have any suggestions for this column or have a college football question? Feel free to send me an email at dave.miller@nationalfootballpost.com.
For updates throughout the games — and pretty much 24/7 because I don't really sleep too much — follow me on Twitter at Mi ller_Dave
Enjoy the games!
Check out the latest edition of the NFP Top 25 and NFP Heisman Watch.