October 02, 2010 -
Dave Miller
NFP Saturday Tailgate
The first weekend of October is here, which means we are ready to put nonconference action to bed for the most part and enter full-blown conference mode.
This week presents an intriguing conference matchup in each region, highlighted by primetime showdowns in the Pac-10 and SEC.
So let's not waste any more time. Get that grill fired up and let's start this weekend's tailgate.
Was it even necessary to push for a Pac-12?
Does league commissioner Larry Scott want to reconsider Pac-10 expansion? The league is enjoying national praise after its impressive and exciting opening month of the sason — a September that saw Pac-10 teams win nonconference battles against the likes of Iowa, Texas, Tennessee and Notre Dame.
Four teams remain unbeaten — Oregon, Stanford, Arizona and USC — while UCLA looks like a different team these days and Oregon State is already battle-tested after competing against TCU and Boise State.
The four unbeaten teams are ranked No. 18 or higher — the most in the top 18 since 1975 when the league was the Pac-8.
Yep, life is good in the Pac-10. But the league's doubters still wonder if the conference can keep up this pace. We shall see…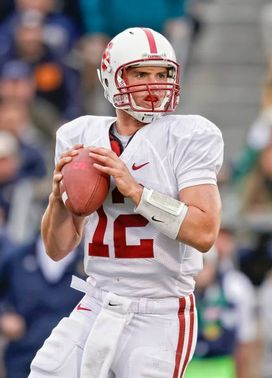 ICONAndrew Luck will face a hostile environment at Autzen Stadium.
The game of the week in the Pac-10 is undoubtedly Stanford at Oregon, as the Ducks look to avenge last year's shootout loss to the Cardinal in Palo Alto. Stanford had Toby Gerhart in that contest, however, and he bulldozed his way through the Ducks defense for 223 yards and three touchdowns on 38 carries. While the Cardinal rushing attack of Stepfan Taylor and Tyler Gaffney has given the team balance this year with quarterback Andrew Luck moving the ball through the air, the duo doesn't quite run with the same power as Gerhart, which will benefit a Ducks squad that struggled against physical teams last season.
On the Oregon offensive side of the ball, sophomore quarterback Darron Thomas was forced to grow up last week against Arizona State when the rushing attack was sputtering through the first three quarters — and he coolly obliged. Thomas, who was known more for his rushing ability entering the season, threw for 260 yards and two scores against the Sun Devils.
The Cardinal defense is allowing only 13.8 points per game, ranking 12th in the nation, and 256 yards per game, ranking 11th in the country. Their tackling across the board has improved, and Vic Fangio has upgraded a unit that finished last in third-down and red-zone defense. With a new base 3-4 scheme, offenses are seeing a vastly different Stanford 'D' in 2010. A unit that tallied 21 sacks all of last season already has 14 this fall.
The major concern for the Cardinal against the Ducks, however, is keeping up with LaMichael James and Kenjon Barner in space. The Oregon running backs pose major matchup problems for Owen Marecic, Shayne Skov and Chase Thomas — linebackers who are fundamentally sound but will not face a bigger challenge than this duo. The Ducks' offense is more athletic than the Cardinal defense, although it was last year as well when Stanford came out on top.
Lost in all the talk of Oregon's early-season dominance is the fact that the defense has 18 takeaways and 11 sacks this season. If anyone can navigate an offense through speedy defenders, however, it is Luck. The signal caller has a chance for a defining Heisman moment — a solid, primetime performance in a hostile environment.
Last season, Luck was able to take advantage of many open areas in the middle of the Oregon defense, completing four passes of at least 20 yards in the first half alone. Even when the coverage was good, Luck often connected with his receivers downfield.
The Cardinal jumped out to a 17-7 lead in that contest, but I truly believe the Ducks were suffering from a USC hangover. Remember that in the previous week Oregon handled the Trojans rather handily.
One thing is certain: Chip Kelly, who received a healthy contract extension this week, won't let his team get off to a rough start in this one.
What happens after the first few series is anyone's guess.
Will the Pac-10 be overshadowed?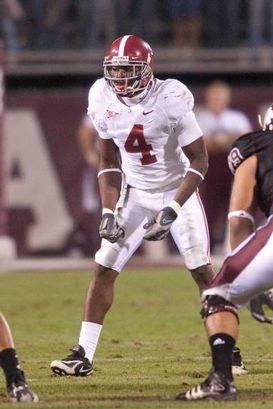 ICONMark Barron is the veteran of the Alabama secondary.
The SEC will be conducting its own showcase game Saturday night when Florida travels to Tuscaloosa to take on Alabama. With the matchup taking place at the same time as the Stanford-Oregon game, you have to think that most of the country will be tuning into the Gators and the Crimson Tide on CBS — certainly a tough break for the Pac-10, a league that doesn't traditionally get much coverage in other areas of the country. For a look at my preview of the Gators and Crimson Tide, click here.
No love for the Red River Rivalry?
The 105th Red River Rivalry game takes place Saturday in Dallas, as Texas and Oklahoma square off in the Cotton Bowl. Because of the Longhorns' awful effort at home last week to UCLA and Oklahoma's spotty play, the national luster has been taken off of this game. But football fans shouldn't sleep on this Big 12 South battle.
The Longhorns have yet to find an offensive identity this season. Head coach Mack Brown wanted to center the offense on a solid ground attack, but the team has not been able to find a lead back yet. Quarterback Garrett Gilbert has shown his youth, and he will be without freshman wide receiver Mike Davis for this one. The team's leading receiver is out with a knee injury.
Meanwhile, the Sooners are clicking on offense and should be able to find holes against a Longhorns defense that is still licking its wounds after last week — especially the defensive line. This could into a DeMarco Murray game for OU.
While Oklahoma has struggled defensively this year, many of the rushing yards they have given up came at the hands of Air Force, who will run the ball against anyone. The pass defense? That's a different story. But can the Longhorns even move the ball through the air?
If you're going to be at the State Fair of Texas, be sure to bring me back some fried beer…
The best of the rest
Want some Big Ten action? Check out my preview of the Penn State-Iowa game. While that contest should be fun to watch, the Wisconsin-Michigan State game could steal the show. I don't envision either defense shutting down the opponents' rushing attack, so this game comes down to who makes the least amount of mistakes under center: Scott Tolzien or Kirk Cousins. I think Tolzien has more weapons in the passing game, but I think the Spartans could surprise this year in the Big Ten. Too close to call.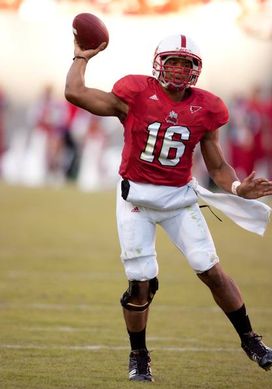 ICONCan Russell Wilson keep up his outstanding play for NC State?
Can Russell Wilson and NC State remai n undefeated when the Wolfpack welcome Virginia Tech into Raleigh? I'm not writing off the Hokies yet, and I'm not a believer in the Wolfpack's defense yet, either. Wilson makes one too many mistakes against Bud Foster's defense.
How will Jacory Harris fare when he goes up against a Clemson defense that should be smarting after giving up a 17-point lead two weeks ago to Auburn? The Hurricanes looked dominant on defense against Pittsburgh last week and may have to carry the load Saturday in the ACC opener for both teams.
Pac-10 rebound?
Who will stop the bleeding this week — Arizona State or Oregon State? The Sun Devils have played surprisingly well this season, but they still have two losses. The Beavers, meanwhile, were unable to get past BCS-busters TCU and Boise State.
And will we see another ugly performance from quarterback Jake Locker when Washington travels to USC? His terrible effort at home against Nebraska may have cost him millions of dollars.
Keep an eye on…
Navy at Air Force: These teams are just fun to watch. And they are service academies. Enough said.
Skinny posts
…First it was an injured shoulder. Then it was a bad back. What's ailing UCLA quarterback Kevin Prince now? The sophomore is battling a bum right knee after injuring it in the second quarter of last week's win over Texas, making his status uncertain for the Bruins game against Washington State. An MRI showed no structural damage — great news considering he tore the ACL in the knee when he was in high school. Prince said he expects to play, and head coach Rick Neuheisel said Prince has enough experience to overcome missing practice time. But how effective can he really be? He hasn't looked good all season long while battling various ailments, so perhaps sitting him for a week or two and turning to Richard Brehaut or Darius Bell would be in UCLA's best interests. After all, the Bruins smoked the Longhorns while only passing for 27 yards. Twenty-seven! You can win, though, when employing a run-heavy offense if you have talented backs like Johnathan Franklin and Derrick Coleman.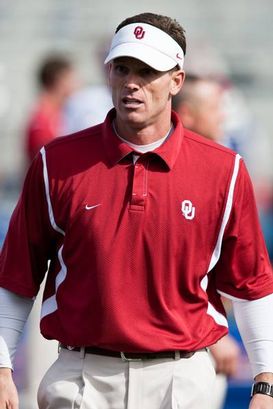 ICONBrent Venables' defense has not had a standout effort as of yet.
…One area to zone in on for the Sooners in the Red River Rivalry is at middle linebacker, where redshirt freshman Tom Wort has struggled. Defensive coordinator Brent Venables still supports Wort even after briefly benching him for sophomore Jaydan Bird after a missed tackle last week. Venables is opposed to moving junior outside linebacker Travis Lewis to the middle and inserting true freshman Corey Nelson in Lewis' weakside spot. For now, the Sooners look like they're content with waiting for Austin Box to return from a back injury. Box could possibly be back after next week's bye, which would be a nice boost for OU.
…Oregon State wide receiver James Rodgers was held out of practice again on Thursday and will be a game-time decision Saturday after suffering a mild concussion last week against Boise State. Head coach Mike Riley, however, said that the staff is preparing as if the senior will be unavailable for Arizona State. Riley did say, though, that Rodgers could play without practicing all week. While it would be great to see Rodgers back on the field soon, you always have to treat head injuries very carefully. Perhaps it's in the best interest of Rodgers if he took the week off.
Quote of the week
"We want to play with class and an element of cruelty. We want people to know that this isn't the Stanford of five or six years ago. We've moved on."—Stanford running back Tyler Gaffney, on the new culture of Stanford football.
Have any suggestions for this column or have a college football question? Feel free to send me an email at dave.miller@nationalfootballpost.com.
Enjoy the games!
Check out the latest edition of the NFP Top 25 and NFP Heisman Watch.