November 06, 2010 -
Dave Miller
NFP Saturday Tailgate
We have arrived at the month of November. As we enter the tenth weekend of the 2010 campaign, five unbeatens remain: Oregon, Auburn, TCU, Boise State and Utah.
Looking closely, you'll notice that three of those teams — TCU, Boise State and Utah — come from leagues that do not receive automatic bids to the BCS. But this weekend, two teams will battle it out to decide which one gets to continue its quest for party-crashing status.
And then there's Chris Petersen's Broncos — suddenly looking as though they could end up out of the mix one more time. But let's not ruin the fun.
Get that grill fired up and let's start this weekend's tailgate.
Take advantage of this national attention
The two best teams in the Mountain West Conference collide in Salt Lake City on Saturday afternoon. TCU, with the nation's No. 1 defense, will battle Utah, possessing the nation's No. 3 offense. Not only will a possible BCS bowl bid be on the line, but the winner of this matchup between non-AQ schools could get a shot at the national championship.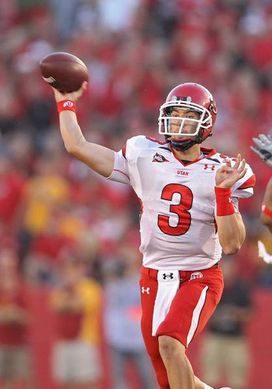 ICONUtah QB Jordan Wynn will need help from the running game if the Utes want to beat TCU.
The Utes have won 21 straight contests at home, but they'll be up against a Horned Frogs squad that demolished them 55-28 last season. In that contest, TCU outscored Utah 24-7 in the second quarter and had a commanding 38-14 halftime lead. The Horned Frogs rendered Utah's running game ineffective — well before the game was out of hand. Thus, Utes quarterback Jordan Wynn was left to run a one-dimensional offense as a freshman signal caller.
A year older, Wynn now operates behind a veteran offensive line and has help in the form of two solid running backs, Eddie Wide and Matt Asiata. The duo has combined for 979 yards, 15 scores and a 4.8 yards per carry average. The offense has put up 56 points or more four times and is No. 2 in the nation in fewest sacks allowed. Perhaps most importantly, Wynn continues to mature as a passer.
However, he once again will face his toughest test in Gary Patterson's defense. He will see defenders in his face all night. And when he doesn't, he will see defenders pursue to the football faster than perhaps any other unit in the nation. The Utes must be able to run the football from the get-go unlike last year, because against this team it's a chore to score points even with a balanced offense. If the running game is shut down, we could see a repeat of last year's game because the Horned Frogs lead the nation in passing defense.
TCU has allowed 16 points in five MWC games. Utah, however, can 'D' up itself. While their offense has been prolific, the Utes are sixth in the country in scoring defense. So, advantage Utah. Right?
Well, while all the talk has been about the Horned Frogs on defense — and rightfully so — TCU is No. 9 in the country in scoring offense at 40.8 points per game, and Ed Wesley leads a ground game that averages 270.9 yards per contest. Senior quarterback Andy Dalton has poise unmatched by most in the college game, always ready to wrest momentum away from the opponent even when he isn't on his 'A' game. He also happens to lead all active quarterbacks with 38 wins and has thrown 10 touchdowns to just one interception in his last four games.
The last time the Horned Frogs came into Rice-Eccles Stadium, they lost because of issues in the kicking game. In this contest, you will see two of the nation's best return men in TCU's Jeremy Kerley and Utah's Shaky Smithson. It'd be surprising if either one had an opportunity to take one back in this game.
TCU beat Oregon State in its opener and thrashed Baylor — sitting now at 7-2 — by 35 points. Utah beat Pittsburgh in Week 1 and has a 68-27 win over Iowa State under its belt — a Cyclones team that beat Texas in Austin.
Whether this top-five matchup ends up being a tight 17-16 type of game or a 38-37 shootout, these two teams are for real. And the entire nation gets to see them take center stage Saturday afternoon. Of course, it will be aired on CBS College Sports Network. Better be safe than sorry and catch it at your local sports bar.
If it's Saturday, the SEC West will deliver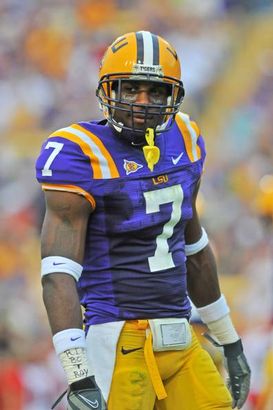 ICONCB Patrick Peterson and the Tigers have a big test at home against the Crimson Tide.
While all eyes are looking toward the Iron Bowl matchup between Alabama and Auburn the day after Thanksgiving, the Crimson Tide must first get past LSU at Tiger Stadium in Saban Bowl 2010. Good thing for Tide fans that Nick Saban is unbeaten in November the last two seasons and has won the past two meetings against the Tigers. 'Bama also owns a 25-7-2 advantage over LSU in Baton Rouge.
Both teams enter the contest off a bye week, and the Tigers have had an extra week to replay Cam Newton and Auburn's dominance on the ground over and over again in their heads. In that loss, John Chavis' unit surrendered 440 rushing yards, paced by 217 from Newton. The good news for the Tigers is that they won't be facing a 6-6, 250-pound monster at quarterback this week. Instead, they'll face the dynamic rushing duo of Mark Ingram and Trent Richardson. In last year's game, Ingram used a big second half en route to 144 yards on the ground.
But the key to this one could be Alabama's aerial attack, specifically wide receiver Julio Jones. He is coming off a 12-catch, 221-yard performance against Tennessee and has had 100-yard games in both career contests against LSU. Chavis likely will have Patrick Peterson lined up opposite Jones a good number of times if not all game. If the Tigers can contain Jones and the passing attack, their safeties can walk up to the line and attempt to stop the run. But that's where quarterback Greg McElroy's play-action attack can come into play.
LSU will continue to employ the two-quarterback system of juniors Jordan Jefferson and Jarrett Lee, as head coach Les Miles said this week that he believes the duo's recent strong performances during practice will ultimately translate to success on the field on Saturdays. Jefferson, the more accomplished runner, will continue to start while Lee, the better passer, will come in where the coaching staff sees fit. Whoever is on the field certainly will need help from the running game, where Stevan Ridley struggled in the loss to Auburn. Keep in mind that before he was injured against the Tide last season, Jefferson threw for 114 yards and a score while having some success running the option.
Jefferson and Lee combined to pass for just 89 yards against Auburn, and there's no question that 'Bama will load the box and force the Tigers to throw the football. Can they hit a few big plays against a secondary that is good but not great? Five touchdown passes against nine interceptions in eight games doesn't instill much confidence in Tigers Nation.
'Bama played its best football at the end of the year last season. Can the Tide do it again this year knowing that, in all likelihood, a return to the BCS national championship game is the likely outcome if they run the table?
They're not the Ducks, but these teams are good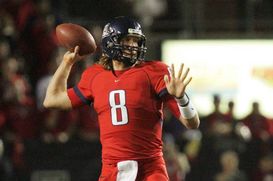 ICO NWill the return of QB Nick Foles spark Arizona to a win at Stanford?
Perhaps the best game of the day will occur in the Pac-10 — in a contest not involving Oregon. One-loss Arizona visits one-loss Stanford with both teams in great position to claim a second BCS bid for the league, assuming that Oregon holds serve and advances to the BCS title game. The Wildcats outlasted the Cardinal last season in Tucson, 43-38. And while both offenses are even more lethal this season, both teams are playing much better on the defensive side of the ball, as well. Nick Foles likely will start after missing two games with a dislocated his knee cap, but backup Matt Scott played well in his absence. Will Foles be rusty? It could be of central importance to get off to a good start, especially on the road, so it'll be interesting to see if the Wildcats dial up some running plays early with Keola Antolin.
The key to this one is Arizona's defense, which will be the best unit Stanford quarterback Andrew Luck has seen this year. The Wildcats will look to get pressure on Luck and make him uncomfortable, but this is where his athleticism comes into play. He has great pocket awareness and knows when to take off running, as evidenced last week when he broke off a long run for the game's first touchdown. Because of his athleticism and the Cardinal's solid offensive line, Luck has been sacked just three times this year — tied for second fewest in the nation. Toss in a running game that averages 224 yards per game, and Arizona will have its hands full defensively.
The Wildcats lead the Pac-10 in sacks behind the defensive end combo of Ricky Elmore and Brooks Reed. But it'll be interesting to see if Mike Stoops' defense throws some unique packages at Luck, because it will take a lot to throw him off his game. If Foles doesn't show any rust, we will see some great quarterback play in this one.
I've been beyond impressed with Stanford running back Stepfan Taylor, who paces the No. 12 rushing attack in the country. Arizona's defense is No. 6 nationally against the run, but I think Luck keeps too many plays alive with his feet and rips the heart out of the defense with too many third-down conversions in this one.
To get more analysis of the TCU-Utah, Alabama-LSU and Arizona-Stanford matchups, check out the latest On the Quad podcast, featuring yours truly and NFP Director of College Scouting Wes Bunting.
Skinny posts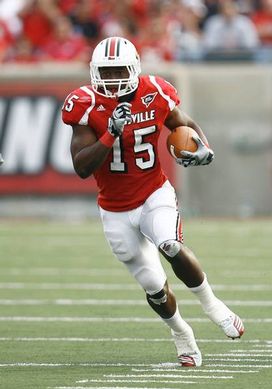 ICONLouisville RB Bilal Powell will not play against Syracuse.
…Louisville running back Bilal Powell, who has burst onto the national scene with the fifth-highest rushing total in the country, will miss the Cardinals' contest against Syracuse. The senior, who has rushed for 1,067 yards, is nursing a sprained knee. The good news for Charlie Strong's squad is that junior Victor Anderson, who was expected to be the lead back this fall, returned to practice after missing three games with a shoulder injury and will play against the Orange. He will likely share carries with redshirt freshman Jeremy Wright and senior Blayne Donnell. Quarterback Adam Froman will also miss the game after suffering a thigh contusion against Pittsburgh. The Cards will go with either Justin Burke or Will Stein under center. Burke was the opening-day starter last season before an injury knocked him out of the lineup. He has thrown just seven passes this season, completing five for 40 yards and a touchdown, along with an interception.
…Arkansas received terrible news when it learned that wide receiver Greg Childs would miss the rest of the season with a patella tendon injury. Childs was Ryan Mallett's top target and one of the best receivers in the SEC. It will be interesting to see if he ends up sticking around Fayetteville for his senior season and skipping the NFL Draft. The other concern for the Razorbacks was the health of No. 2 receiver Joe Adams, who was dealing with a bum ankle and missed last week's game against Vanderbilt. Adams did return to practice, however, and is expected to be close to 100 percent for the game at South Carolina.
…Could Ralph Friedgen possible get an extension at Maryland? The same Fridge who was nearly run out of town after the disastrous 2-10 campaign in 2009? The Terrapins are sitting at 6-2 — although one of the wins is over an FCS school and four of the other victories have come against teams with a combined record of 13-26. But John Feinsten of the Washington Post writes that being bowl eligible may be enough to save his job under new athletic director Kevin Anderson. He argues that if the Terps don't collapse the rest of the way, Friedgen may be able to dictate his retirement date to the new leader of the athletic department. Of course, that would leave the status of offensive coordinator and head-coach-in-waiting James Franklin a bit up in the air. Franklin is due a $1 million bonus if he is not head coach by the 2012 season, although he could agree to postpone his promotion to head coach. I still think it's a bit early to speculate on a possible extension, however, for the Fridge.
…Clemson, which has really missed C.J. Spiller and Jacoby Ford this season, is looking ahead to 2011. Head coach Dabo Swinney will give snaps to backup quarterback and projected 2011 starter Tajh Boyd this week against NC State. With Kyle Parker struggling and Boyd practicing better in recent weeks, the Tigers are looking for any way to jump-start a struggling offense. It won't help that standout running back Andre Ellington will miss the contest against the Wolfpack with a toe injury. It's too bad Parker's final season with the Tigers isn't going as well as many had hoped.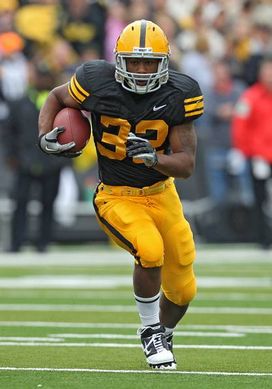 ICONIowa RB Adam Robinson may not play against Indiana after suffering a mild concussion last week.
…Will Adam Robinson be unavailable for Iowa on Saturday at Indiana? According to Marc Morehouse of the Cedar Rapids Gazette, the sophomore running back suffered a mild concussion late in last week's win over Michigan State and has only a 50-50 chance of playing against the Hoosiers. Hawkeyes head coach Kirk Ferentz neither confirmed nor denied the injury on his radio show Wednesday night, but true freshman Marcus Coker would get the bulk of the carries if Robinson can't go. Coker rushed 16 times for 40 yards against the Spartans. Morehouse said it's unclear if senior Paki O'Meara, the third-stringer entering the season, would be an option after only playing special teams since sustaining a concussion at Arizona.
…Pittsburgh senior defensive end Greg Romeus returned to shoulder-pads practice this week for the first time since undergoing back surgery in mid-September. The 2009 co-Big East defensive player of the year played just one game this year, against Utah in the opener, where he recorded four tackles. Head coach Dave Wannstedt didn't say whether Romeus would be able to play at Connecticut next Thursday, but his return would be a big boost to a Panthers squad that is finally playing like the Big East contender we all expected them to be at the beginning of the year.
Quote of the week
"It's a big week. You've got to go play ball games. They all count for one. We knew this would be a big game, and we've both won our ball games up to this point. The championship has always gone through Utah or Fort Worth, whether it be Utah, BYU or ourselves. Here we are again."—TCU head coach Gary Patterson, on the big matchup against Utah.
Have any suggestions for this column or have a college football question? Feel free to send me an email at dave.miller@nationalfootballpost.com.
For updates throughout the games — and pretty much 24/7 because I don't really sleep too much — follow me on Twitter at Miller_Dave
Enjoy the games! And check out the latest edition of the NFP Top 25 and NFP Heisman Watch.