September 10, 2011 -
Barry Dorey
NFP Saturday Tailgate
Coming off an exciting first week of the season, teams across the nation have made their early season adjustments. And there are some major-conference programs hoping to avoid an 0-2 start after subpar efforts in Week 1.
The weekend kicked off with a couple of marquee matchups on Thursday and Friday night, and we're once again ready for a big Saturday.
So dust off that grill and get it fired up because we're ready to start this weekend's tailgate.
This rivalry never gets old
For the first time in its history, Michigan Stadium will host a night game after 520 day contests as Notre Dame (0-1) visits hoping to put behind its disastrous home loss last week to South Florida. Michigan (1-0), meanwhile, is coming off a weather-shortened victory over Western Michigan in its opener.
Both teams will don throwback helmets and uniforms. ND players will have a shamrock on each end of their helmets and their jerseys will be white, green and gold. Check out the new look here. Michigan's helmet will look pretty similar to its current one but will have the player's number on each, and the jersey will feature the block 'M' in the middle on the front. Check out their new look here.
When these teams met the last two seasons, Notre Dame had its problems with Michigan's quarterbacks pulling off late heroics to crush the Irish dreams.
In 2009, ND's defense allowed Tate Forcier to rally Michigan to victory as he threw for 240 yards and recorded 70 on the ground. The spunky quarterback led the game-winning drive, throwing for the winning score with 11 seconds left on the clock.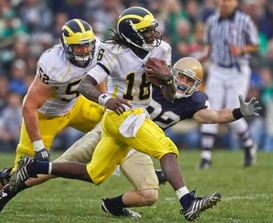 ICONDenard Robinson killed Notre Dame last season. Will he be as lethal Saturday night?
Last season, Denard Robinson had a performance for the ages, recording 502 total yards, including an 87-yard touchdown run and the game-winning rush with 27 seconds left to deliver the victory.
ND was burned in consecutive seasons by Wolverine signal-callers.
In the shortened game last week against Western Michigan, Robinson only threw for 98 yards and rushed for 46, but the Wolverines ground game came to life — just as head coach Brady Hoke and coordinator Al Borges envisioned this offseason.
Michael Shaw and Fitz Toussaint combined for 134 yards and three scores on 15 carries, giving the team exactly the kind of balance the offense needs to be successful without putting too much pressure on "Shoelace." This week, the Wolverines will face a more stout defense than their in-state rival — and a more committed ND defense than the one they saw last season.
Bob Diaco's unit really came together as the 2010 season progressed, and it was the defense which catapulted the squad to its season-concluding four-game winning streak. With Robinson still grasping Borges' pro-style offense, expect Diaco to mix things up schematically and keep "Shoelace" guessing. Although he is a gifted runner, Michigan's coaches want Robinson to commit to staying in the pocket more often than not. But if Diaco dials up pressure, we may see Robinson be forced to take off and run — which could be a good thing or a bad thing for the Irish.
One player to keep an eye on Saturday night is Louis Nix, who recorded seven tackles last week against USF. The massive nose guard will be key to the Irish grounding the Michigan rushing attack as well as getting inside pressure on Robinson.
Offensively for the Irish, they were at their best with Tommy Rees at the helm last year -- and last week in relief of Dayne Crist. But they were at their best in 2010 because head coach Brian Kelly simplified that offense, and he had Robert Hughes as the rugged runner complementing Cierre Wood. Jonas Gray has to put last week's goal-line fumble behind him and be that bruiser that the Irish need. And when the Irish do throw the football, Rees should be looking for star receiver Michael Floyd, who had two touchdown receptions last week, and tight end Tyler Eifert often.
This Michigan defense created turnovers last week, but Greg Mattison's unit still gave up chunks of yardage to Alex Carder and WMU. The key for the Wolverines in the opener was their success when they blitzed. Can Rees deliver consistently while facing the pressure? Expect Mattison to come early and often as he did while coaching the Baltimore Ravens.
Check this out: Courtesy of The National Football Foundation, take a look at video of the Notre Dame-Michigan contest from September 11, 1993, in Ann Arbor. Lou Holtz and No. 10 Notre Dame upset No. 2 Michigan 27-23 en route to finishing the season No. 2 in the country with an 11-1 record.
Alabama (1-0) at Penn State (1-0)
Last fall, it was a Penn State quarterback making his very first start on the road. But Rob Bolden wasn't just the Nittany Lions' new starter — he was a true freshman under center.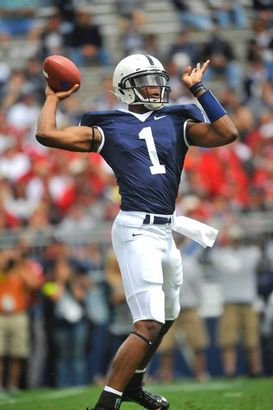 ICONRob Bolden will face a fierce Alabama defense in Happy Valley.
Things didn't go well for Bolden and the Nittany Lions in Tuscaloosa, and Bolden now is splitting time with Matt McGloin after their competition for the starting job didn't produce a winner. The duo looked fine last week, but the competition becomes much stiffer on Saturday when the Crimson Tide comes to Happy Valley.
But the Tide have their own quarterback issues with A.J. McCarron and Phillip Sims. Both young signal-callers threw two interceptions in last week's 48-7 victory over Kent State. What's troubling for head coach Nick Saban is that he doesn't need his quarterback to do anything more than manage the game. 'Bama is set on offense with Heisman Trophy contender Trent Richardson and receivers good enough to pick up first downs and keep the chains moving. And the defense? Saban doesn't throw praise around often, but he couldn't help but talk up Kirby Smart's players throughout the offseason.
No matter who is under center, he just has to be mistake free. But each will face a tough test in Happy Valley.
Defensive tackle Devon Still, middle linebacker Glenn Carson and the entire secondary will be difficult for this Alabama offense to handle. Can Still and Carson lead the front seven in containing Richardson? The junior running back rushed for 144 yards and a touchdown on 22 carries against the Nittany Lions last season, so Tom Bradley's unit knows it must play better to give Joe Paterno a chance to beat an AP Top 5 team for the first time since defeating Arizona in the 1999 season opener.
Avoiding turnovers, cashing in on their scoring opportunities and limiting Richardson's effectiveness is the game plan for the Nittany Lions.
The only problem is that it's easier said than done.
BYU (1-0) at Texas (1-0)
The offense under Bryan Harsin and Major Applewhite in their first game as co-offensive coordinators at Texas looked good last week against Rice, as the Longhorns gained 229 yards on the ground and 277 yards through the air. Even though it was against the Owls, the offensive line looked more physical and the 'Horns looked much more committed to the run with true freshman bruiser Malcolm Brown and change-of-pace Fozzy Whittaker in the backfield. If quarterback Garrett Gilbert can get help from his rushing attack, he will be put in better situations to make plays through the air. Gilbert passed for 239 yards with one touchdown with no interceptions against the Owls.
Against the Cougars, Texas will be facing a tough and physical 3-4 attack that shut down the Ole Miss run game last week, holding the Rebels to 64 yards on the ground. Texas must be able to run the football effectively to win this game.
Jake Heaps and the Cougars' talented running back trio wasn't able to get moving offensively against the Rebels, and they'll find it difficult to move the ball this week against Manny Diaz's unit, which will use its controlled chaos to try to confuse the young signal-caller.
Will Texas be looking ahead to UCLA next week? Keep in mind that the Longhorns want very badly to avenge last year's 34-12 loss to the Bruins. BYU is the last squad a team wants to overlook because Bronco Mendenhall's team is tough — both physically and schematically — to play against.
Mississippi State (1-0) at Auburn (1-0)
We all remember the Mississippi State-Auburn classic Thursday night game from a year ago. To refresh your memory, check out the highlights of the game below — every Bulldogs defensive play from that game against Gus Malzahn's unit.
While Manny Diaz is no longer in Starkville, along with star linebacker Chris White and stud end Pernell McPhee, I included that video to highlight how difficult it is for offenses to face such a physical defense. Co-coordinators Chris Wilson and Geoff Collins took over a unit that is blessed with talent, and this year they will not have to deal with Cam Newton.
But this is still a Gus Malzahn offense, and Barrett Trotter played well last week in the miraculous comeback win over Utah State, especially late in that game. The question is whether the Auburn defense can contain an MSU offense that is seemingly becoming more dangerous by the week.
Mississippi State claimed a 59-14 victory over Memphis in its opener. And though it sounds strange, I wonder if the defending national champs can hang with the Bulldogs.
Auburn was physically beat last week by Utah State. Ted Roof's run defense was terrible, giving up 227 yards on the ground last week, and the front four was not physical enough against Utah State's offensive line.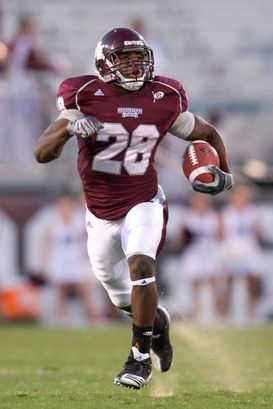 ICONVick Ballard and the Bulldogs have become an offensive machine.
Quarterback Chris Relf and running back Vick Ballard, who had 10 carries for 166 yards and three touchdowns last week, should have no problem making plays against Roof's inexperienced defense unless the veteran coordinator has some serious tricks up his sleeve. MSU rolled up 645 yards of offense in last week's rout of Memphis.
Will the Bulldogs be looking ahead to their SEC showdown with LSU on Thursday night? Something tells me that they won't. They're too well-coached, and Auburn remains the top target in the nation despite losing so much talent. That's what happens when you're the defending champs — there's always a huge target on your back.
Two more to watch
South Carolina (1-0) at Georgia (0-1)
Georgia didn't look like an SEC team last week in the Georgia Dome against Boise State. The Bulldogs were overwhelmed and dominated by a better team — a team that is better coached by a leader who surrounds himself with a staff that knows how to develop talent.
One of the things that strikes me about the Bulldogs is that they aren't very creative on offense, and they fail to maximize their offensive talent. In addition, quarterback Aaron Murray won't have a chance to succeed if the offensive line doesn't find a way to become a stronger, more cohesive unit — and not use injury issues as an excuse. The Bulldogs gave up six sacks in the loss to Boise State, and South Carolina's defensive line is even dirtier than Boise's unit.
Utah (1-0) at USC (1-0)
The Utes and the Trojans will play the very first Pac-12 game in its history. Of course, we may be talking about the Pac-16 in the near future. But for now, Utah and USC will battle at the Coliseum, and I'm interested to see how Kyle Whittingham's squad comes out emotionally.
I think Utah will thrive in this moment, and I think the Utes have a real shot in this contest despite the fact that I still like USC to win the South division. The Utes' front four could give the USC offensive line problems, and how will Lane Kiffin divide up the carries in the backfield with Marc Tyler back? D.J. Morgan and Dillon Baxter played last week, and you have to think that Kiffin will stick with the back who generates the most production early.
Keep an eye on…
TCU (0-1) at Air Force (1-0). The Horned Frogs gave up 564 total yards in last week's 50-48 loss to Baylor. Robert Griffin III passed for 359 yards with five touchdowns, but the Horned Frogs now have to face the ground attack of the Falcons, who passed for only 96 yards on nine attempts last week against South Dakota.
Have a great weekend. Enjoy all the games Saturday, and have a ball on the first NFL Sunday of the season.
Follow me on Twitter at Miller_Dave
Check out the latest college football news under the Against the Grain column.
Have a college football question? Feel free to send me an email at dave.miller@nationalfootballpost.com.