October 01, 2011 -
Barry Dorey
NFP Saturday Tailgate
It's the first Saturday in October.
Enough said.
So dust off that grill and get it fired up because we're ready to start the Week 5 tailgate.
What an introduction
Since we found out the first game for Nebraska (4-0) in its new conference would be a night game against Wisconsin (4-0) in Madison, fans across the country — not just in Big Ten country — were excited about the potential scene.
We know how crazed the fans are at Camp Randall even for that early morning kickoff. But for a night game? They're unreal. Just recall last season when then-No. 1 Ohio State visited and were knocked off by Bret Bielema's squad.
And we know about how well the Huskers travel. Wisconsin athletic director Barry Alvarez is expecting about 30,000 crazed Nebraska fans in attendance Saturday night. Even if there are only 20,000 Huskers in the crowd, expect a lot of black to blend in with the sea of red.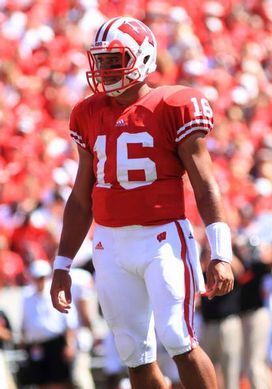 ICONWisconsin QB Russell Wilson has a chance to earn some serious Heisman love Saturday night in Madison.
The Badgers have not faced a high-quality opponent like the Cornhuskers as of yet, so it will be interesting to see how their high-powered offense — led by quarterback Russell Wilson, the running back duo of James White and Montee Ball as well as receiver Nick Toon — play against the Blackshirts, who have not played up to coordinator Carl Pelini's expectations thus far. But keep in mind that this is the first time all season that the Huskers trio of tackle Jared Crick, linebacker Lavonte David and cornerback Alfonzo Dennard will be healthy enough to line up together on defense.
What has made Wisconsin so dominant offensively this season — the Badgers lead the Big Ten in scoring at 48.5 points per game — is the fact that coordinator Paul Chryst has never had an athletic quarterback such as Wilson running the show. The former N.C. State quarterback creates so many problems off of play-action because of his mobility. Ball and White still drive the offensive train behind the always sound offensive line, but Wilson can wreak havoc when he rolls out as well. And receivers Toon and Jared Abbrederis as well as tight end Jacob Pedersen will present matchup problems for the Nebraska secondary, as the trio ranges between 6-2 and 6-4.
To combat the tall receivers of the Badgers — and to improve the subpar secondary — Pelini has made some changes in the defensive backfield.
Corey Cooper will play right cornerback, a position he has never played, as he is an inch taller and 20 pounds heavier than Andrew Green, whom he replaced. Dennard, of course, is back at left cornerback and replaces Ciante Evans. Daimion Stafford, a 6-1, 210-pouner will plays nickelback for the first time while his strong safety spot will be occupied by 6-2, 210-pounder P.J. Smith. Austin Cassidy will remain at free safety. The idea is to be more aggressive — and physical — in challenging the bigger Badger weapons.
Offensively for the Cornhuskers, moving the ball and scoring points against an overlooked Badgers defense comes down to one thing: having offensive balance. And that can only occur if quarterback Taylor Martinez can make plays in the passing game.
Nebraska averages 42.8 points per game and ranks eighth nationally in rushing at 272.5 yards per game, but Badgers linebacker Chris Borland and Co. will key on "T-Magic" and running back Rex Burkhead in the run game because Martinez has not surpassed a 50 percent completion percentage in any game this season except for last week's win at Wyoming when he connected on 57 percent of his throws. So why wouldn't the Badgers load up the box and force Martinez to air it out?
While the Huskers have some nice weapons offensively, no one player is a real dynamic game-changer — besides Martinez. So the young Husker receivers, as well as senior Brandon Kinnie, are going to have to make some plays in one-on-one coverage when the Badgers load the box. I think Martinez needs to look for tight end Kyler Reed early and often. I think he needs to be a bigger part of this offense. And don't be surprised if you see Jamal Turner get used in some trickeration. It's a big game for coordinator Tim Beck, who promised throughout the offseason that this Huskers offense would be more balanced. If "T-Magic" struggles to get the ball downfield, Beck will need to get creative so that someone else besides Martinez and Burkhead make some plays.
You don't get much better than a fall Saturday evening in Madison, so we'll see if these two teams can put on a contest that matches the hype.
Alabama (4-0) at Florida (4-0)
Remember when Alabama-Florida was supposed to become the next great college football rivalry? Well, the Crimson Tide gave Tim Tebow a rude parting gift in 2009 and UF fell on hard times last season. So are the Gators back under first-year head coach Will Muschamp?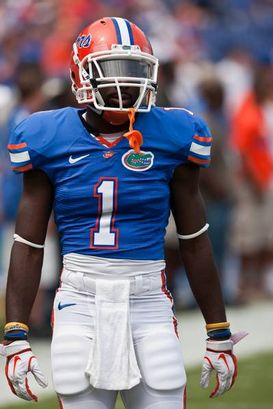 ICONFlorida RB Chris Rainey won't find as much open space against the Alabama defense.
Certainly UF looks much improved on both sides of the football, especially on offense. New coordinator Charlie Weis has been able to get solid production from quarterback John Brantley thus far, and running backs Chris Rainey and Jeff Demps lead the SEC's top rushing attack. But a lot of what Brantley has down this fall has been conservative in nature, specifically check downs to Rainey and Demps. Can he deliver the ball down the field when necessary against this Tide defense? If he continually tries to chip away at Kirby Smart's defense, the Gators won't be able to move consistently down the field because there is too much speed on this 'Bama defense. We saw just how fast it was against the explosive Arkansas attack last week.
The other concern for the Gators offensively is the health of Brantley, who battled a rib injury last week against Kentucky. We saw the beating that Razorbacks quarterback Tyler Wilson had to endure last week. Brantley is going to need to get good production up front from his offensive line, and the rushing attack will need to be good enough to keep Brantley out of third-and-long situations — because that's a dangerous situation to face against the 'Bama defense.
Defensively, the Gators are allowing only 2.05 yards per rush — fifth-best in the nation. But Trent Richardson is a special player, and Eddie Lacy should be healthy enough to play, at least in a limited role, so I expect the Tide to be able to wear out a front seven that has played well up to this point. And while the UF secondary has been a pleasant surprise, especially without Janoris Jenkins, 'Bama quarterback A.J. McCarron's confidence has been growing from week to week. Sure, he hasn't been airing it out — but that's not necessary in this offense.
It's clear that Muschamp has this team playing hard and much more confident than last season. But Alabama is on a different level than most teams. Saban and the Tide continue their march toward the Nov. 5 showdown with LSU.
Clemson (4-0) at Virginia Tech (4-0)
This is a Clemson squad that is very confident right now, and confidence breeds success — exactly what the Tigers have enjoyed in their first four contests, inc luding wins over Auburn and Florida State. But going into Blacksburg to face a Virginia Tech defense led by coordinator Bud Foster is an intimidating challenge, especially when Clemson has benefitted from playing its games in Death Valley.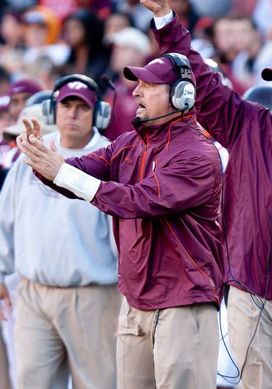 ICONVirginia Tech defensive coordinator Bud Foster will give Clemson QB Tajh Boyd some unique looks to contend with Saturday.
While the Tigers haven't been intimidated by Auburn and FSU the past two weeks, Foster will dial up some unique looks — alignments that Clemson quarterback Tajh Boyd has not seen in his young career — so I wouldn't expect points to come easy for the Tigers, despite the fact that star freshman receiver Sammy Watkins makes everything look so easy.
Boyd struggled a bit in the second half of the FSU game when the 'Noles pressured him. And the Tigers won't be able to win a game against a tough Hokies defense unless they make a bigger commitment to running the football with Andre Ellington. There's no question that Boyd (1,255 passing yards and 13 touchdowns against just two interceptions) and Watkins (433 receiving yards and 6 scores) are fun to watch, but you need to have a balanced attack to win in Blacksburg.
It's a big game for Hokies quarterback Logan Thomas, who will need to make some plays through the air unless the Virginia Tech defense completely dominates. But if he can live up to some of the spring hype, I think the Hokies will play their best game of the fall in this one.
Other contests to monitor throughout Saturday

Michigan State (3-1) at Ohio State (3-1): Michigan State hasn't won in Columbus since 1999 when Nick Saban was roaming the sidelines, so this is a big game for Kirk Cousins and Co. The Spartans bounced back offensively and looked strong last week against Central Michigan after struggling to get their rushing attack going against Notre Dame the previous week. Running the football is crucial for this MSU offense because it sets up the deadly play-action game. Much has been made of Cousins' average performance the last two weeks, but it's more of a product of shoddy offensive line play. If the Spartans play better up front, I think their defense is too stout against this young Buckeyes offense, which will be playing its final game without receiver DeVier Posey and running back Boom Herron. While starting Braxton Miller was the right call by interim Buckeyes head coach Luke Fickell, the true freshman is still not a viable threat in the passing game — mostly because he doesn't have great playmakers around him.
Have a great weekend. Enjoy all the games Saturday, and have a blast watching my Detroit Lions move to 4-0 against "America's Team," the Dallas Cowboys.
Follow me on Twitter at Miller_Dave
Check out the latest college football news under the Against the Grain column.
Have a college football question? Feel free to send me an email at dave.miller@nationalfootballpost.com.