September 03, 2011 -
Dave Miller
NFP Saturday Tailgate
NCAA investigations, conference realignment and even the NFL can take a back seat.
The 2011 college football season is off and running, and I'm excited to bring back the NFP Saturday Tailgate for a second season.
In case you missed the incredible TCU-Baylor shootout Friday night, do try to catch some of the highlights. It was wild.
But it's Saturday, so once again dust off that grill and get it fired up because we're starting this weekend's tailgate — strong.
Defensive players who could garner Heisman Trophy attention
Before we get into Saturday's games, let's talk Heisman Trophy.
We know that quarterbacks, running backs and receivers get all the love in terms of Heisman voting. Stanford's Andrew Luck, Oregon's LaMichael James and Boise State's Kellen Moore are three of the strongest contenders for a second consecutive season.
But remember how dominant Ndamukong Suh was in his senior season at Nebraska? He arguably was the best player in the country two years ago, often helping the Cornhuskers' defense carry the offense when it struggled.
So, keeping in mind the impact of defensive players, let's take a look at a few defenders who could at least make their way into the Heisman conversation this fall.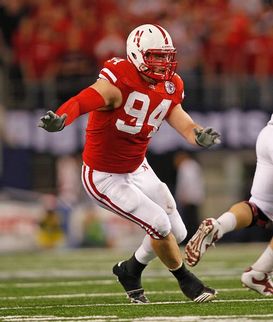 ICONNebraska's Jared Crick is one of the most valuable players in the nation.
DT Jared Crick, Nebraska: Yes, Lincoln is once again home to the best defensive tackle in the country. Last season, the Cornhuskers discovered life after Suh wasn't all that bad as Crick racked up 70 tackles, 9.5 sacks and 12 tackles for a loss. The 6-6, 285-pounder has the size and quickness to wreak havoc on opponents all season long inside after electing to return for his senior season. It won't hurt his cause that the Huskers will compete right away for a Big Ten title.
DE Brandon Jenkins, Florida State: Jenkins is the face of Mark Stoops' fierce defense, and we should hear a lot about this unit with FSU emerging back onto the national landscape. Jenkins led the Seminoles in sacks with 13.5 and recorded 56 tackles, including 16 tackles for loss in 2010. The preseason All-American candidate is on the Lott, Bednarik and Nagurski watch lists, and he could easily be a Top 5 pick in next April's draft.
CB/KR Greg Reid, Florida State: We stay in Tallahassee where another Seminoles defender will make an impact every Saturday. But Reid not only will make his on defense, but he will be a special teams standout as well. And the last time a defensive player won the Heisman, special teams was an added bonus — Charles Woodson of Michigan made his mark in the return game. Although he only stands 5-8 and 186 pounds, Reid recorded 61 tackles and had three interceptions while racking up over 1,000 yards on kickoff and punt returns last fall. He added a touchdown return as well. If he has a big moment against Oklahoma in a few weeks, he could be in the conversation.
CB Jayron Hosley, Virginia Tech: Hosley led the nation with nine interceptions last season while shutting down the opponent's best receiver. Hosley also could make an impact on special teams in the return game or with a blocked punt or field-goal attempt here and there. Keep in mind how good the Hokies' special teams have been under Frank Beamer's leadership. Coordinator Bud Foster knows how to put his players in the best position to succeed, but it will be hard for Hosley to duplicate his numbers from last season. However, the Hokies do have a very favorable schedule, so the team's record will help his cause.
LB Luke Kuechly, Boston College: I'm not sure how many games Boston College could win this year with Montel Harris' questionable health. The Eagles will definitely need sophomore quarterback Chase Rettig to have a strong season. But one thing BC can be sure of is the play of Kuechly, who has always been near the football since his freshman season in 2009 when he placed second in the nation with 158 tackles. Last season, he topped that mark to lead the nation with 183. The guy's a football player, plain and simple. And he's simply one of the best defenders in the country.
LB Tank Carder, TCU: Carder plays for one of the best defensive coaches in the country, Gary Patterson. While the Horned Frogs lost six starters from a defense that led the FBS in yards and points allowed per game, their young players will be plugged in and gradually mature into strong defenders. Their leader is Carder, the Mountain West defensive player of the year in 2010 who performed like the best player on the field against Wisconsin in the Rose Bowl. He does, of course, play in a non-BCS league, which clearly will work against him. However, TCU is an established BCS buster.
Okay, onto Saturday's games…
Can a couple of powers regain their strength?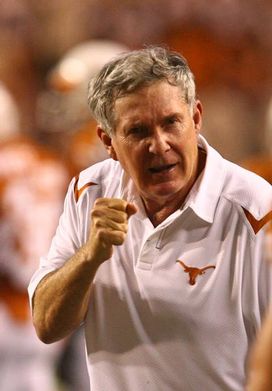 ICONMack Brown made changes on his coaching staff after Texas' 5-7 campaign in 2010.
Mack Brown's Texas Longhorns host Rice while Florida welcomes in-state Florida Atlantic to The Swamp in Will Muschamp's head-coaching debut Saturday night.
Texas struggled through a 5-7 campaign last fall, but could it have been a blessing in disguise?
Brown reassessed the program and shook up the coaching staff, bringing in new coordinators Bryan Harsin and Manny Diaz on both sides of the ball — two of the finest assistants in the game. The defense in Austin will be strong once again. But that wasn't the major issue last season. Besides steady play under center, the Longhorns need better play from the offensive line and an impactful freshman campaign from running back Malcolm Brown, who was considered the best in his class outside of perhaps Georgia's Isaiah Crowell.
For the Gators, going 4-4 in SEC play and losing out on the East division title to South Carolina is all you need to know about how things went in Gainesville last season. It wasn't the typical season fans expect at UF, and Muschamp knows that the expectations are high even in his first season.
First-year offensive coordinator Charlie Weis' biggest job is getting quarterback John Brantley to play well in his pro-style sets. And while the former Notre Dame head coach may not have a dominant downhill runner for his scheme, he will put running backs Jeff Demps and Chris Rainey in position to make plays. But can the Gators get better production from their receivers? Defensively, there's a lot to like on the defensive line. But the secondary remains a concern, especially with the dismissal of cornerback Janoris Jenkins.
Upset city?
While I think the underdogs will fall short in these contests, keep an eye on these matchups because they're likely to be good games to watch if your significant other isn't pulling you outside to enjoy the nice weather.
East Carolina vs. South Carolina (Charlotte)
South Carolina's contest with East Carolina bears watching. The Gamecocks will be without starting cornerback Akeem Auguste, who re-aggravated a left foot injury this past week. He could play against the Pirates, but at best is relegated to part-time duty. C.C. Whitlock is expected to start in his place, but the depth behind him isn't great with former walk-on Marty Markett and redshirt freshman Cadarious Sanders round ing out the corps.
Unfortunately for the Gamecocks, East Carolina quarterback Dominique Davis leads a real dangerous offense. Davis has a plethora of options at receiver, and Steve Spurrier's squad ranked 97th in pass defense in 2010. That's a scary number for Gamecocks fans considering their team's pass rush was so good last season. It's expected to be even better this year with Jadeveon Clowney, but the front four can only do so much.
East Carolina finished dead last in the FBS in total defense last season, so there's no question that Spurrier's squad should have no problem finding the end zone. But what happens if this turns into a shootout? Will Connor Shaw or Stephen Garcia be able to deal with the nerves of a tight contest? We saw Garcia have his best season in 2010, though he still had his typical uneven efforts. But what if Head Ball Coach is stubborn and stays with Shaw too long? It's at least a game worth watching.
By the way, regarding the Shaw-Garcia situation under center…
While Shaw may have had a better fall camp, I think Spurrier's decision to start him over the fifth-year senior has more to do with lighting a fire under his enigmatic signal-caller than anything else. But how many sparks does a guy need following five suspensions?
We saw Spurrier successfully navigate a two-QB system at Florida, but Carolina fans better hope he's not playing with fire. I mean, will both signal-callers be looking over their shoulder all game wondering if they'll be pulled following one mistake?
South Florida at Notre Dame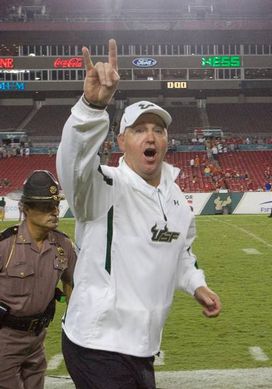 ICONCould Skip Holtz take USF into South Bend and steal a victory over Notre Dame?
Skip Holtz returns to South Bend with a South Florida squad littered with good athletes, especially on the defensive side of the ball.
Many consider Notre Dame a finesse team because of Brian Kelly's spread offense, but the Fighting Irish found their most consistent brand of football late in the year when Tommy Rees took over for Dayne Crist and quarterback and the Irish became more of a downhill running team with Robert Hughes and Jonas Gray.
With Crist now the starter, very good depth at receiver and Hughes gone, will we see the Irish chucking the ball up and down the field?
In this one, don't bet on it.
Kelly knows the Bulls have the speed on defense, so I expect a more methodical ND approach on offense with Crist taking some shots down the field here and there.
I like how USF quarterback B.J. Daniels eventually bought into Holtz's system late in the 2010 season. And I think the Bulls hang around in this one.
But ultimately Bob Diaco's defense is too strong, especially in the front seven, for this USF offense.
Then it's onto the Big House for the Irish and their primetime showdown next week.
Boise State vs. Georgia (Atlanta)
I dare anyone to doubt Broncos quarterback Kellen Moore, who has thrown for 10,867 yards and 99 touchdowns in his three-year career. Oh, and he's 38-2 as a starter.
Boise State essentially won on the road in the opener last year against Virginia Tech, so the fact that this "neutral site" game is being played in Atlanta shouldn't concern Broncos fans.
The losses of receivers Austin Pettis and Titus Young are significant, but Tyler Shoemaker is poised for a big season and Tyler Jackson has a chance to step up, especially now with Geraldo Boldewijn (formerly Geraldo Hiwat) sitting out at least the opener until eligibility concerns are cleared up. But against the Tigers, Moore still has a couple of legit options for the vertical passing attack. And running back Doug Martin has a great blend of size, speed and balance.
But as always, it's the Boise defense that never gets the credit it deserves. Defensive tackle Billy Winn is a future high NFL draft pick who along with fellow senior Chase Baker will give the suspect Georgia offensive line problems inside despite giving up a lot of weight. Running the football with Richard Samuel and Isaiah Crowell will be a chore for the Bulldogs, so quarterback Aaron Murray could be forced to drop back often and try to find passing lanes against a good secondary.
It's a big season for Mark Richt and the 'Dawgs. What happens if UGA drops the opener and can't get by South Carolina in Week 2?
Sports radio talk show hosts in Athens will see their telephone lines light up like Christmas trees, that's for sure.
Does Boise State have a chance to reach the BCS title game? Check out my thoughts as I discuss the Broncos with Yahoo! Sports Radio's Steve Czaban.
LSU vs. Oregon (Dallas)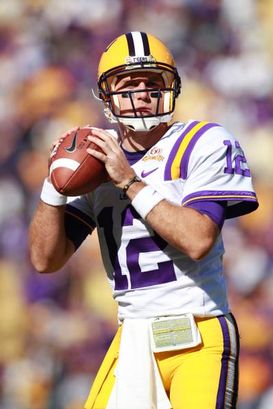 ICONJarrett Lee gets his chance to run with the starting QB job with Jordan Jefferson's future in doubt.
I'm putting it out there: I'm buying Jarrett Lee as a steady enough signal-caller for LSU.
I know it's crazy. We've seen Lee's highs and lows throughout his career in Baton Rouge. But I saw a player last season who was clutch when he needed to be clutch. I also, of course, saw a quarterback who wasn't exactly an upper-echelon signal-caller.
But the Tigers won national titles in 2003 and 2007 with Matt Mauck and Matt Flynn, respectively. And Lee just may be up to the task.
Sure, there will be some mistakes made. And he wasn't praised throughout the offseason for his progress under first-year quarterbacks coach Steve Kragthorpe. That praise went to Jordan Jefferson, who seemingly was primed to put it all together in his senior campaign.
But it's another senior who gets the chance to lead the Tigers. And he'll be going up against a defense without star cornerback Cliff Harris and linebacker Kiko Alonso, who had a great spring and was slated to be a big part of a Ducks defense that lost Kenny Rowe, Casey Matthews, Brandon Bair and other key contributors. Harris' loss is especially huge because of his worth on special teams, though Kenjon Barner could make an impact in that area.
The biggest key to this game has to be the strength, athleticism and depth of LSU's defensive line against an Oregon offensive line replacing three starters. And while it's hard to see Chip Kelly losing another big nonconference game, I think he has to wait for that signature win in Eugene until the team's bowl game.
Have a great Labor Day weekend. Enjoy all the games Saturday and the Sunday and Monday showcases, as well. The season is really here!
Follow me on Twitter at Miller_Dave
Check out the latest college football news under the Against the Grain column.
Have a college football question? Feel free to send me an email at dave.miller@nationalfootballpost.com.