October 30, 2010 -
Dave Miller
NFP Saturday Tailgate
The boys in Bristol have dubbed today "Anarchy Saturday" and "Roadblock Saturday," so we'll roll with those fancy names. Call it what you want, but there are seven remaining unbeatens in college football — and six of them are on the road this week. Boise State, the other undefeated squad, took care of business at home this past Tuesday against Louisiana Tech.
The Bowl Championship Series standings will continue to dominate the conversation across the land, but Saturdays are all about what happens on the field. So with that in mind, let's not waste any more time. Get that grill fired up and let's start this weekend's tailgate.
Once again, the spotlight shines on 'SC
For one night, at least, nothing else matters. Not the two-year bowl ban. Not the loss of 30 scholarships spread over three seasons. Not the weakening of a dynasty.
For one night at the Coliseum, USC can be back on top of the college football world.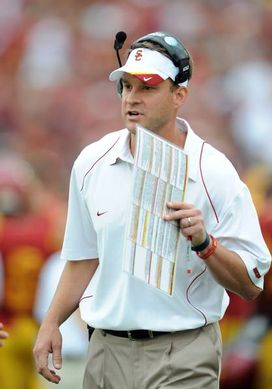 ICONLane Kiffin and the Trojans had an extra week to prepare for Oregon's high-powered offense.
And Lane Kiffin can quiet many of his critics.
Saturday evening, the Trojans welcome in Oregon, the No. 1 team in both human polls and current No. 2 in the BCS standings. The Ducks will seek to move to 8-0 for the first time since 1933. If you've just seen highlights of Oregon's offense, you know how absurd it has looked throughout the year. It averages over 55 points per game — almost a full touchdown more than Oklahoma State, the nation's No. 2 offense. While quarterback Darron Thomas is potent through the air, the Ducks remain most dangerous on the ground, ranking third in the nation in rushing at 322 yards per game — an attack paced by LaMichael James, who is second only to Cam Newton in the conversation of best player in the nation.
But numbers aside, it's the way that the Ducks conduct themselves offensively that's scary for the opposition. Fast-paced, up-tempo all of the time. A dinking and dunking, running and throwing, no-huddle spread-option attack. Even if you speed up defensive practices during the week, you're likely to be out of breath trying to defend it on Saturdays. It has given defenses fits all season long.
Thomas, the sophomore signal caller, is running this unit better than anyone other than perhaps head coach Chip Kelly could have imagined. He completed 22-of-31 passes for 308 yards and three TDs in the Ducks' 60-13 win last Thursday night against UCLA. His stellar season is now being noticed, as he was named a semifinalist for the O'Brien Award, given annually to the nation's best quarterback. Add in James, and you have two of the most dangerous weapons in college football.
The bright spot for the Trojans? They can move the ball and score points themselves, so this contest won't look like UCLA-Oregon from a week ago.
Trojans quarterback Matt Barkley, who has taken big strides this year in his decision-making, leads an attack that features two receivers, freshman Robert Woods and senior Ronald Johnson, that will pose the toughest challenge yet for the Ducks' defensive backs. While Stanford's Andrew Luck may be the best quarterback Oregon has faced, he doesn't have quite the level of skill players around him.
Barkley, who has thrown for 20 touchdowns against just 4 interceptions with a 65 percent completion percentage, has helped the Trojans convert 53 percent of their chances on third down and epitomizes the difference that Kiffin can have on a quarterback and an offense.
But what has happened to the USC defense? During the peak of Pete Carroll's reign in Los Angeles, the Trojans' unit was one of the more dominant groups in the nation. Despite constantly developing players into NFL prospects, 'SC was able to reload year in and year out and remain one of the best.
So when Kiffin brought his father, Monte Kiffin, and defensive line coach Ed Orgeron to Los Angeles, the team's youth on that side of the ball was thought to be a non-issue. After all, this was the Monte Kiffin.
Fast forward to the mid-point of the season, and you would think that Monte made a wrong turn somewhere along the line on his journey from Knoxville. The Trojans can't tackle, consistently miss assignments and often don't look tough. They rank 87th in the nation in total defense (402.6 yards per game), with the rebuilt secondary looking especially vulnerable, ranking 89th in the nation in pass-efficiency defense.
While the unit may have been torched by Oregon and Stanford last season, it still only gave up 19.9 points per game when all was said and done. The 2010 squad, which has struggled to grasp Kiffin's Tampa 2 scheme, would be thrilled with that number.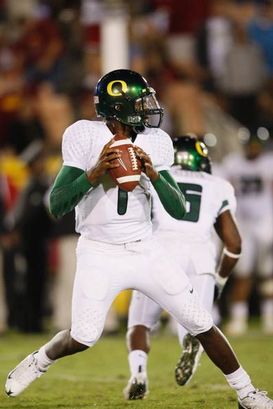 ICONDarron Thomas calmly and smoothly leads Chip Kelly's spread-option attack.
So USC doesn't stand a chance against the best offense in the country, right?
Well, perhaps they do if they throw the Ducks' spread-option off with some new looks.
"The Tampa 2 isn't exactly what you shut down the triple option with," Kiffin told area reporters, laughing. "That's for a whole different deal."
Keep in mind that although he had great success with the Tampa 2 at the pro level, Kiffin ran a variety of schemes while defending the wishbone and other unique styles of play during college coaching stints at Nebraska, Arkansas and North Carolina State before moving to the NFL. The Tampa 2 is designed to stop the pass. How can the Trojans stop the run?
No matter what looks the Trojans throw at the Ducks defensively, perhaps there is hope. They are coming off their best defensive performance of the season in a 48-14 victory over Cal, where they held the Bears to 245 total yards and 10 first downs. They also have had an extra week to prepare, which comes in handy if Kiffin really is teaching a new scheme. 'SC allowed live tackling in practice this week, and the unit also went through faster-paced workouts to try to simulate game speed against the Ducks' track offense. The Trojans should at least be ready to play physically from the get-go.
Perhaps most importantly, the Trojans are healthier. Defensive end Wes Horton returns after missing the last three games with a back injury, and fellow end Nick Perry's ankle is doing better. Versatile lineman Armond Armstead and linebacker Malcolm Smith also should feel much better.
Depth remains a major concern, however, with personnel losses due to graduation, transfers and the overall youth. Even with more spirited practices the last few weeks, will the Ducks' tempo on offense be too much to overcome? It may not be enough that defenders just stay in their gaps — not against this offense.
It's been an eventful week of smack talking, with Barkley intimating in a tweet that Oregon could fall like UFC champion Brock Lesnar did to Cain Velasquez in UFC 121. We had Kelly praising the Trojans for their high-star recruits, with Kiffin finding it surprising that the Ducks head coach had extra time to break down the Trojans roster. Then, perhaps the best one of all was USC defensive tackle Jurrell Casey questioning whether or not the Ducks were even that good.
Come Saturday night, all the off-the-field hoopla ends, and all of our questions will be answered as the sun sets and the lights go on in Los Angeles.
Kiffin brushed off talk abou t this being USC's bowl game and stand-in national championship moment. If he truly feels that way, he'll likely feel differently if he's standing on the winning sideline with a group of valiant and resilient Trojan players.
To listen to a breakdown of the Michigan State-Iowa and Missouri-Nebraska matchups, as well as more on Oregon-USC, check out the latest On the Quad podcast, featuring yours truly and NFP Director of College Scouting Wes Bunting.
Things better left unsaid
However, there were some nuggets of info that were not covered in the podcast…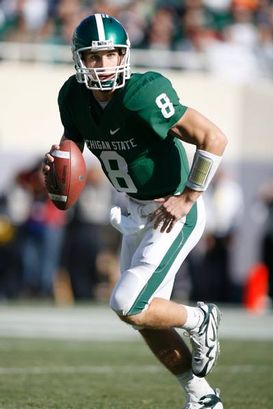 ICONCan Kirk Cousins keep the Spartans unbeaten in Iowa City?
<p>
Michigan State-Iowa:
If this game is close at the half, which many expect it to be, the edge may go to the Spartans. Michigan State has owned the second halves of games this season, while the Hawkeyes have had their issues after the break. In the last two games alone, Iowa has given up 42 second-half points, allowing Michigan to make their game close and letting Wisconsin steal a victory last week. Michigan State, meanwhile, has scored 51 points after the break the last two weeks, shutting down Illinois and storming back against Northwestern last week. I still don't know if the Spartans' offensive line will be ready for the test that awaits when it lines up against Iowa's front four, but they seem to have that second-half magic working for them this year.
Missouri-Nebraska: Missouri quarterback Blaine Gabbert is completing 71 percent of his passes against defenses that aren't blitzing. When the blitz is coming, that number drops to 41 percent. Gabbert had all night to throw last week in the Tigers' win over Oklahoma. That likely won't be the case this week against the Blackshirts.
Skinny posts
…It's just a formality now that Colorado's Dan Hawkins is finishing up his final weeks as head coach in Boulder. As written weeks ago, Buffaloes icon Bill McCartney's name keeps popping up as a potential short-term replacement. Former CU and local high school coach Dave Logan has been mentioned by many as a possible assistant head coach and the heir apparent after McCartney rights the ship. Woody Paige of The Denver Post brought up an even more intriguing name this past week: LSU's Les Miles, a former CU assistant under McCartney. Because Miles' act in Baton Rouge is running thin with a lot of fans and media in SEC country, Paige writes that it could be a good fit. Miles has apparently told close friends that Boulder was his favorite place to live. I've written before that the calling for Miles to be fired has been absurd, but it would certainly be an interesting move, especially with the Buffaloes headed off to Pac-12 country.
…Despite its awful loss to Navy last week, Notre Dame still has to finish up its season — likely to the dismay of Fighting Irish faithful. And it'll be a banged-up unit this week against Tulsa, with senior nose tackle Ian Williams out four to six weeks with a sprained MCL, slot receiver Theo Riddick out another three weeks with an ankle sprain and wideout Michael Floyd likely a game-time decision once again with his strained hamstring.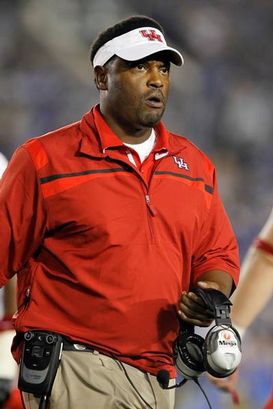 ICONIs Kevin Sumlin on Minnesota's radar?
…It's hard to say who the frontrunners are for the Minnesota job — if there even are any — but Marcus Fuller of the St. Paul Pioneer Press tweeted this week that Houston head coach Kevin Sumlin is getting "lots of love being thrown" his way. Sumlin is a former wide receivers and quarterbacks coach at the Big Ten school, and his wife is a native of the state (her parents still live there). The former offensive coordinator at Oklahoma may be the biggest name the Gophers could lure into that program, and he may be the best candidate. He's a good recruiter, and he has won some big games at Houston. He beat two ranked teams in his first season at the school in 2008, and the Cougars defeated No. 5 Oklahoma State on the road, Texas Tech the next week and at Mississippi State two weeks later in 2009. Quite simply, he sounds like the anti-Tim Brewster.
…Look out for South Carolina wide receiver Alshon Jeffery in the game against Tennessee. In the last two games, the Volunteers' secondary has been burned by Georgia's A.J. Green and Alabama's Julio Jones. The stars combined to catch 18 passes for 317 yards. Jeffery leads the SEC with 49 catches and 898 receiving yards, so it could be another long night for Derek Dooley and the Vols.
…This is the first time that both Florida and Georgia will be unranked in the AP poll entering the "World's Largest Outdoor Cocktail Party" (yes, it will still be called that in this column) since 1979. The Bulldogs won that game 33-10 and have been playing very well since the return of Green. We've heard that Urban Meyer will have some new wrinkles for the offense — and he better if you're a Gators fan. The inability to score in the red zone has been astounding. The Gators started the season 16-of-16, but are just 3-of-11 during their current three-game losing streak. They've also turned it over 14 times this season. Florida has also struggled on first down. The Gators rank 119th (out of 120 FBS teams) in average yards gained on first down. Those numbers may not be able to be corrected even with a bye week.
Quote of the week
"It's really unique what they do. It's faster than anyone we've ever seen or been around. I've never seen a team play with that tempo." — USC head coach Lane Kiffin on the Oregon offense under Chip Kelly.
Have any suggestions for this column or have a college football question? Feel free to send me an email at dave.miller@nationalfootballpost.com.
For updates throughout the games — and pretty much 24/7 because I don't really sleep too much — follow me on Twitter at Miller_Dave
Enjoy the games!
Check out the latest edition of the NFP Top 25 and NFP Heisman Watch.