November 19, 2011 -
Barry Dorey
NFP Saturday Tailgate
How about that wild contest last night in Ames? Wow.
I hope you're ready for an LSU-Alabama rematch...
Before we get into this week's tailgate, let's take a look at what's happening off the field in the world of college football.
NCAA investigating Penn State
NCAA president Mark Emmert sent a letter to Penn State notifying the school that the governing body will launch an investigation into the school's athletic programs in the wake of allegations of sexual abuse by former defensive coordinator Jerry Sandusky and charges of perjury against to two university officials.
"I am writing to notify you that the NCAA will examine Penn State's exercise of institutional control over its intercollegiate athletics programs, as well as the actions, and inactions, of relevant responsible personnel," Emmert wrote. "We recognize that there are ongoing federal and state investigations and the NCAA does not intend to interfere with those probes."
Emmert has several questions that he wants school officials to answer as part of the probe. Responses to the inquiry are expected by Dec. 16 so the NCAA could determine its next steps.
Here is a copy of the letter that the NCAA sent to Penn State in notifying the school of the pending investigation: http://bit.ly/szYX8h
Here are the NCAA bylaws that Emmert cited as possibly being applied to sanction Penn State. The bylaws in question include: 19.01.2, 10.1, and institutional control — found in 2.1, 6.01.1 and 6.4
Obviously, this story goes well beyond the football field. This scandal will be taken care of within the justice system. But from a football perspective, it may get a lot harder for Penn State to hire a quality head coach. Depending on how this NCAA investigation goes, whoever chooses to take this job may be asking for a very lengthy contract — because the Nittany Lions could be undergoing a serious rebuilding effort. It will be interesting to see just who emerges as potential candidates, an issue I will look at more closely as the season winds down and their search heats up.
Changes in store for the BCS?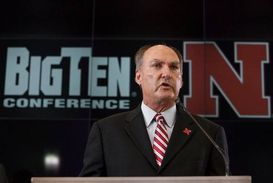 Big Ten commissioner Jim Delany reportedly pitched a new BCS model that would simply match the top two teams in the nation.
We knew changes within the Bowl Championship Series was coming when the current deal expires in 2014, and Big Ten commissioner Jim Delany reportedly led the way for change on Monday when he pitched a model in which only the No. 1 and No. 2 teams would be matched in the postseason. Such a system would give a nod to the old bowl alliance that was in place from 1995-97. Other ideas were reportedly tossed around, as well, in this meeting designed for informal proposals. Mountain West commissioner Craig Thompson has been on record with his 16-team playoff proposal, and there is growing support for the elimination of automatic qualifiers in the BCS.
While the idea of the BCS dealing only with the Nos. 1 and 2 teams is a good idea in that it eliminates potential anti-trust issues and allows bowls to create their own conference deals, this would be bad news for the current non-AQs, as well as weaker BCS conferences such as the Big East and ACC. At least teams from those leagues were guaranteed the opportunity for access. With this new proposal, who knows? We'll see how the BCS ultimately changes and whether there are tweaks or radical adjustments.
Alright, onto Saturday's games…
USC (8-2, 5-2 Pac-12) at Oregon (9-1, 7-0 Pac-12): The Ducks are coming off of their most impressive win of the season, and they're playing their best football since late last year when they were closing out an undefeated regular season. The offensive line is opening up holes for their talented running backs, who are getting out to the perimeter with ease. Quarterback Darron Thomas is getting healthier and playing at a similar level as in 2010. And the front seven is more experienced and finally comfortable in Nick Aliotti's defense. That young secondary? It looked just fine against Stanford. Against USC, of course, the Ducks will face a Matt Barkley-to-Robert Woods connection that has been lights out this fall — if Woods is healthy enough to play. Even with Woods playing at less than 100 percent, he and Marquise Lee will pose a formidable threat against the Ducks defense. But as good of a job as Trojans head coach Lane Kiffin has done this season and as much as Monte Kiffin's defense has improved, the Ducks have scored a combined 100 points the last two times these teams have played. It's an awfully difficult matchup for a defense dealing with depth issues.
Storylines to watch
Will Tyler Bray return to Tennessee's starting lineup? Volunteers head coach Derek Dooley said this week that Tyler Bray would likely be a game-time decision for the team's home game against Vanderbilt. The sophomore quarterback has missed the past five games with a broken thumb, but he has shared first-team reps in practice this week. Freshman Justin Worley started the past three games, but senior Matt Simms has also played in the losses to South Carolina and Arkansas the last two weeks. This has been a disastrous second season for Dooley, whose team is winless in SEC play — the first time Tennessee has lost six conference games since 1962. Injuries and depth issues have plagued the Vols, but going winless in a down year for the East division has raised a lot of eyebrows in Knoxville. Meanwhile, Vandy can become bowl eligible with a win over the Vols or a victory next week at Wake Forest. Certainly, the 'Dores made a home-run hire with James Franklin, whose strong first season has only increased the heat on Dooley.
CONTINUE TO PAGE 2 FOR MORE OF THE TAILGATE