November 12, 2011 -
Barry Dorey
NFP Saturday Tailgate
After a horrific week in the world of college football, let's try to transition into game day.
Oregon (8-1, 6-0 Pac-12) at Stanford (9-0, 7-0 Pac-12)
The last time Stanford lost a game was last season in Eugene, when the Cardinal blew a 21-3 first-half lead to the Ducks. This season, the stakes are even higher for Andrew Luck and Co. as a potential national-championship berth hangs in the balance as we enter the second weekend of November. While many football fans were disappointed to see such a defensive struggle last week when LSU edged Alabama 9-6 in overtime, expect a lot of points in this one as the Ducks and Cardinal average over 500 yards of total offense and score nearly 50 points per contest. However, the teams use different means to go up and down the field and find the end zone.
Behind 2010 Heisman Trophy finalist LaMichael James, the Ducks employ a no-huddle, spread-option attack that gives defenses fits and scores quickly. When James, Kenjon Barner and DeAnthony Thomas hit the edge, they're almost unstoppable. Defending the perimeter and stopping the big play will be essential for this Stanford defense, which is strong and physical but may not be able to keep up with the speed of Oregon's offensive attack. Sound tackling will be crucial this week for Stanford, which could finally miss linebacker Shayne Skov, who was lost for the season earlier this fall. But the Cardinal do get back one of their better tacklers in safety Delano Howell this week.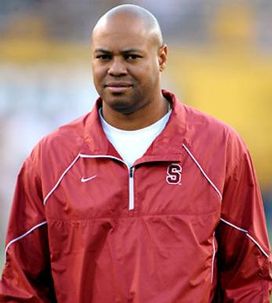 David Shaw's Cardinal face their toughest challenge yet against Oregon.
The Cardinal, meanwhile, ride the arm of Luck and the strong running of Stepfan Taylor to methodically frustrate defenses with their pro-style attack. It's another potential Heisman Trophy moment for Luck, but expect Ducks defensive coordinator Nick Aliotti to stunt and perhaps blitz the hell out of Luck and force him to make adjustments at the line of scrimmage — something that he does well better than anyone in the nation. But Aliotti's unit was able to hold Luck and the Cardinal scoreless in the second half of last year's 52-31 Ducks win.
Oregon leads the Pac-12 with 29 sacks, but Stanford has given up a conference-low four quarterback takedowns. Something has to give in this matchup.
Any team would be envious of Stanford's offensive balance, and the offense is also fourth in the nation in third-down conversions. Give the best quarterback in the nation manageable third-down situations, and the Ducks will be in trouble. His counterpart, Darron Thomas, has quite the duel on his hands.
On the spot I: Stanford linebackers A.J. Tarpley and Jarek Lancaster. The Cardinal haven't been affected too much by Skov's absence — yet. Both young defenders have played well, but Oregon's speed will be quite the adjustment. Can they keep up?
On the spot II: Oregon running back LaMichael James. In his career against the Cardinal, James has thrived. In 2009, he recorded 214 total yards and a touchdown, and last season he ran for 257 yards and three scores. It will be up to him and Kenjon Barner to keep the pressure off Darron Thomas against a defense that will be focused on the run.
NCAA '12 sim result: Stanford 48 - Oregon 45. Andrew Luck throws 4 TDs while Darron Thomas tosses 2 INTs.
Nebraska (7-2, 3-2 Big Ten) at Penn State (8-1, 5-0 Big Ten): The Nittany Lions will seek some semblance of normalcy as they return to the field for the first time since the child molestation charges levied against former defensive coordinator Jerry Sandusky. Longtime head coach Joe Paterno will not be on the sideline, as the school's board of trustees fired him amid the scandal that has rocked the entire university and college football as a whole. Defensive coordinator Tom Bradley takes over for Paterno on an interim basis, and he'll lead his squad against a Nebraska team that laid an egg at home last week against Northwestern. The Cornhuskers must win to stay alive in the Big Ten Legends division race.
Auburn (6-3, 4-2 SEC) at Georgia (7-2, 5-1 SEC): Since 1970, Auburn is 10-2 against Georgia when both teams are ranked. If the Tigers want to pull off the upset in Athens, Gus Malzahn's offense is going to have to be productive through the air. Being one-dimensional will not work against a Todd Grantham 3-4 defense that is one of the toughest to move the ball against in the nation. The Bulldogs are well-positioned to claim the SEC East after an 0-2 start, and they've been helped by a schedule that hasn't featured LSU or Alabama. Taking the Tigers lightly, however, would be a big mistake.
CONTINUE TO PAGE 2 FOR MORE GAME PREVIEWS