November 27, 2011 -
Barry Dorey
NFP Top 25
Week 13 of the college football season is officially in the books, and there's little doubt as to which two teams are the best in the nation.
Fans of Oklahoma State, Stanford and Virginia Tech may still be clamoring for a shot at LSU, but the BCS standings will have Alabama slotted at No. 2 when the new rankings are released this evening. And the Crimson Tide are in the clubhouse, waiting to see if LSU will take care of business in the SEC Championship game.
Let's take a look at how the National Football Post stacks up the Top 25 teams in the nation after the thirteenth week of the year.
And be sure to check back with the NFP for the newest BCS standings. In addition, my latest Bowl Projections will be posted on the site Monday.
2011 record in parentheses and last week's ranking in brackets.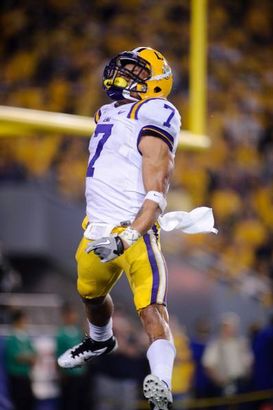 ICONTyrann Mathieu and the Tigers are headed to Atlanta for the SEC Championship game.
1. LSU (12-0) [1]
2. Alabama (11-1) [2]
3. Oklahoma State (10-1) [4]
4. Stanford (11-1) [5]
5. Virginia Tech (11-1) [6]
6. Houston (12-0) [7]
7. Boise State (10-1) [8]
8. Arkansas (10-2) [3]
9. USC (10-2) [9]
10. Georgia (10-2) [10]
11. Oregon (10-2) [11]
12. Oklahoma (9-2) [12]
13. Michigan State (10-2) [13]
14. South Carolina (10-2) [14]
15. Wisconsin (10-2) [15]
16. Kansas State (9-2) [16]
17. Michigan (10-2) [20]
18. TCU (9-2) [18]
19. Baylor (8-3) [21]
20. Nebraska (9-3) [25]
21. West Virginia (8-3) [NR]
22. Southern Miss (10-2) [NR]
23. Clemson (9-3) [17]
24. BYU (8-3) [NR]
25. Arkansas State (9-2) [NR]
Email dave.miller@nationalfootballpost.com or follow me on Twitter at Miller_Dave