November 22, 2010 -
Dave Miller
NFP Top 25
Oregon, Auburn and TCU were idle this past weekend, while Boise State continued to march toward an undefeated season with a thorough pounding of Fresno State Friday night.
So as we enter Thanksgiving week, we still have four unbeaten teams. With Oregon, Auburn and Boise State all in action on Friday, will we have a shakeup in the polls even before we're done finishing our turkey leftovers?
Here's a look at how the National Football Post stacks up the Top 25 teams in the nation heading into Week 13 of the season.
2010 record in parentheses and last week's ranking in brackets.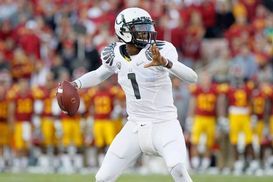 ICONDarron Thomas and the Ducks hope to remain unbeaten against Arizona.
1. Oregon (10-0) [1]
IDLE
Oregon was off this past weekend and will host Arizona on Friday. Can Mike Stoops' defense slow down the Ducks and derail their national title hopes?
2. Boise State (10-0) [2]
WON 51-0 vs. Fresno State
The Broncos handed Fresno State its first shutout loss since a 10-0 defeat to San Diego State on Nov. 7, 1998, and won their 24th straight — the longest streak in the country.
3. Auburn (11-0) [3]
IDLE
The Tigers were idle this past weekend and will travel to Tuscaloosa this Friday to play the Crimson Tide in the Iron Bowl.
4. TCU (11-0) [4]
IDLE
The Horned Frogs had the weekend off and will finish the regular season at New Mexico on Saturday.
5. Stanford (10-1) [6]
WON 48-14 at Cal
Andrew Luck threw for 235 yards and two touchdowns and Stepfan Taylor ran for three scores as the Cardinal beat the Golden Bears to win the Ax for the second time in the last nine meetings.
6. LSU (10-1) [5]
WON 43-36 vs. Ole Miss
Jordan Jefferson passed for a career-high 254 yards and Stevan Ridley scored from 7 yards out with 44 seconds left to cap a 20-point fourth quarter as the Tigers rallied to beat the Rebels.
7. Wisconsin (10-1) [7]
WON 48-28 at Michigan
Montee Ball rushed for four scores — tying the most against Michigan in a single game — as the Badgers torched the Wolverines in Ann Arbor. Wisconsin has three running backs with at least 500 yards and 10 touchdowns this season.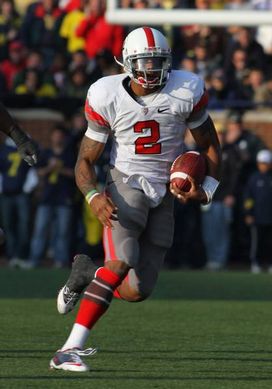 ICONTerrelle Pryor and the Buckeyes won a big road game in Iowa City.
8. Ohio State (10-1) [8]
WON 20-17 at Iowa
Terrelle Pryor had a crucial 14-yard run on fourth down to keep the game-winning drive alive as the Buckeyes beat the Hawkeyes in Iowa City.
9. Oklahoma State (10-1) [10]
WON 48-14 at Kansas
The Cowboys notched their first 10-win season since 1988 and have reached 10 victories in the regular season for the first time in school history.
10. Michigan State (10-1) [11]
WON 35-31 vs. Purdue
The Spartans trailed 28-13 entering the fourth quarter but outscored the Boilermakers 22-3 in the final 15 minutes for the win.
11. Alabama (9-2) [12]
WON 63-7 vs. Georgia State
Alabama scored its most points since a 66-3 win over Vanderbilt in 1979 and cruised to the victory.
12. Arkansas (9-2) [13]
WON 38-31 2OT at Mississippi State
Knile Davis set career highs with 31 rushes and 191 yards as the Razorbacks beat the Bulldogs for the 11th time in their last 12 meetings.
13. Virginia Tech (9-2) [14]
WON 31-17 at Miami (FL)
The Hokies outscored the Hurricanes 14-0 in the fourth quarter and have allowed just 10 points in the final period of seven conference games. Virginia Tech clinched the ACC Coastal division with the win.
14. Oklahoma (9-2) [15]
WON 53-24 at Baylor
Ryan Broyles became the first Oklahoma receiver with more than 100 catches in a season, and Landry Jones threw for 325 yards and three touchdowns while playing only the first three quarters in an easy win for the Sooners.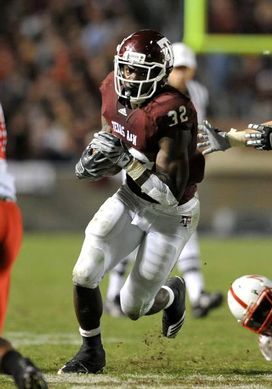 ICONCyrus Gray and the Aggies are one of the hottest teams in America.
15. Texas A&M (8-3) [18]
WON 9-6 vs. Nebraska
Cyrus Gray ran for a career high-tying 137 yards and added a career-high 65 yards receiving as the Aggies bested the Cornhuskers.
16. Nebraska (9-2) [9]
LOST 9-6 at Texas A&M
The Cornhuskers sputtered offensively but will still win the Big 12 North if they beat Colorado on Friday.
17. Missouri (9-2) [16]
WON 14-0 at Iowa State
The Tigers were stout on defense and punter Matt Grabner converted a fake punt on fourth-and-2 at his own 28 to help put away the Cyclones.
18. South Carolina (8-3) [17]
WON 69-24 vs. Troy
Marcus Lattimore had 102 rushing yards and three touchdowns to lead the Gamecocks to a 69-24 victory, their biggest point total under Steve Spurrier and the most points they have scored in 15 years.
19. Nevada (10-1) [19]
WON 52-6 vs. New Mexico State
Colin Kaepernick threw for 251 yards and two touchdowns and Vai Taua ran for 111 yards and three scores as the Wolf Pack beat the Aggies.
20. Arizona (7-3) [23]
IDLE
The Wildcats were off this past weekend and now will face their biggest test of the season on Friday — at Oregon.
21. NC State (8-3) [NR]
WON 29-25 at North Carolina
The Wolfpack used a tipped ball touchdown on fourth down and an 87-yard punt return for another score to rally past the rival Tar Heels.
22. Florida State (8-3) [25]
WON 30-16 at Maryland
Chris Thompson ran for 95 yards, including a 70-yard touchdown, and Bert Reed had six catches for 93 yards and a score to help the Seminoles beat the Terrapins.
23. Utah (9-2) [24]
WON 38-34 at San Diego State
The Utes used a blocked punt in the fourth quarter to set up the go-ahead score and Jordan Wynn threw for a career-high 362 yards in a road win over the Aztecs.
24. Iowa (7-4) [20]
LOST 20-17 vs. Ohio State
The Hawkeyes' fourth-quarter woes this season continued and have now dropped four games by a total of 15 points.
25. Mississippi State (7-4) [21]
LOST 38-31 2OT vs. Arkansas
Vick Ballard set career highs in rushes (34), yards (156) and touchdowns (three), but the Bulldogs fell at home to the Razorbacks.
Email dave.miller@nationalfootballpost.com or follow me on Twitter at Miller_Dave