September 13, 2010 -
Dave Miller
NFP Top 25
A look at how the National Football Post stacks up the Top 25 teams in the nation heading into Week 3 of the season.
2010 record in parentheses and last week's ranking in brackets.
1. Alabama (2-0) [1]
WON 24-3 vs. Penn State
Trent Richardson's 144 rushing yards and 1 TD paced the Crimson Tide as they continue to roll even without injured Heisman Trophy winner Mark Ingram.
2. Boise State (1-0) [2]
IDLE
How will Virginia Tech's loss to James Madison ultimately affect the Broncos in the BCS standings?
3. TCU (2-0) [3]
WON 62-7 vs. Tennessee Tech
The Horned Frogs extended their home winning streak to 15 games with a laugher against the Golden Eagles.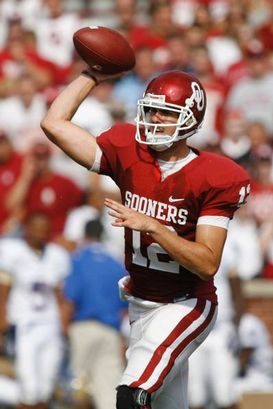 ICONLandry Jones torched the FSU secondary for 380 passing yards and 4 TDs.
4. Oklahoma (2-0) [4]
WON 47-17 vs. Florida State
So much for the subpar effort in the opener against Utah State. Landry Jones' 380 passing yards and 4 TDs paved the way for an easy victory over the Seminoles.
5. Ohio State (2-0) [6]
WON 36-24 vs. Miami
Terrelle Pryor accounted for 346 yards and two TDs, and the Buckeyes picked off Jacory Harris four times en route to a nonconference win over the Hurricanes.
6. Nebraska (2-0) [5]
WON 38-17 vs. Idaho
The Cornhuskers defense logged five interceptions — two of which were returned for touchdowns — and seven sacks against the Vandals.
7. Oregon (2-0) [11]
WON 48-13 at Tennessee
LaMichael James rushed for 134 yards — including a 72-yard touchdown — in his first game of the season, and the Ducks scored 45 consecutive points to beat Tennessee.
8. Iowa (2-0) [9]
WON 35-7 vs. Iowa State
Adam Robinson rushed for a career-high 156 yards and a touchdown, and the Hawkeyes found the end zone on four of their first five drives to beat the rival Cyclones.
9. Florida (2-0) [7]
WON 38-14 vs. South Florida
Jeff Demps ran for a career-high 139 yards en route to finishing with 255 all-purpose yards and a score, and the Gators' defense forced five turnovers to get past another sluggish start.
10. Auburn (2-0) [8]
WON 17-14 vs. Mississippi State
The Tigers withstood a raucous Thursday night crowd in Starkville and outgained the Bulldogs 348-246.
11. Texas (2-0) [12]
WON 34-7 vs. Wyoming
Freshman receiver Mike Davis hauled in seven catches for 104 yards and a score as the Longhorns won their 16th straight at home.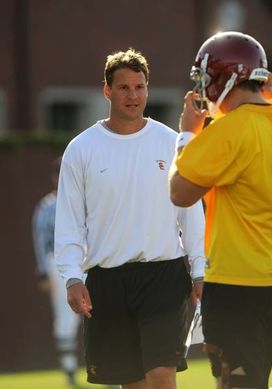 ICONLane Kiffin's USC squad has been flagged 24 times in two games.
12. USC (2-0) [10]
WON 17-14 vs. Virginia
The Trojans committed 13 penalties for 140 yards and have been flagged 24 times in their first two contests.
13. Wisconsin (2-0) [13]
WON 27-14 vs. San Jose State
John Clay logged his eighth straight 100-yard rushing game and the Badgers survived Scott Tolzien's interception and three fumbles to beat the Spartans.
14. Arkansas (2-0) [14]
WON 31-7 vs. Louisiana-Monroe
Greg Childs had 12 catches for 148 yards and two TDs and the Razorbacks moved to 27-0 all-time against current Sun Belt members.
15. South Carolina (2-0) [NR]
WON 17-6 vs. Georgia
True freshman Marcus Lattimore rushed for 182 yards and two touchdowns on 37 carries to lead the Gamecocks over the Bulldogs.
16. West Virginia (2-0) [15]
WON 24-21 (OT) at Marshall
Geno Smith rallied the Mountaineers from 15 points down in the fourth quarter as West Virginia improved to 10-0 all-time against Marshall.
17. Arizona (2-0) [18]
WON 52-6 vs. The Citadel
Nic Grigsby rushed for three touchdowns and the Wildcats tuned up for their tilt with Iowa next week by rolling up 489 yards against the Bulldogs.
18. Utah (2-0) [24]
WON 38-10 vs. UNLV
Utah won its 19th straight at home and final Mountain West Conference opener before joining the Pac-10 in 2011.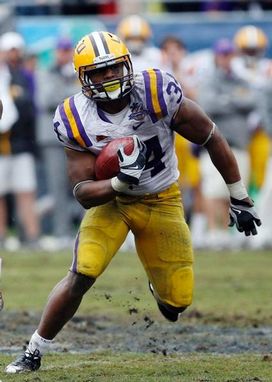 ICONStevan Ridley rushed for a career-high 159 yards and a touchdown against Vandy.
19. LSU (2-0) [NR]
WON 27-3 at Vanderbilt
Stevan Ridley rushed for a career-high 159 yards and a touchdown, and Drake Nevis had 2.5 sacks as the Tigers held Vanderbilt to 135 yards of total offense.
20. Houston (2-0) [20]
WON 54-24 vs. UTEP
Bryce Beall rushed for 195 yards and three touchdowns to lead the Cougars, who lost Case Keenum to a concussion.
21. Stanford (2-0) [NR]
WON 35-0 at UCLA
The Cardinal won in Pasadena for the first time since 1996, forcing four Bruins turnovers in pitching a shutout in the Pac-10 opener.
22. Clemson (2-0) [22]
WON 58-21 vs. Presbyterian
The Tigers jumped out to a 14-0 lead after just five offensive plays, but the competition steps up next week when they travel to Auburn next weekend.
23. Miami (1-1) [16]
LOST 36-24 at Ohio State
Jacory Harris tossed four interceptions and the Hurricanes lost their third straight game against a Big Ten team.
24. Michigan (2-0) [NR]
WON 28-24 at Notre Dame
Denard Robinson racked up a school-record 502 yards of total offense for a QB, including the longest run in the history of Notre Dame Stadium — an 87-yard TD — to lead the Wolverines over the Fighting Irish.
25. Temple (2-0) [25]
WON 13-10 (OT) vs. Central Michigan
The Owls moved to 2-0 for the first time since 1981 by surviving against the Chippewas — winners of three of the last four MAC titles.
Follow me on Twitter at Miller_Dave or send your college football questions to dave.miller@nationalfootballpost.com
Click here to purchase the Total Access Pass / Fantasy Draft Guide from the NFP.