September 26, 2011 -
Barry Dorey
NFP Top 25
Week 4 of the college football season is in the books, and LSU made yet another big statement with a thorough victory in Morgantown over West Virginia.
But there's another team in the SEC that had an impressive showing this past weekend, as Alabama thoroughly handled Arkansas at home. So it appears the Tigers and Crimson Tide are on a collision course toward Nov. 5 when the teams will meet in Tuscaloosa.
Let's take a look at how the National Football Post stacks up the Top 25 teams in the nation after the fourth week of the year.
2011 record in parentheses and last week's ranking in brackets.
1. LSU (4-0) [1]
2. Oklahoma (3-0) [2]
3. Alabama (4-0) [3]
4. Boise State (3-0) [4]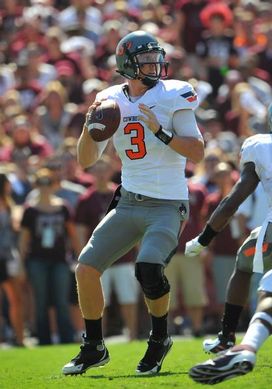 ICONBrandon Weeden and the Pokes escaped College Station with a victory.
5. Oklahoma State (4-0) [5]
6. Virginia Tech (4-0) [6]
7. Nebraska (4-0) [7]
8. Wisconsin (4-0) [8]
9. Stanford (3-0) [9]
10. Oregon (3-1) [10]
11. South Carolina (4-0) [14]
12. Florida (4-0) [16]
13. Texas (3-0) [18]
14. Texas A&M (2-1) [12]
15. Clemson (4-0) [NR]
16. Arkansas (3-1) [11]
17. South Florida (4-0) [20]
18. Baylor (3-0) [21]
19. Georgia Tech (4-0) [23]
20. TCU (3-1) [22]
21. West Virginia (3-1) [15]
22. Florida State (2-2) [13]
23. Illinois (4-0) [NR]
24. Michigan State (3-1) [25]
25. Arizona State (3-1) [NR]
Email dave.miller@nationalfootballpost.com or follow me on Twitter at Miller_Dave