September 07, 2010 -
Dave Miller
NFP Top 25
A look at how the National Football Post stacks up the Top 25 teams in the nation heading into Week 2 of the season.
2010 record in parentheses and last week's ranking in brackets.
1. Alabama (1-0) [1]
WON 48-3 vs. San Jose State
Forget about Trent Richardson stepping up in Mark Ingram's absence. Redshirt freshman Eddie Lacy wants an invite to the deep Crimson Tide backfield, as well.
2. Boise State (1-0) [2]
WON 33-30 vs. Virginia Tech
The Broncos passed their biggest test of the season against the Hokies in a thriller. If they can get past Oregon State on Sept. 25, they'll likely be playing for the BCS title.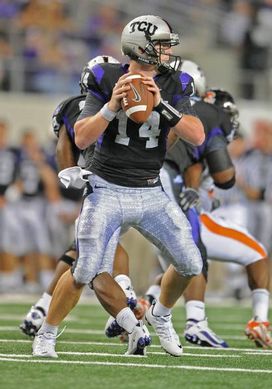 ICONQB Andy Dalton and TCU dominated the second half against Oregon State.
3. TCU (1-0) [3]
WON 30-21 vs. Oregon State
The Horned Frogs dominated the second half against the Beavers and erased — at least a little bit — the painful memory of the Fiesta Bowl loss to Boise State.
4. Oklahoma (1-0) [4]
WON 31-24 vs. Utah State
It wasn't a pretty opener for Landry Jones, but DeMarco Murray carried the Sooners to victory. Now Florida State awaits.
5. Nebraska (1-0) [6]
WON 49-10 vs. Western Kentucky
Redshirt freshman Taylor "T-Magic" Martinez may actually make the Cornhuskers exciting on offense again.
6. Ohio State (1-0) [7]
WON 45-7 vs. Marshall
Terrelle Pryor and the Buckeyes have a real test this week when Jacory Harris and Miami roll into Columbus.
7. Florida (1-0) [5]
WON 34-12 vs. Miami of Ohio
The Gators had no offensive rhythm against the RedHawks. Expect that to change this week against South Florida.
8. Auburn (1-0) [8]
WON 52-26 vs. Arkansas State
Adding Cameron Newton to an offense with a deep backfield and good receivers is scary.
9. Iowa (1-0) [9]
WON 37-7 vs. Eastern Illinois
The Hawkeyes once again relied on a strong ground game and a steady Ricky Stanzi to deliver a victory.
10. USC (1-0) [10]
WON 49-36 at Hawaii
The Trojans will score points in bunches. But is their young secondary going to be a problem all season?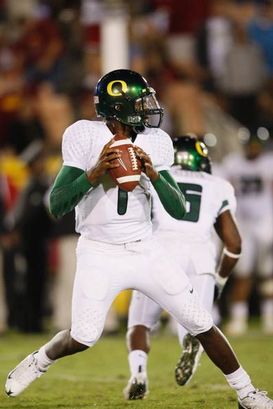 ICONQB Darron Thomas led a Ducks romp over New Mexico.
11. Oregon (1-0) [13]
WON 72-0 vs. New Mexico
Darron Thomas made Ducks fans forget about Jeremiah Masoli while Kenjon Barner more than ably filled in for LaMichael James.
12. Texas (1-0) [11]
WON 34-17 at Rice
Garrett Gilbert didn't make any mistakes, and Tre' Newton stole the starting RB job away from Cody Johnson.
13. Wisconsin (1-0) [15]
WON 41-21 at UNLV
The Badgers received two touchdowns each on the ground from John Clay and Montee Ball.
14. Arkansas (1-0) [16]
WON 44-3 vs. Tennessee Tech
Ryan Mallett began his Heisman campaign with an 85-yard touchdown pass — the longest completion of his Arkansas career.
15. West Virginia (1-0) [17]
WON 31-0 vs. Coastal Carolina
Geno Smith had a solid debut as a starter and West Virginia improved to 11-0 against FCS opponents since 2000.
16. Miami (1-0) [18]
WON 45-0 vs. Florida A&M
Leonard Hankerson had six catches for 115 yards and two TDs as the Hurricanes get set to invade Columbus and battle the Buckeyes.
17. Georgia Tech (1-0) [19]
WON 41-10 vs. South Carolina State
Joshua Nesbitt only completed one pass, but an aerial attack was unnecessary as he paced the Yellow Jackets with 130 rushing yards and three touchdowns.
18. Arizona (1-0) [20]
WON 41-2 at Toledo
Nick Foles threw for 360 yards and accounted for three touchdowns to lead the Wildcats to an impressive road victory.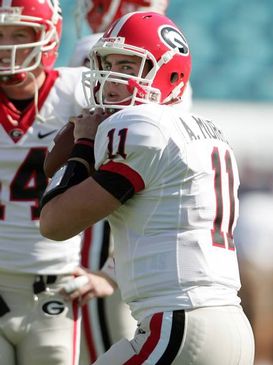 ICONAaron Murray made his first start as the new QB at Georgia.
19. Georgia (1-0) [21]
WON 55-7 vs. Louisiana-Lafayette
Aaron Murray passed for three touchdowns and ran for another in his Georgia debut, and the Bulldogs won despite missing top receiver A.J. Green.
20. Houston (1-0) [22]
WON 68-28 vs. Texas State
Case Keenum tossed five touchdowns in front of the largest crowd to watch a game at Robertson Stadium — 32,119.
21. Virginia Tech (0-1) [14]
LOST 33-30 vs. Boise State
The Hokies could have rolled over when they were down 17-0. But Tyrod Taylor never gives up, and they still may be the best team in the ACC.
22. Clemson (1-0) [23]
WON 35-10 vs. North Texas
C.J. Spiller's replacements — Andre Ellington and Jamie Harper — each scored twice and went over 100 yards to pace the Tigers.
23. Penn State (1-0) [24]
WON 44-14 vs. Youngstown State
True freshman Robert Bolden passed for 239 yards and two touchdowns in his debut. Now, it's onto Tuscaloosa and the Crimson Tide.
24. Utah (1-0) [NR]
WON 27-24 vs. Pittsburgh
Stifling defense from the Utes limited Pittsburgh star running back Dion Lewis and delivered the team a big season-opening win.
25. Temple (1-0) [25]
WON 31-24 vs. Villanova
Al Golden's Owls certainly survived a scare against Villanova, the defending FCS national champions.
Follow me on Twitter at Miller_Dave or send your college football questions to dave.miller@nationalfootballpost.com
Click here to purchase the Total Access Pass / Fantasy Draft Guide from the NFP.