December 05, 2011 -
Barry Dorey
NFP Top 25
Week 14 of the college football season is officially in the books, all of the bowl matchups are set, and the Army-Navy game is the lone regular season contest remaining.
While there is some doubt as to which team is the most deserving of playing LSU in the BCS national championship game, Alabama will get its shot in a rematch — and the Crimson Tide certainly passes the eye test as the best one-loss team in the nation.
Let's take a look at how the National Football Post stacks up the Top 25 teams in the nation after the fourteenth week of the year as we turn our attention to the bowl season.
2011 record in parentheses and last week's ranking in brackets.
1. LSU (13-0) [1]
2. Alabama (11-1) [2]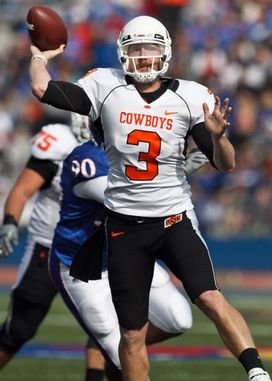 ICONBrandon Weeden and the Pokes check in at No. 3 in the latest rankings.
3. Oklahoma State (11-1) [3]
4. Stanford (11-1) [4]
5. Boise State (11-1) [7]
6. Arkansas (10-2) [8]
7. USC (10-2) [9]
8. Oregon (11-2) [11]
9. South Carolina (10-2) [14]
10. Wisconsin (11-2) [15]
11. Kansas State (10-2) [16]
12. Georgia (10-3) [10]
13. Virginia Tech (11-2) [5]
14. Houston (12-1) [6]
15. Michigan State (10-3) [13]
16. Michigan (10-2) [17]
17. Baylor (9-3) [19]
18. TCU (10-2) [18]
19. Oklahoma (9-3) [12]
20. Clemson (10-3) [23]
21. Southern Miss (11-2) [22]
22. Nebraska (9-3) [20]
23. West Virginia (9-3) [21]
24. BYU (9-3) [24]
25. Arkansas State (10-2) [25]
Email dave.miller@nationalfootballpost.com or follow me on Twitter at Miller_Dave