November 01, 2010 -
Dave Miller
NFP Top 25
After many sleepless nights and continual second-guessing, I finally caved in and broke one of my rules in ranking the top 25 teams in the nation. I dropped a team — two schools, actually — after a win. But that's how impressive Oregon has been this season.
Will the Ducks lose a game before the end of the season? Perhaps. Did I keep Boise State above Chip Kelly's squad because of last year's result in Week 1 — a win for the Broncos? Yes. But I have determined that Oregon is the most impressive team I have seen thus far, so the Ducks get the top spot this week.
I still feel that Boise could beat Oregon on a given night, but the Ducks look like the best team in America — right now.
With that said, a look at how the National Football Post stacks up the Top 25 teams in the nation heading into Week 10 of the season.
2010 record in parentheses and last week's ranking in brackets.
1. Oregon (8-0) [3]
WON 53-32 at USC
Jeff Maehl caught a career-high 145 receiving yards and career-high three scores, and the Ducks' 53 points were the most Oregon has ever scored against the Trojans.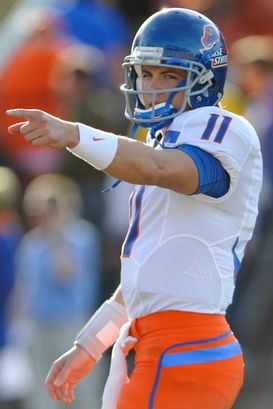 ICONQB Kellen Moore and Boise State remain unbeaten.
2. Boise State (7-0) [1]
WON 49-20 vs. Louisiana Tech
Tyler Shoemaker caught six passes for a career-high 124 yards as the Broncos won their 21st straight game.
3. TCU (9-0) [2]
WON 48-6 at UNLV
The Horned Frogs lowered their opponents' scoring average from 9.0 points per game to 8.7 ppg, winning their 22nd straight regular season game and 14th straight MWC contest
4. Auburn (9-0) [4]
WON 51-31 at Ole Miss
Demond Washington returned a third-quarter kickoff 95 yards for a score and Michael Dyer had a 180 yards and a touchdown on the ground to lead the Tigers.
5. Alabama (7-1) [5]
IDLE
Alabama was off this past week and will prepare for a tough road tilt at LSU on Saturday.
6. Utah (8-0) [7]
WON 28-23 at Air Force
The Utes forced five turnovers and won their seventh in their last eight meetings against Air Force.
7. Wisconsin (7-1) [9]
IDLE
The Badgers were idle this past weekend and travel to Purdue to take on the Boilermakers next week.
8. Oklahoma (7-1) [10]
WON 43-10 vs. Colorado
Ryan Broyles caught three touchdowns for the fourth time in his career and set an OU record with 208 receiving yards.
9. LSU (7-1) [11]
IDLE
The Tigers host Alabama next weekend after being idle Halloween weekend.
10. Stanford (7-1) [12]
WON 41-0 at Washington
Stanford notched its first road shutout since beating Oregon 17-0 in 1974.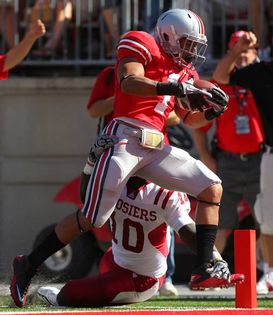 ICONOhio State RB Dan Herron has 12 rushing TDs this season.
11. Ohio State (8-1) [13]
WON 52-10 at Minnesota
The Buckeyes have won eight straight against Minnesota and 24 of the last 25 meetings.
12. Nebraska (7-1) [14]
WON 31-17 vs. Missouri
Roy Helu Jr. broke the Nebraska school rushing record with 307 yards, breaking the previous school record of 294 yards by Calvin Jones in 1991.
13. Arizona (7-1) [15]
WON 29-21 at UCLA
Matt Scott completed 24 of 36 passes for 319 yards with a touchdown and interception — his first career 300-yard passing game.
14. Iowa (6-2) [16]
WON 37-6 vs. Michigan State
The Hawkeyes have won seven straight at home vs. Michigan State, and Kirk Ferentz moved to 3-1 vs. Mark Dantonio.
15. Michigan State (8-1) [6]
LOST 37-6 at Iowa
The Spartans lost the turnover battle 3-0 to the Hawkeyes in their first loss of the season after being tied for eighth in the nation in turnover margin entering the game (+9).
16. Missouri (7-1) [8]
LOST 31-17 at Nebraska
Blaine Gabbert was under heavy pressure all day, finishing 18-of-42 passing for 199 yards in the loss to Nebraska.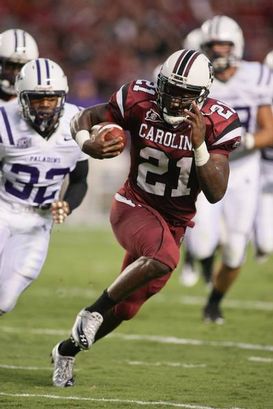 ICONSouth Carolina RB Marcus Lattimore is having a dynamite freshman season.
17. South Carolina (6-2) [18]
WON 38-24 vs. Tennessee
Marcus Lattimore rushed for 184 yards and a score as South Carolina beat the Vols. Lattimore's 13 touchdowns on the year are tied for the fifth-most by a freshman in SEC history.
18. Arkansas (6-2) [19]
WON 49-14 vs. Vanderbilt
Ryan Mallett broke his own school record with 409 yards passing in a blowout win over Vandy.
19. Virginia Tech (6-2) [20]
IDLE
The Hokies were off this past weekend and will put their six-game winning streak on the line against Georgia Tech Thursday night at Lane Stadium.
20. Oklahoma State (7-1) [21]
WON 24-14 at Kansas State
Kendall Hunter notched the 18th 100-yard rushing game of his career, passing Barry Sanders and tying David Thompson in Oklahoma State history.
21. Mississippi State (7-2) [22]
WON 24-17 vs. Kentucky
The Bulldogs won their sixth straight game behind Vick Ballard's 103 rushing yards and a touchdown.
22. Baylor (7-2) [NR]
WON 30-22 at Texas
The Bears ended a 12-game losing streak against the Longhorns and won their first game at Texas since 1991.
23. NC State (6-2) [NR]
WON 28-24 vs. Florida State
The Wolfpack surpassed last season's win total and became bowl eligible with the victory over the Seminoles.
24. Florida State (6-2) [17]
LOST 28-24 at NC State
Christian Ponder fumbled deep in NC State territory in the final minute, and the Seminoles fell to the Wolfpack in Raleigh.
25. Nevada
WON 56-42 vs. Utah State
Colin Kaepernick passed for two touchdowns and rushed for another as Nevada defeated Utah State 56-42.
Email dave.miller@nationalfootballpost.com or follow me on Twitter at Miller_Dave