September 19, 2011 -
Dave Miller
NFP Top 25
Are we really about to enter Week 4 of the college football season?
Shockingly, yes — which means things are just beginning to get interesting.
Let's take a look at how the National Football Post stacks up the Top 25 teams in the nation after the third week of the year.
2011 record in parentheses and last week's ranking in brackets.
1. LSU (3-0) [1]
WON 19-6 at Mississippi State
The Tigers' defensive line was too overwhelming for the Bulldogs offense in their SEC West showdown last Thursday night.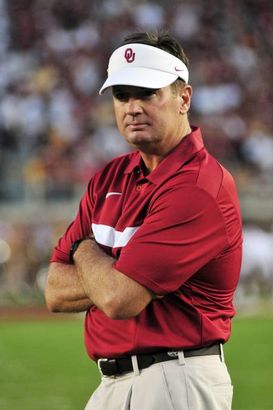 ICONBob Stoops' Sooners passed a big test against Florida State.
2. Oklahoma (2-0) [2]
WON 23-13 at Florida State
Kenny Stills' 37-yard touchdown catch was the tiebreaking score and OU's defense held the Seminoles in check during their win in Tallahassee.
3. Alabama (3-0) [3]
WON 41-0 vs. North Texas
Trent Richardson and Eddie Lacy had career rushing highs of 160-plus yards while Alabama's defense did the rest in the easy victory over the Mean Green.
4. Boise State (2-0) [4]
WON 40-15 at Toledo
The Broncos rode Kellen Moore's 455 yards and five scores to victory over the Rockets.
5. Oklahoma State (3-0) [6]
WON 59-33 at Tulsa
Brandon Weeden threw for 369 yards and three touchdowns after an incredibly long rain delay led the game to be completed deep into Sunday morning.
6. Virginia Tech (3-0) [7]
WON 26-7 vs. Arkansas State
The Hokies ended the Red Wolves' streak of 14 consecutive games with 300 total yards in the win.
7. Nebraska (3-0) [8]
WON 51-38 vs. Washington
The Cornhuskers beat the Huskies in the third meeting of the teams in 364 days behind the arm and legs of quarterback Taylor Martinez.
8. Wisconsin (3-0) [14]
WON 49-7 vs. Northern Illinois
The Badgers accumulated more than 600 yards of offense in the easy win over the Huskies.
9. Stanford (3-0) [11]
WON 37-10 at Arizona
Stepfan Taylor rushed for a career-high 153 yards as the Cardinal beat Arizona in the Pac-12 opener for both teams.
10. Oregon (2-1) [10]
WON 56-7 vs. Missouri State
LaMichael James rushed for 200 yards for the fourth time in his career — the most by any BCS back in the last five years — to lead the Ducks past the Bears.
11. Arkansas (3-0) [9]
WON 38-28 vs. Troy
Ronnie Wingo rushed for a career-high 109 yards and scored three touchdowns to help the Razorbacks get by the Trojans.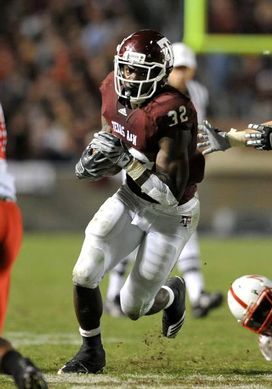 ICONCyrus Gray helped A&M remain unbeaten.
12. Texas A&M (2-0) [12]
WON 37-7 vs. Idaho
Cyrus Gray scored three touchdowns and rushed for 101 yards as the Aggies pulled away from the Vandals.
13. Florida State (2-1) [5]
LOST 23-13 vs. Oklahoma
The Seminoles committed three turnovers and were sacked six times in their loss to the Sooners.
14. South Carolina (3-0) [13]
WON 24-21 vs. Navy
Marcus Lattimore rushed for a career-high 246 yards on 37 carries to help the Gamecocks squeak by the Midshipmen.
15. West Virginia (3-0) [17]
WON 37-31 at Maryland
Geno Smith threw for a career-high 388 yards, and the Mountaineers survived the comeback bid by the Terrapins.
16. Florida (3-0) [18]
WON 33-23 vs. Tennessee
Chris Rainey had 233 total yards, including an 83-yard touchdown catch, to help the Gators beat the Volunteers.
17. USC (3-0) [20]
WON 38-17 vs. Syracuse
Matt Barkley passed for 324 yards and a school record-tying five touchdowns to five different receivers to help the Trojans' offense come to life in the win over the Orange.
18. Texas (3-0) [NR]
WON 49-20 at UCLA
Case McCoy passed for 168 yards and two touchdowns in his first career start as the Longhorns avenged their home loss to the Bruins last season.
19. North Carolina (3-0) [24]
WON 28-17 vs. Virginia
Giovani Bernard ran for 102 yards to help the Tar Heels win their first ACC opener in 11 years.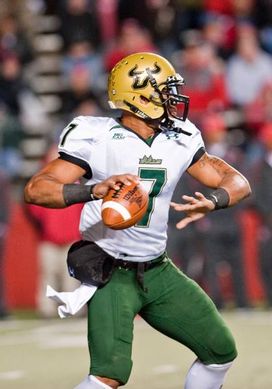 ICONB.J. Daniels and the USF offense had a big day against Florida A&M.
20. South Florida (3-0) [NR]
WON 70-17 vs. Florida A&M
B.J. Daniels led the Bulls to touchdowns on eight of 10 drives he directed as USF pounded Florida A&M.
21. Baylor (2-0) [NR]
WON 48-0 vs. Stephen F. Austin
Robert Griffin III threw for 247 yards and three touchdowns to lead the Bears past the Lumberjacks.
22. TCU (2-1) [23]
WON 38-17 vs. Louisiana-Monroe
Horned Frogs head coach Gary Patterson won his 100th game as coach of TCU. The only TCU head coach to win more games is Dutch Meyer.
23. Georgia Tech (3-0) [NR]
WON 66-24 vs. Kansas
The Yellow Jackets recorded a school-record 768 yards in a rout of the Jayhawks.
24. Miami (1-1) [NR]
WON 24-6 vs. Ohio State
Lamar Miller ran for 184 yards and Jacory Harris tossed two touchdowns to Allen Hurns to help the Hurricanes best the Buckeyes.
25. Michigan State (2-1) [15]
LOST 31-13 at Notre Dame
Michigan State had just 29 rushing yards and never clicked offensively in its loss to the Irish.
Email dave.miller@nationalfootballpost.com or follow me on Twitter at Miller_Dave