November 11, 2012 -
Dave Miller
NFP Top 25
Week 11 of the 2012 college football season is in the books, and the BCS national championship picture became a bit more clear as we get deeper into November.
Top-ranked Alabama was stunned at home by Texas A&M, which means Oregon, Kansas State and Notre Dame are the lone major unbeatens vying for spots in the national title game.
Let's take a look at how the National Football Post stacks up the Top 25 heading into the twelfth week of the season.
2012 record in parentheses and last week's ranking in brackets.

1. Oregon (10-0) [2]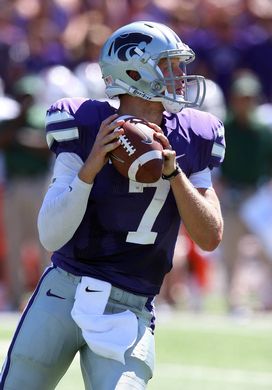 US PRESSWIRECollin Klein and the Wildcats could be on the verge of playing for the national title.
2. Kansas State (10-0) [3]

3. Notre Dame (10-0) [4]

4. Ohio State (10-0) [5]

5. Alabama (9-1) [1]

6. Florida State (9-1) [6]

7. Georgia (9-1) [7]

8. Florida (9-1) [8]

9. Clemson (9-1) [9]

10. LSU (8-2) [11]

11. South Carolina (8-2) [13]

12. Stanford (8-2) [14]

CONTINUE TO PAGE 2 FOR NOS. 13-25